When Microsoft (NASDAQ:MSFT) announced that it was acquiring the handset division of Nokia (NYSE:NOK), it became clear that Mr. Softy was planning to aggressively push its way further into the smartphone arena. According to IDC, Windows Phone accounts for only 3.7% of the market; at number three, Microsoft is well behind the 79.3% commanded by Google (NASDAQ:GOOG) Android and the 13.2% commanded by Apple (NASDAQ:AAPL) iOS. Now as it becomes clear that BlackBerry (NASDAQ:BBRY) is floundering badly and is up for sale, Microsoft should consider putting in a bid of its own to assist in the efforts begun with the Nokia acquisition.
Reasons BlackBerry Would Benefit Microsoft
There are a number of reasons that Microsoft would be able to realize concrete value from a BlackBerry acquisition, including enhancements to the Nokia deal it is already involved with. While none of the following reasons may be sufficient alone, the combination of all of them paint a compelling story:
BlackBerry's Patent Portfolio - While Microsoft is hardly wanting for valuable intellectual property, BlackBerry has an impressive portfolio that would benefit the software maker. In very practical terms, BlackBerry's Messenger is one of the most popular apps on any platform because it seamlessly allows peer-to-peer communications between devices. Rumors had begun to circulate that BBM was to be made available on both Android and iOS before significant issues led to the app being pulled. To put this into some context, prior to the scheduled September 21 rollout on Android, an earlier version was made available - in the first eight hours, BBM had 1.1 million users from the platform.
If Microsoft gained control of BBM, not only would it give Windows Phone new functionality in high demand, it could give the Windows maker the same kind of access inside of both Android and iOS that Google has achieved in iOS with Maps, Chrome, and Google Apps. Even with that much influence, it is estimated that Google pays Microsoft between $500 million and $3.4 billion per year.
Potential New Partners - In addition to hard patents, BlackBerry owns QNX Systems, the OS maker that designed the new BB10. That company currently holds contracts with General Electric (NYSE:GE) and Cisco (NASDAQ:CSCO). Additionally, QNX is fairly well integrated with automakers including, General Motors (NYSE:GM), Audi and BMW. Microsoft has already forged a strong relationship with Ford (NYSE:F) with the Sync System, but as the connection between your car and your smartphones gets stronger, and the distinction gets thinner, BlackBerry's experience in this department could prove invaluable. A recent New York Times piece explained: "BlackBerry's chief executive, Thorsten Heins, has suggested that BlackBerry will use QNX's automotive ties and its unique global data network to allow car companies to update vehicle software through wireless networks and to monitor vehicles' mechanical state." Also, remember that Apple recently announced that it would be introducing 'iOS in the Car,' so for Microsoft to stay at the forefront could prove invaluable.
Security in Two Flavors - If there is one thing that BlackBerry is known for, it is the security it offers enterprise customers. Microsoft's critical business relationships would only be bolstered by the inclusion of BlackBerry's security options into Windows Phones. As the PC market continues to shrink, the enterprise relationships that can be maintained are critical - if Microsoft could integrate this level of security into its full family of products, that would be a big win. The other flavor of security that a BlackBerry acquisition would offer Microsoft is in terms of market share. The same IDC report places BlackBerry at 2.9%. Adding this to the family would nearly double Mr. Softy's market share, bringing it to 6.6% - still not huge, but nearly half of Apple's share.
Microsoft is making an important push in the smartphone arena with the $7.2 billion it is spending on the Nokia deal. For significantly less, the cash-rich software maker could add the BlackBerry complement of strengths and press even harder into a critical arena. Additionally, BlackBerry personnel are deeply experienced at hardware and software when it comes to smartphones. Key people at BlackBerry could aid Microsoft in the Nokia transition, helping it to take advantage of what all three have already figured out.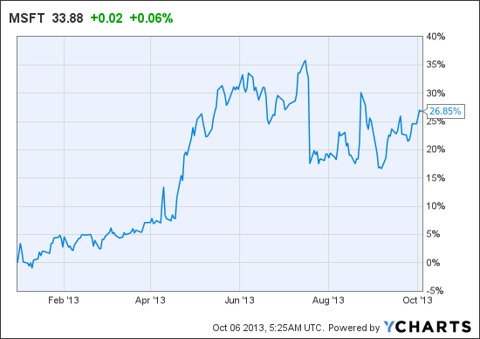 With a dividend yield of 3.3% and a P/E of just above 13, Microsoft shares continue to look attractive at current levels, particularly if you buy into, as I do, the company's current efforts to reinvigorate itself. The diverse nature of its products and services make Microsoft a must-own name in any tech portfolio, so additional positive catalysts are a bonus.
Disclosure: I have no positions in any stocks mentioned, and no plans to initiate any positions within the next 72 hours. I wrote this article myself, and it expresses my own opinions. I am not receiving compensation for it (other than from Seeking Alpha). I have no business relationship with any company whose stock is mentioned in this article.