BAMM: Deep Value in Retail
My Thesis
I believe the undervaluation of Books-A-Million, Inc. ("BAM") (NASDAQ:BAMM) presents an attractive opportunity for smaller value-focused investors/funds. The Company is the second largest book retail chain in the United States with 255 locations, and was founded in 1917 by Clyde W. Anderson. The Anderson family continues to hold a majority (56%) of the shares outstanding, and Clyde B. Anderson is the current Chairman of the Board. [An interesting summary of its history can be found here.]
The Company has been buffeted by a movement to e-books and the general malaise in physical retail activity. BAM has been very proactive in responding to the decline in physical book sales, and has been using cash generated by its core book business to diversify away from books. Additionally, the recent sharp slowdown in the adoption of e-books may mean physical books have a longer lifespan than generally expected. If this continues, BAM will have more time to adapt.
With a short interest that is roughly 13% of its float, it is clear that many in the market do not share my positive view of Books-A-Million. However, it seems that the Anderson family agrees that the Company is attractive after attempting and failing in their opportunistic takeover bid in early-2013. Overall, I believe that the stock market is not valuing Books-A-Million fairly as its equity value is below my estimates of its tangible book value and its cash-generation ability.
I will discuss the Company's historical corporate and payout strategy to give a better understanding of management's decision making. I will also mention my views on the physical bookselling market, and the potential value of both BAM's tangible equity and earnings power. And finally, I will present my analysis of how I believe management and the Anderson family will lead Books-A-Million going forward.
Main Points
Due to the length of this report on Books-A-Million, I have summarized its main points:
Management and the Anderson family have demonstrated prudence and opportunism in their past decision making, I believe this indicates that they will not naively ignore the difficult conditions of physically bookselling
The Company has liberally distributed cash to shareholders either as dividends or share repurchases which I believe confirms that the Company is focused on cash generation and stability, versus any aggressive growth initiatives
The threat of e-books is dramatically diminishing and going forward, I expect book store sales will decline at a more manageable rate
My estimate of the Company's tangible equity value is $60 million or $3.75/share
My estimate of the Company's earnings value is $70 million or $4.55/share
And I believe the Company has the ability to manage potential adverse market conditions because of its high operating flexibility and competent leadership
Company's Historical Strategy: Disciplined & Opportunistic
Historically, Books-A-Million carved out a profitable niche in the U.S. physical book retail market. It focused on locations in the southeastern U.S., and avoided direct competition with its larger chain competitors: Barnes & Noble, Inc. (NYSE:BKS) and the now defunct, Borders Group, Inc. Its focus on operational discipline and prudent investment led to a near unblemished 10-year record of profitability and cash-flow generation.
Comparable performance metrics: Net income and operating cash flow as reported in Company financials2.

Books-A-Million's historical success was due as much to what management chose not to do as to what they acted upon. This discipline helped it survive the onslaught of its first existential threat: competition from Amazon.com (NASDAQ:AMZN) and online book retail. Rather than make large capital expenditures to compete online with Amazon, BAM established a very modest online presence, and instead focused on its core physical retail business. This focus was rewarded as it became clear that there was sufficient consumer demand for book stores.
Even ten years after Amazon's founding in 1994, BAM was able to show positive sales growth. In fact, from FY2005 to FY2008, total sales grew about 3.9% a year, and comparable sales growth averaged 1.7% a year. This focus on its core market allowed the Company to profit. In sharp contrast, its larger competitor, Borders chose a more haphazard strategy and failed to survive even as the overall bookselling market grew.
More recently, management displayed considerable discipline by not entering the digital e-reader business. This discipline was initially derided as the generally-accepted narrative was that its lack of a dedicated e-reader would only hasten the Company's demise. However, as Barnes & Noble has painfully learned with its accumulated losses of about one billion dollars in its Nook division3, the e-reader business is far from a core competency of a physical book chain.
The aforementioned examples notwithstanding, BAM's management has shown the ability to be opportunistic. Historically, this opportunism has been reflected in expanding its store count during periods of economic downturns. During the first recessionary period of this decade in the early-2000s, management increased their store count from 173 (1999) to 207 (2003). This 20% increase in stores, which substantially occurred in 2001, was soon followed by a 150% increase in earnings per share (diluted EPS from FY2001 to FY2004). This growth in EPS continued until FY2008, at the onset of the global financial crisis.
Following the recent recession and the industry tumult during the Borders' bankruptcy, management once again grew the Company's store count, this time by 23% (FY2008 to FY2013). Much of this increase occurred when BAM purchased former Borders' leases in late-2011. Again, management demonstrated their opportunistic streak with 14 leases acquired at a very modest average price of $66,700/lease.
Overall, I hope I have demonstrated that management and as importantly, the Andersons have not shown any inclination to risk the Company's future by sharply shifting its strategy or making large capital investments in uncertain trends. And also, it is apparent that the Company's leadership is keen on exploiting value opportunities when they present themselves.
Company's Historical Capital Policy: Buybacks & Dividends
Books-A-Million's corporate payout policy has historically favored share repurchases over cash dividends but periodically, it has done both. Its repurchase strategy kept shares outstanding relatively stable at around 17.5 million for the early part of the 2000s. However, in June 2005, the Company accelerated their buyback efforts with the announcement of a "Dutch auction" tender for roughly 25% of total shares outstanding. Though this tender was unsuccessful in attracting much interest, total buybacks have reduced share count by over 10% from 17.2 million in FY2005 to 15.4 million as of September 2013.
In FY2005, the Company started paying cash dividends with an initial annual payout of $0.23/share. This amount increased with its earnings and culminated in a $3.09/share special dividend in FY2008 (2Q2007). This enormous dividend occurred when the stock was trading around $16/share. In FY2012, following the credit crisis and the collapse of Borders, the Company stopped paying dividends and returned to an earlier strategy of repurchasing shares. It currently has a $5 million share buyback plan, which is almost 15% of its current market value.
Overall, it seems that the Anderson family keeps a watchful eye on their shares; focusing on an operating strategy based on generating cash flows. Moreover, in light of the earlier Dutch auction and their recent takeover attempt, I believe the Andersons have demonstrated a desire to increase their ownership of Books-A-Million.
Physical Book Stores: Industry in Tumult
History & The Rise (and Stall?) of E-books
The rise of initially, online and then, digital competition has dramatically altered book stores. From 1993 to 2000, U.S. book store sales grew at an annual average rate of 7.6%, exceeding overall U.S. retail sales growth of 6.4%4. Those halcyon days were soon over as Amazon reshaped book-buying behavior. From 2001 to 2007, annual book store sales grew 2.1% lagging overall retail sales growth of 4.3%.
Soon even this moderate growth was under threat as digital competition exploded onto the scene following Amazon's release of its Kindle e-reader in 2007. From 2008 to 2012, annual book store sales have decreased 2.4% while total retail sales have grown. This decrease in the market not only reflects the onslaught of e-books but also the overall loss of dedicated retail space.
Though these trends may seem to indicate that book stores will go the way of record stores, there are many signs that physical bookselling may last much longer than generally expected. One significant recent development is the unexpectedly sharp deceleration in the growth of e-book sales. As the chart below shows, e-book annual sales growth has slowed dramatically from triple-digit rates in 2009 to 2011, to a very modest 5% year-over-year ("YOY") rate in the first quarter of 2013.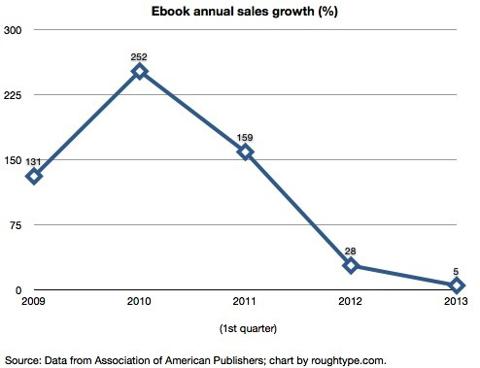 This sharp slowdown in e-book sales is not unique to the US as even the UK and Canadian e-book markets have dramatically slowed5. Interestingly, this slowdown in e-book sales growth varies depending on genre. The Association of American Publishers reported that e-book sales in 1Q2013 dropped 30% in the children's segment.
This slowdown in adoption has left e-books with a bit less than 25% of total book sales; a level that I believe will stay relatively stable for at least the next few years. Considering the impact that digital media had on music retail, the e-book slowdown has been much unexpected. Many reasons have been given for this outcome:
Books are not as transferable to a digital medium as other entertainment products due to consumer attachment to physical. According to 2012 Bowker research, 59% of Americans have "no interest in ebooks"6
The movement away from e-readers to tablets shifted users from a reading-only device to a device with many other entertainment options
Early adopters have already made their switch and further gains will be slow to be achieved
In my judgment, these developments show that the market for physical books is not facing a medium-term obsolescence risk. Unlike with music or even video, consumers have some preference for physical books and this preference will be slow to change.
The Short-Term Outlook for Book Stores
Though the market for physical books is not necessarily facing a near term existential digital threat, book stores still face strong online competition. Again, I don't believe this will lead to a disappearance of book stores in the short term. My view is based on current data showing unexpected resilience in physical bookselling.
I compared the decline rate of US record store sales following the mass adoption of the Apple iPod starting in 2003 (i.e. the advent of widespread online music purchase) vs. the decline rate of US book store sales since the start of the credit crisis in 2007.
Revenue Growth: Annual revenue growth lagged to reflect technological competition7.

As can be seen in this data, the dual threat of online and digital sales are not causing book store sales to collapse at the same rate as record stores sales did in the past. Though I do have some reservations about the revenue data from both the US Census Bureau and IBISWorld, news reports and public Company filings do show that sales declines are nothing like those experienced by record stores.
Surprisingly, this resilience has already started to benefit the remaining independent (non-chain) book sellers. Independents saw sales increase by 8% YOY in 20128 as they focused on higher service and better inventory management. This resilience can also be seen in the fact that hit releases can draw people into stores. Last year's incredible performance of the Fifty Shades and The Hunger Games trilogies led to second quarter same-store growth at BAM and Barnes & Noble. This is even more impressive considering that the adult/young adult fiction genre has seen some of the sharpest migration to the digital format. Overall, I believe that neither e-book nor online sales will lead to a short-term collapse in book store sales.
The Value of Book Stores: Discoverability & Service
As Amazon has recognized and attempted to remedy with their 2013 purchase of Goodreads, book purchases are highly dependent on discoverability or simply, consumers' ease in finding the right book to read. Considering the significant investment of time necessary to read a book, it is no surprise that people conduct some pre-purchase due diligence. Book stores are demonstrating that they can meet this consumer need better than either online or digital competitors.
Indeed, the rise of e-books has worsened discoverability since publishers are no longer gate-keepers for the book industry. The low-risk and ease of digital self-publishing has led to an explosion in the supply of books with Publishers Weekly reporting that the number of self-published books has nearly tripled since 2006, with 235,625 titles released in 2011 alone9. Logically, this huge supply of books makes it significantly harder for consumers to find the right book.
This problem of discoverability is even affecting Amazon as it seems that only 10% of books purchased on the site arise from its 'bought this/also bought' recommendation engine10. It appears that book stores have a human advantage in addressing this problem. They are focusing on better and more selective curating of their product offering, and thus, reducing the frictional costs of finding the right book. Again, these distinctive aspects of book consumption support the premise that the decline of physical book stores will be a gradual and protracted process.
Is Books-A-Million Undervalued: My Estimate of Tangible Equity Value
I believe that Books-A-Million will judiciously manage the decline in physical book sales and generate significant value for its shareholders. Additionally, if management is able to successfully diversify their business, the Company may have a much longer future than is currently expected. And finally, I believe that the current tangible equity value provides us with a reasonable margin of safety to wait and see how the future unfolds.
To estimate its tangible equity value, I used the Company's balance sheets from the end of its most recent fiscal year and quarter.
Consolidated Balance Sheet: From annual and quarterly Company filings, and summarized by the author.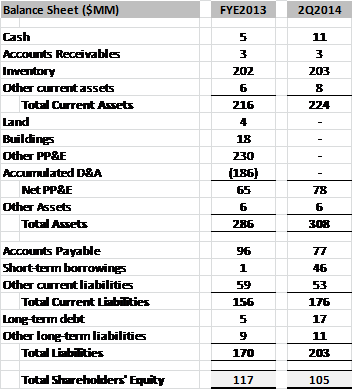 Currently, the market value of the Company is roughly $35 million. So it is trading at one third of its book equity value (total shareholders' equity of $105 million). However, it is important to see if this book value is an accurate representation of its tangible or liquidation value. I have focused on the following components to calculate its tangible value:
- Inventory: Unique to retail, books are returnable to suppliers at full credit; thus, with over 70% of its inventory in books, I estimate that a substantial majority of its $203 million in inventory is tangible. Moreover, the Company's creditors seem to agree with this view as they have consistently provided favorable terms based on this inventory value with the recent June 28, 2013 credit agreement allowing for $128 million in borrowings. And the interest rate charged was reduced to 1.50%-2.00% for LIBOR loans.
- Property, plant & equipment: This section has historically been very vague as the Company has not provided great detail on its property holdings. However, discussions with management and the recent addition of a new business segment ("Real Estate Development and Management") in the quarter ending August 3, 2013, has provided some clarity. This segment contains two large shopping centers that the Company has recently purchased and developed. In addition, the Company owns other real estate in its retail segment. In total, I have estimated that the Company owns roughly $35 million in real estate assets.

- Borrowings & Debt: The Company finances its inventory with payables and its line of credit. It generally utilizes its credit line in the first three quarters of its fiscal year and then pays it down in the final quarter of the year. Its long-term debt balances, currently at $17 million, are primarily real estate-related with a $12.3 million 30-year fixed rate loan and a $4.9 million industrial revenue bond due in early 2016. In the last four quarters the Company has averaged roughly $44 million in total borrowings & debt. And net (of cash) debt of roughly $37 million.
With that preamble, I believe the tangible equity value of the Company is roughly $60 million or $3.75/share. I get this estimate by adding its current assets (primarily inventory) of $224 million to the $37 million in real estate and equity interests, and then I subtract all liabilities of $203 million. The stock market value of the Company is about 40% below my estimate of tangible equity value.
Is Books-A-Million Undervalued: My Estimate of Earnings Value
To properly estimate Books-A-Million's earnings power, I focus on its ability to generate free cash flow. First, I estimate its cash-generation ability by looking at its GAAP operating cash flow and its non-GAAP earnings before interest, taxes and depreciation/amortization (EBITDA). Then, I estimate its prospective maintenance capital expenditures.
Operating Cash Flow & EBITDA: I calculated the Company's EBITDA using the company's financial filings.

To smooth out the volatility of one-time impacts and working capital changes, I estimated the Company's cash-generation ability by averaging these two measures. Going forward for the next few years, I believe that the Company will generate $17 to $20 million cash annually after-tax. I believe this is a sustainable amount based on my beliefs (stated earlier) on the stabilization of the bookselling market. More specially, BAM has made a concentrated effort to diversify its retail operations away from books and I believe these moves will counteract the general decline in physical book retail.
As a percentage of sales, books have dropped from 84% in FY2008 to 73% in the most recent quarter. Management has accomplished this strategy by gradually transitioning promising locations to more non-book merchandise, and by introducing new retail concepts. They have introduced a retail concept called Kids-A-Million that has children's books, merchandise and activities (story time, face painting, etc.). Another retail concept that has seemed to be very popular (based on online reviews) is 2nd & Charles. This unique model allows patrons to exchange used books, music, videos, games, and other products for cash or store credit. Since its start in the summer of 2010, the Company has expanded to 16 locations.
Much of the recent capital expenditures have been used to purchase real estate and equity interests. These expenditures are not core to the book retail segment nor are they facing obsolescence risk and thus, supporting the company's valuation. Moreover, I believe that management acknowledges the decline in their core book business so expenditures for that segment will average at the minimum levels necessary.
Therefore, I believe maintenance capital expenditures are well below the average $20 million spent on total capital expenditures in the last three years. Moreover, management has confirmed as much in recent earnings calls. I estimate that maintenance expenditures will be roughly $6 to $8 million a year.
These estimates of cash-generation and expenditures produce my free cash flow estimate of $10 million annually for the medium term. By applying a conservative multiple of 7 times on this free cash flow estimate, I estimate the (retail) business is worth $70 million or $4.55/share. The stock market value of the Company is about 50% below my estimate of earnings power value.
Going Forward: What are the Andersons Going to Do?
I believe that management and the Anderson family recognize that Books-A-Million has the ability to generate value for them. Again, the family's attempt to acquire the Company at $3.05/share (+30% over the current price) in early 2013 was thwarted by minority shareholders, and not because the Andersons hesitated. Moreover, the reinstatement of the share buyback policy shows they are eager to gradually increase their ownership at current prices.
Additionally, their recent moves to diversify the business away from book retail shows they are not quixotically clinging to hopes of a great turnaround in their book business. Therefore, I believe management will continue to use the cash generated by the core retail business to invest in share buybacks, real estate, equity investments, and non-book retail concepts. As long as the industry declines in a gradual manner this strategy would allow the Company to survive well into the future albeit in a very different form.
What if Prospects Worsen: Flexibility to Follow a Liquidation Strategy?
Nonetheless, one risk is that sales deteriorate faster than I expect, and my cash flow expectations prove lofty. In such a situation, the best strategy would be to close unprofitable stores, monetize the inventory and rundown the business. I have written about Trans World Entertainment Corp., a music and video retailer that very successfully implemented such a liquidation strategy. Trans World followed this strategy and increased its cash holdings from $30 million in FY2009 to $119 million in FY2013. This huge increase in cash occurred even as the company had aggregate GAAP net losses of $129 million11. In fact, this strategy was very rewarding to Trans World shareholders as the stock appreciated from roughly $1.50 to over $5.00 in that time period.
To have similar flexibility, Books-A-Million requires a short average lease term, supportive vendors and creditors, and most importantly, a rational management team. Fortunately, the Company does have this flexibility. I estimate that nearly 70% of its leases expire within three years, and almost 90% within five years. This short average lease term allows them to quickly respond to any unexpected weakening in the market.
Also, both vendors and creditors have displayed a high level of confidence in the Company. As mentioned earlier, creditors are not only providing attractive terms but also have allowed the Company to diversify into real estate and repurchase shares. It seems unlikely that creditors would allow such cash outflows if they felt the Company may face short-term financial difficulties. Vendors too, have demonstrated similar flexibility. As the second largest bookseller in the market, BAM has maintained favorable inventory terms and pricing.
So can we expect management and the Anderson family to act rationally and do the right thing if conditions deteriorate? I believe so. My confidence comes from their history of prudence in the face of technological threats especially in comparison to their competitors; and from the fact that the family owns a majority of the shares. I believe this alignment of interests increases the probability that the leadership will be willing to quickly adapt to market conditions.
Risks12
Though I believe an investment in Books-A-Million is an attractive venture, I believe there are some (of many) risks that must be recognized. Much of my thesis relies on the Company's adroit management of the decline in physical book sales. Additionally, I depend on management to continue to exercise discretion in their capital expenditures. Since a considerable amount of the cash generated by the core retail business is going into real estate and other ventures, we depend on them to make good investments.
My thesis also requires that the Anderson family continues to act ethically when dealing with minority shareholders. Though I do not fault them for their earlier opportunistic bid, it is both critical and required that the Company provides transparency for all. And finally, this investment requires the ability to tolerate high share price volatility since the stock is very illiquid.
Summary & My Musings
Hopefully, I have clearly conveyed my belief that Books-A-Million is an attractive investment opportunity. Fundamentally, I believe that the Company's tangible equity value provides a reasonable margin of safety while we wait for the Company to stabilize its business in this tumultuous period. And I do expect that physical book retail will stabilize in the short term as the existential threat of digital competition recedes.
For some (peculiar) reason, people like to use and buy physical books. And unlike the history of many changes in media in music and video, people have preferred physical books from time immemorial. It probably has to do with the fact that it takes time and effort to read a book; and thus, we need something tangible to commemorate this achievement. So, the product demanded is not just the information on the pages but the book itself. It becomes a trophy we can put on our shelf for all to see. I guess this is why book stores exist in the first place; especially when we consider that there has always been a costless competitor… the local library!
2 All data in this report is based on public releases, Company discussions and my calculations on a best-efforts basis. I do not guarantee the accuracy of the presented material.
3 Susan Berfield; The End: Barnes & Noble in Silicon Valley; Bloomberg Businessweek; www.businessweek.com/articles/2013-07-25...-valley (July 25, 2013).
4 U.S. Census Bureau data.
5 Booknet Canada; The Canadian Ebook Market Plateaus at 15%, Says New BookNet Canada Study; http://www.booknetcanada.ca/press-room/2013/5/21/the-canadian-ebook-market-plateaus-at-15-says-new-booknet-ca.html (May 21, 2013).
6 Kelly Gallagher; Publishing Business Conference: International trends in ebook consumption; http://www.teleread.com/paul-biba/publishing-business-conference-international-trends-in-ebook-consumption/ (March 20, 2012).
7 IBISWorld data. IBISWorld calculates sales independently so there are differences vs. US Census Bureau data.
8 Mark Koba; Last chapter for independent bookstores? Not just yet; CNBC.com; http://www.cnbc.com/id/100939768 (August 8, 2013).
9 Self-Publishing Sees Triple-Digit Growth Since 2007; Publishers Weekly; http://www.publishersweekly.com/pw/by-topic/industry-news/publisher-news/article/54482-self-publishing-sees-triple-digit-growth-since-2007.html (October 24, 2012).
10 Suw Charman-Anderson; Half of Amazon Book Sales are Planned Purchases; Forbes.com; http://www.forbes.com/sites/suwcharmananderson/2013/02/20/half-of-amazon-book-sales-are-planned-purchases/ (February 20, 2013).
11 Data from Company filings, and excludes impact from one-time real estate gain and dividend payment in late 2012. If included, FY2013 cash balance was $148 million and aggregate losses were $108 million.
12 This risk section is in no ways attempting to be comprehensive, please consult your risk advisors before making any investment. An investment in BAMM, like any other investment, has the potential for a total loss of capital.
Disclosure: I am long BAMM. I wrote this article myself, and it expresses my own opinions. I am not receiving compensation for it. I have no business relationship with any company whose stock is mentioned in this article.
Additional disclosure: I may change my views on Books-A-Million and the value of Books-A-Million's shares at any time and for any reason. And I reserve the right to buy or sell shares in Books-A-Million at any time. I disclaim any obligation to publicly notify of any such changes.