On Friday, October 4, T-Mobile (NASDAQ:TMUS) announced its plans to hold an "Uncarrier 3.0" event in NYC. T-Mobile will use the NYC event (featuring Shakira) to unveil the third part of its self-proclaimed strategy to upend the U.S. mobile industry.
Previously, the first part of T-Mobile's strategy involved rolling out contract-free service plans that eschewed traditional phone subsidies in favor of monthly installments and the second part involved the launch of the carrier's Jump smartphone early upgrade plan. In the wake of Friday's announcement, I wanted to highlight a number of reasons behind my decision to remain bullish on shares of T-Mobile.
No. 1 - Recent Performance and Trend Status
On Friday shares of TMUS, which currently possess a market cap of $8.77 billion, a beta of 0.85, and a P/E ratio of 27.77 settled at a price of $26.38/share. Based on their closing price of $26.38/share, shares of TMUS are trading 3.58% above their 20-day simple moving average, 7.05% above their 50-day simple moving average, and 20.18% above their 200-day simple moving average. These numbers indicate a short-term, mid-term and a sustainable long-term uptrend for the stock, which generally translates into a moderate buying mode for most traders.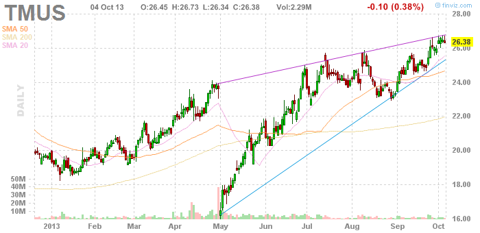 No. 2 - An Interesting Share of the Smartphone Market
On Monday September 30, Kantar Worldpanel announced its estimates for U.S. carrier smartphone sales for the months of June through August 2013. Among the U.S. carriers featured, Verizon (NYSE:VZ) led the pack as its sales accounted for 37.1% of all U.S.-based smartphone sales in the above mentioned timeframe. During that period its market share grew 520 bps on a year-over-year basis.
Although Verizon's sales accounted for 37.1% of all U.S.-based sales, it was T-Mobile's sales that actually caught my eye. Coming in at a market share of just 13.2% (up 110 bps), T-Mobile could surpass those in the "Other" category (13.4%, up 500 bps) if in fact the company's "Uncarrier 3.0" event results in a clear increase of users through the end of the fourth quarter.
A Few Risks to Consider
According to Equity Watch, there are a number of risks associated with a long-term position in T-Mobile. For example, it was noted that "With Verizon Communications gaining full control of its wireless segment and the massive investment of SoftBank in Sprint Corporation (NYSE:S), the industry is now very competitive. Carriers are competing aggressively for market share, which means that there will be significant price pressure in the future. Moreover, the acquisition of Leap Wireless (LEAP) by AT&T (NYSE:T) could also intensify competition, as LEAP operates in those regions where TMUS has a strong presence. With the increasing demand of high bandwidth, TMUS might face spectrum constraints in the future, and it will be dependent on spectrum auctions and M&As."
Although Equity Watch touches on the competitiveness of the industry and how various M&A activity that could hinder T-Mobile's U.S.-based growth, we must note that any downtrend in market share could negatively affect shares. Until more proven data is delivered, I wouldn't put all my eggs in one basket when it comes the company's "Uncarrier 3.0" campaign even though it has shown some promise (by contributing nicely to the company's 668,000 increase in postpaid net adds during Q2).
Conclusion
For those of you who may be considering a position in T-Mobile, I'd keep a watchful eye on a number of catalysts over the next 12-24 months as each could play a role in the company's long-term growth. For example, near-term investors should focus on the company's recent efforts behind its "Uncarrier 3.0" platform, while long-term investors should pay close attention to any changes in the company's market share behavior as well as any developments that may enhance the company's growth, such the potential for any merger-based activity.
Disclosure: I have no positions in any stocks mentioned, but may initiate a long position in TMUS over the next 72 hours. I wrote this article myself, and it expresses my own opinions. I am not receiving compensation for it (other than from Seeking Alpha). I have no business relationship with any company whose stock is mentioned in this article.