On June 13th, Apple (NASDAQ:AAPL) requested an inter partes review of several of VirnetX's (NYSEMKT:VHC) patents. The inter partes review process is part of the America Invents Act, which allows entities to request cancellation of patent claims in light of prior art. Apple's review requests sent VirnetX shares down about 40%. It has since bounced back, but is still off over 20% prior to the filing.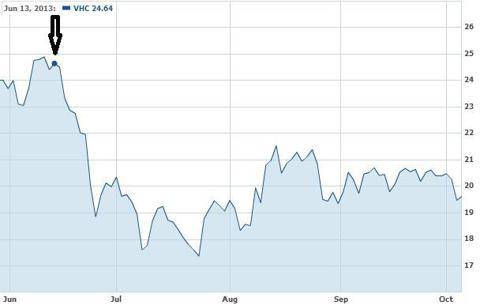 To be clear, the reviews should be taken seriously. They are aimed at undercutting VirnetX's intellectual property and the Patent Office wields significant power to do just that. However, an in-depth analysis of Apple's request suggests that such investor pessimism may be excessive. In fact, Apple likely does not have standing to initiate its full review request.
As VirnetX was quick to point out, the Board has already encountered a very similar case where it rejected Apple's position.
This previous case involved Universal Electronics, Inc (NASDAQ:UEIC) and Universal Remote Control, Inc (referred to as URC herein). Universal Electronics served URC with two complaints of patent infringement in federal court. The first was filed in 2001 (which was later dismissed) and another again in 2012. URC fired back in 2012, filing for an inter partes review.
Notably, the USPTO declined to institute the review. Although URC was served a complaint 2012, the Board noted it had a suit filed against it more than a year prior to petitioning for a review (from 2001). That legally barred the company from instituting an inter partes review.
Section 315 of Title 35 of the United States Code provides in pertinent part:
(B) PATENT OWNER'S ACTION.-An inter partes review may not be instituted if the petition requesting the proceeding is filed more than 1 year after the date on which the petitioner…is served with a complaint alleging infringement of the patent…
In the Universal Remote case the Board determined that "…[T]he petition was not filed timely within the statutory period of 35 U.S.C. § 315 and, therefore, the Board declines to institute an inter partes review…We concluded that § 315 means that an inter partes review may not be instituted if the petition requesting the proceeding is filed more than one year after the date on which the petitioner is served with a complaint alleging infringement of the patent. Because Petitioner was served with a complaint alleging infringement of the patent on March 21, 2001, inter partes review cannot be instituted."
They continued, explaining that nothing "…requires that the Board deviate from the plain language of 35 U.S.C. § 315. Nor has Petitioner identified any authority which establishes that the Board has the discretion to forgive the time limitation set forth in the statute…" (My emphasis added.)
Wow. This shows that the Board has already taken up the exact legal issue at hand in the Apple request and took a firm position that defendants served with any complaint over a year ago cannot request a inter partes review. It is undisputed that Apple was served with a complaint from VirnetX back in 2010, far exceeding the one year timeframe the law limits.
On top of this, Apple cites no case or legal rational not previously presented to the Board by URC. In fact, Apple's case falls far shorter. Unlike URC, Apple has repeatedly been allowed to challenge the patents both in federal court and with the Patent Office itself. Universal Remote was afforded neither opportunity.
The Board will soon issue its opinion on Apple's petition. This analysis suggests Apple will not be allowed to initiate at their full review because it simply has no legal standing to do so. Although the Patent Office can be extremely unpredictable, it is clear that instituting Apple's inter partes request would directly contradict the Board's unambiguously articulated stance on-in their own words-the "plain language" of the law.
This article focuses specifically on Apple's requests. However, investors have also had their eyes on a second set of petitions filed by New Bay Capital, LLC. It is more difficult to determine how the Board may move forward with these as the decision will likely be based on the merits, rather than legal considerations at this point in time.
Investors should note Apple is also separately proposing a pared down request to be joined with New Bay's (known as a "Request for Joinder") in order to circumvent its potential of being blocked under 35 U.S.C. § 315. VirnetX argues this would violate the spirit of the one year time limit; New Bay also opposes a joinder. However, the Board has previously stated it is its "discretion" to allow joinders and has at least once allowed a party to join beyond the one year limit. This previous case was markedly different. For example, the two parties used the same prior art, same expert, etc. Nevertheless, Apple's chances here appear better. Inter partes reviews are still relatively new and joinders like this are rare, so investors will need to take a wait and see approach toward this aspect of the process.
Disclosure: I am long VHC. I wrote this article myself, and it expresses my own opinions. I am not receiving compensation for it (other than from Seeking Alpha). I have no business relationship with any company whose stock is mentioned in this article.