Launching a new drug can be a daunting task even for large well established, multi-drug deep pocketed biopharma company. Launching a new drug can be absolutely crushing on the share price of a smaller one-drug type biopharma as it transitions to a commercial enterprise. I have followed Avanir Pharmaceuticals (NASDAQ:AVNR), Arena Pharmaceuticals (NASDAQ:ARNA), Vivus Inc. (NASDAQ:VVUS), and Amarin Corp. (NASDAQ:AMRN) the last few years as they have shepherded their flagship drugs through FDA approval, pre-launch and post launch and there is a definite trend and opportunity available to traders of companies that fit this small one-drug biopharma profile.
The aforementioned companies have all fairly recently launched FDA approved drugs and in each case the share price has cratered post launch for a sustained period of time creating a predictable and bankable opportunity to short sell the stock for a profit.
While each company has its own unique set of challenges there are also predictable shared challenges that can often pressure the share price in many biopharma new drug launches - some examples are listed below:
Marketing challenges - in house sales, sub-contract sales, or sell rights to the drug to another company for a share of revenues
Rosy sell-side analyst estimates
Insurance coverage challenges
Building physician awareness
Building patient awareness
Overcoming conservative physician prescribing habits
Lower than expected actual post launch prescription numbers relative to prelaunch market size expectations
Dilution/Financing
Competition from generic or alternative therapies
Let's take a closer look at graphical illustrations for the post launch trajectory of each company.
1. Arena Pharmaceuticals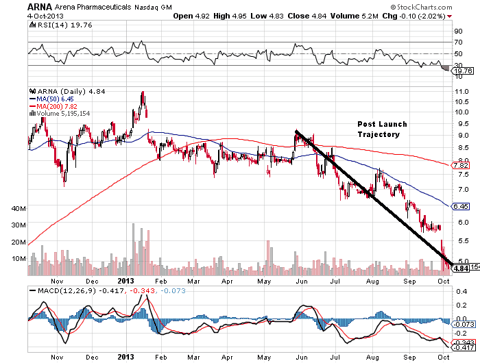 Arena launched its flagship obesity drug Belviq in June of 2013. Rather than market and sell Belviq itself, Arena decided to turn the marketing over to drug company Eisai (OTCPK:ESALY) via a revenue sharing arrangement. The graph clearly shows the post launch cratering of the share price. Arena had traded over $12 per share prior to the launch date but has since nose-dived. Some examples of the challenges that Arena faces post launch with Belviq are:
Failure To Get European Approval - Arena withdrew its applications for European approval as it became probable the EMA was going to reject Belviq and has yet to reapply.
Competitive pressure from other obesity treatments such as Vivus Inc.'s Qsymia, generic phentermine, Alli's Orlistat, and potentially from Orexigen's (NASDAQ:OREX) Contrave if it gains FDA approval.
Prescription trends that are modest based on market size potential and prelaunch expectations.
At 4 months post launch Arena shares have not recovered and are still well below prelaunch prices.
2. Avanir Pharmaceuticals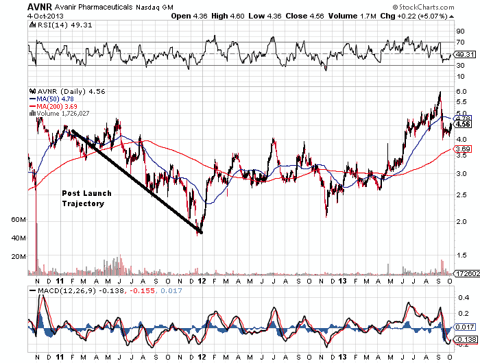 Avanir launched its flagship drug Nuedexta for Pseudo-Bulbar Affect in February of 2011. For the Nuedexta launch Avanir transitioned from basically a research & development biotech to a commercial biopharma. Avanir completed a 20M share dilutive financing after FDA approval in November of 2010 to increase cash reserves as it prepared for commercialization. Post launch Avanir faced several challenges such as:
Generic challenges to Nuedexta
Slow prescription growth
Chief Commercial Officer resigning after 7 months on the job
Conservative physician prescribing habits
Competition from generic SSRIs and TCAs that have been commonly used "off-label" to treat emotional lability a.k.a. Pseudo-Bulbar Affect long before Nuedexta was FDA approved
Avanir shares started to recover about a year after launch and have progressed back to prelaunch levels.
3. Amarin Corp.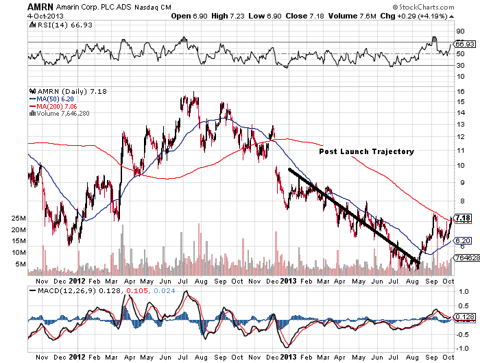 Amarin Corp. launched its flagship drug Vascepa in January of 2013. Vascepa is a super pure fish oil that is used to treat very high triglycerides. Amarin decided to market Vascepa itself and assembled a sales team late in 2012 as it readied for an early 2013 launch. Amarin, like our other examples, has faced challenges post launch. Some examples are:
24M share dilution in July 2013 at sub $6 range.
Modest prescription growth
Amarin shares appear to be recovering about 9 months after launch but are still well below prelaunch prices.
4. Vivus Inc.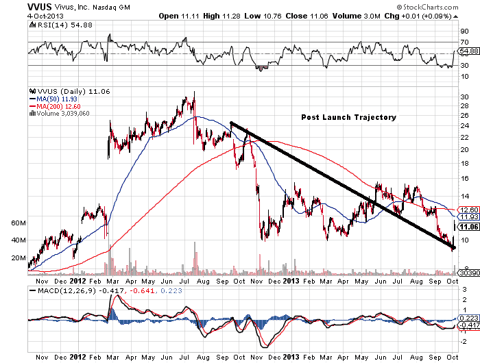 Vivus Inc. launched its flagship drug Qsymia for obesity in September of 2012. As the graph above clearly shows the stock has tanked since the launch of Qsymia. Like our other examples Vivus has had numerous challenges post launch with Qsymia. Some examples are:
Intense Competition from Arena's Belviq, generic phentermine, Alli's Orlistat, and potentially from Orexigen's Contrave.
European rejection
Insurance Coverage
Debt Financing in May 2013
Modest prescription growth
Large shareholder revolt by First Manhattan Co. (a 9.9% holder) to replace the CEO
Side-effect profile less desirable than alternatives
Vivus shares have still not recovered post launch and are still 60 - 65% below prelaunch highs.
In my opinion these four stocks share a common theme of over-exuberant prelaunch expectations and dreams of blockbuster type sales only to have reality set in post launch that it might take awhile - if it ever happens. Building effective sales teams, marketing to consumers and physicians, changing physician prescribing habits, fending off generics, and building a brand take time, money, patience, and effort.
Elevated prelaunch expectations and inflated sales expectations of similarly situated companies with impending drug launches drive the thesis for the trader/investor to short sell the shares prelaunch then cover the short sale post launch. If one believes in the long-term prospects of the company then waiting to initiate a long position until several months post launch appears to be the most sensible strategy.
A final note - Each of these stocks have an active, exuberant and hopeful retail shareholder base as seen in different internet message forums and the comment section in Seeking Alpha. To those shareholders I want to emphasize this article is not about the long-term prospects of these companies or drugs - they all may end up doing very well or even become blockbusters over the long term. The thesis outlined in this article is specifically about identifying and exploiting, for profit, a predictable trend among smaller biopharmas surrounding their first new drug launch.
Disclosure: I have no positions in any stocks mentioned, and no plans to initiate any positions within the next 72 hours. I wrote this article myself, and it expresses my own opinions. I am not receiving compensation for it (other than from Seeking Alpha). I have no business relationship with any company whose stock is mentioned in this article.
Additional disclosure: This article is informational and intended to spur thought and discussion. This article is NOT a substitute for your own extensive due diligence and does NOT qualify as investment advice. DO NOT BUY OR SELL STOCKS BASED ON THIS ARTICLE.