Goodyear Tire & Rubber Co. (NYSE:GT) is a 115-year old tire manufacturer with operations around the globe. The company generates revenue from its four operating segments: North American Tire, Europe, Middle East, and Africa Tire, Latin American Tire, and Asia Pacific Tire. In the last 12 months, the company has generated over $20B in revenues, from which roughly one-half is attributable to the North American segment. Latin American and Asia Pacific units, which represent a little over 20% of total revenues, are the major growth drivers for the company: since December 2005 the first segment demonstrated a 4.9% CAGR in revenues, while the latter one showed a figure of 6.8% CAGR. The two also have the highest EBIT margins from all four.
In the razor-thin margin business Goodyear has managed to accumulate almost $6.7B in free cash flows since the end of 2005, mainly thanks to favourable changes in working capital. LTM data shows improvements in major margins along with in-line CAPEX and interest expense. Before that, the market was reluctant to allow growth in Goodyear's share price: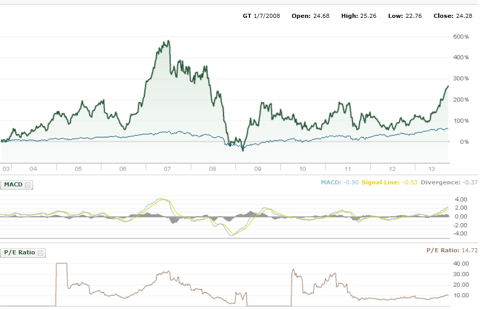 Despite the fact that Goodyear outperformed the broader S&P 500 index in 9 years out of the last 10, the stock has seen a run-up in price only after news about the reinstatement of dividends, which the company reinstated paying in 2002. Nevertheless, the company is valued highly in comparison to major competitors: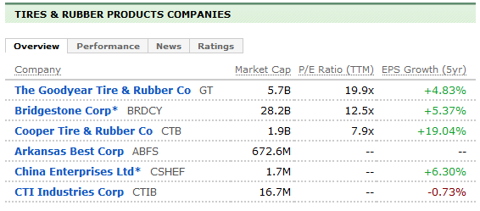 Analysts assign a forward P/E multiple of 11X, the reduction in which is mainly attributable to projected EPS growth: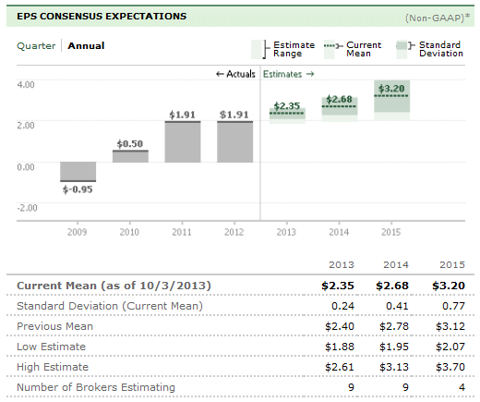 Goodyear believes the growth in the bottom line will be fueled mainly by cost optimization, reduction in pension fund expenses (expected growth in interest rates is the major tailwind), and introduction of high-margin High-Value Added tire in Latin American and European markets. In fact, the management projects 10-15% growth in EBIT for the period of 2014-2016 in connection with these drivers: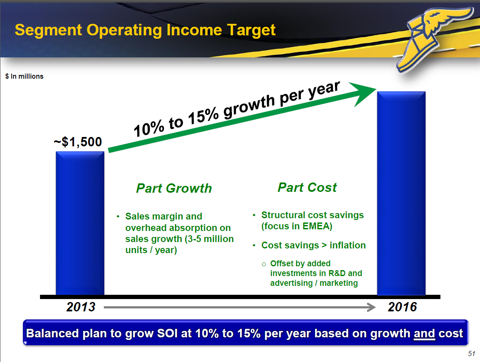 (September 20, 2013 presentation) [pdf]

To give a greater detail of sources and uses of cash for the next 3-4 years the management has drawn some numbers to build further confidence among investors: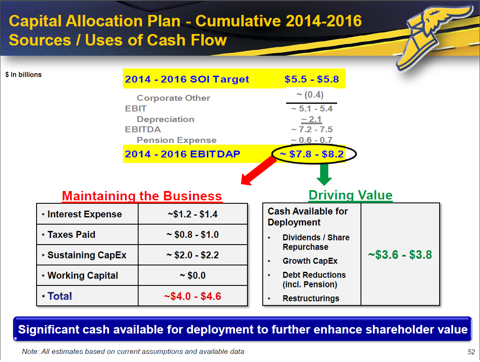 A very important risk element, long-term debt, had to be addressed, too. The total financial debt stands at around $6.5B, which trumps the current market cap of $5.66B. The company has ~$2.6B of cash on its balance sheet but this advantage is neutralized by a $2.656B underfunding gap in pension obligations. The effective Enterprise Value of Goodyear is $12.3, from which market value of equity comprises less than half. Hence, the company's management proposed plans to drastically reduce leverage ratios by the end of 2016: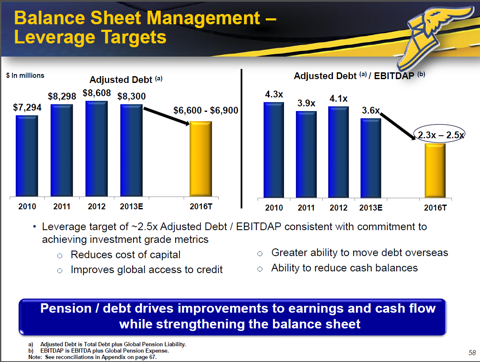 Should the company succeed in its debt-reduction efforts, it will not only retire a major portion of perceived investment risk but will also gain access to cheaper debt (thanks to higher credit ratings, which are not that great at this point of time) and, therefore, earn more in the bottom line.
Industry Outlook
Capital IQ holds a positive 12-month outlook for the tires & rubber sub-industry. Major growth drivers are expanding vehicle sales in North America, a modest increase in aggregate miles driven (three quarters of shipments come from replacement tires), and low rubber prices. Additionally, domestic tire producers are shifting towards premium tires in response to an inflow of low-cost plain vanilla tires from across the ocean. Companies that have international operations (like Goodyear) will enjoy business cycle diversification. Year-to-date through mid-September the S&P Tires & Rubber Index posted a 58% gain versus an 18.8% increase in S&P 1500 Index: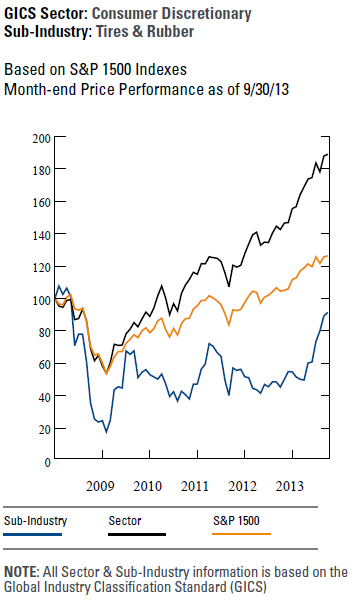 Goodyear posted in-line gains with the sub-industry index and returned ~60% since January 2013.
Valuation
The SOTP-DCF model showed figures comparable to the target price posted by Deutsche Bank: modest projected sales growth was compensated by drastic increases in margins and lower share count as a result of proposed $100M share buyback. The output of the model is given below: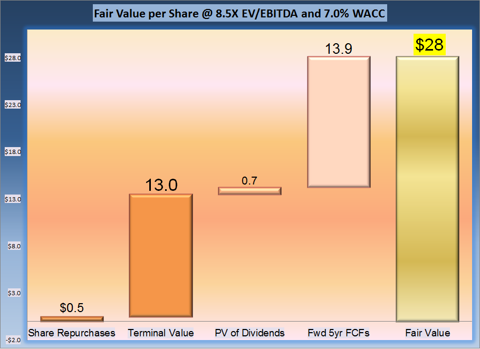 The composition of fair value in terms of key drivers is illustrated in the following pie-chart: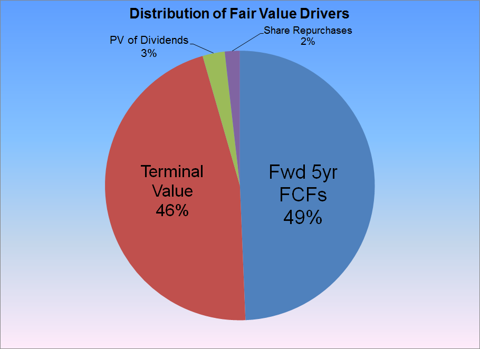 Analysis
- Although finance-related items (FCF, dividends, repurchases) represent a little over a half of the total valuation, investors should see the resumption of dividend payments and the buy-back program as a sign of a major turnaround. After all, the company used to be restricted by debt covenants to distributed cash flows in terms of dividends
- Market opinion, represented by Terminal Value, comprises a substantial piece of the overall share value. I felt responsible to warn readers about potential multiple contraction as a result of normalization back to historical levels plotted below: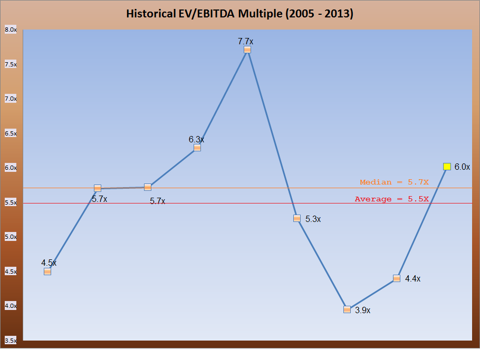 Incorporating EPS projections presented above into the analysis and applying an expected P/E multiple of 11.0X gives us the following value matrix:

Summing it all up, the fair value range is found in between $26 - $29 per share with standard deviation of +-$1.
Technical Analysis
This analysis of price development, which uses a wide array of methods, including statistics and figure formations, is best used in conjunction with its colleague, fundamental analysis. I always outsource technical analysis due to lack of formal expertise and in order to save time. The technical picture is presented by Recognia Inc.: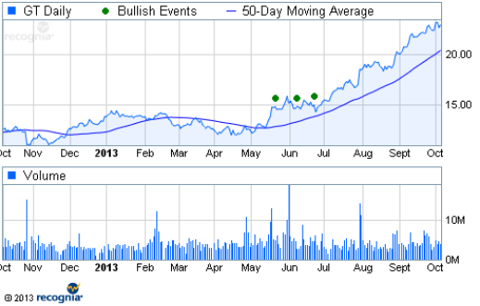 The trend has been above the 50-day moving average since the middle of May. Recent market activity suggests that the price may be reaching a plateau in the near term. The last best buying opportunity was during the June-July period at $15 per share. Major price actions, according to trading volumes, were at price levels between $15 and $17.5 per share; since then the market activity returned to statistically normal levels. The technical picture suggests that, essentially, the catalyst for further price growth will largely be fundamental, as the price of stock is nowhere near the "oversold zone" and, in fact, is racing towards the "overbought" territory, which may imply slight correction in the medium term.
Summary
Goodyear Tire & Rubber Co. is a turnaround bet. Despite decent cash flow-generating abilities, the company's value is largely attributable to expectations of future improvements in operations and favourable product mix. The share value shall move in tandem with the management's success in delivering the promises built during this year.
Conclusion
I issue a "BUY" recommendation with a target range between $27 and $29 per share based on medium figures for 2014 and 2015 EPS estimates. This respectively represents a 17% - 26% upside from Friday's close of $23.01 per share.
Analysts' Recommendations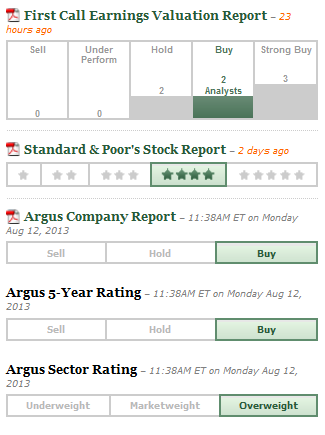 Disclosure: I have no positions in any stocks mentioned, and no plans to initiate any positions within the next 72 hours. I wrote this article myself, and it expresses my own opinions. I am not receiving compensation for it (other than from Seeking Alpha). I have no business relationship with any company whose stock is mentioned in this article.