Pioneer Power Solutions, Inc. ("PPSI", or the "Company") represents an attractive investment opportunity to take advantage of the expected increase in demand for electricity transmission and distribution equipment in North America. According to a report by the Freedonia Group in May 2013, U.S. demand for electricity transmission and distribution equipment is expected to increase 4.8% annually to $30.4 billion in 2017, a higher rate of growth than the 2007-2012 time period. PPSI will benefit significantly from this positive trend as well as from the improving real estate and building markets and therefore its current stock price provides an attractive entry point.
Company Background
Headquartered in Fort Lee, NJ, PPSI is a manufacturer of specialty electrical equipment for applications in the utility, industrial and commercial segments of the electrical transmission and distribution industry. The company has four primary product groups having recently added switchboards, panelboards and customer electronic enclosures with its acquisition of certain assets from Pico Electrical Equipment in September 2013 (press release).

Sources: SEC filings.
Revenue breakdown: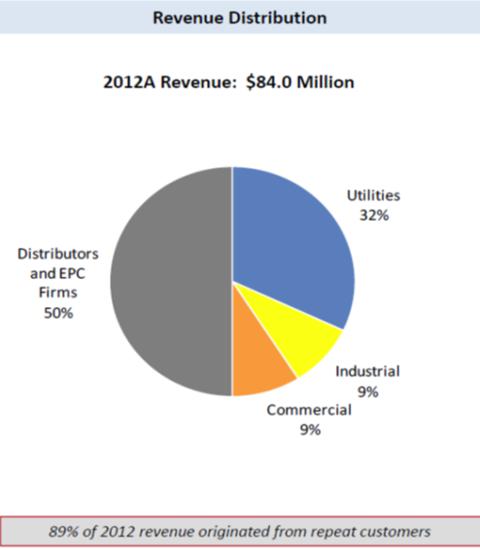 Source: Company presentation, June 2013
September 2013 issuance of additional shares and NASDAQ listing - positive liquidity event leading to debt reduction and greater flexibility in making additional strategic acquisitions
On 9/24/13, PPSI announced the completion of an offering of 1.265mn shares of common stock, which includes 165,000 shares issued as a result of the full exercise of the over-allotment option granted to the underwriters. The stock was priced at $7.00 per share resulting in net proceeds of ~$7.8mn, according to PPSI. In conjunction with the issuance of new shares, PPSI uplisted to the NASDAQ from the OTC Bulletin Board. PPSI indicated it intends to use the proceeds for the repayment of outstanding debt and any additional funds for acquisitions.
The recent pricing and uplisting is a watershed event, which will enable the stock to move closer towards its fair value. One of the major headwinds for the stock until this event (essentially its IPO) was its lack of liquidity and visibility. A more liquid stock with a national exchange listing should enable PPSI to more easily and readily utilize its stock as currency in making future potential accretive acquisitions, and attract a broader investor base.
Drivers of PPSI's revenue and earnings growth
PPSI is benefiting from multiple trends in the energy market that will continue to drive year-over-year (yoy) organic growth. Firstly, the North American electricity infrastructure is in desperate need of upgrades and will require significant capex over the next few years. As the North American electric grid stands today, it is unable to adequately provide continuous electricity with increasing demand. The financial crisis caused significant delays in the regional and national upgrading of the grid. Now that the financial markets and access to capital has begun to ease, critical projects that had been on hold will resume and companies like PPSI will benefit. The expected continued increase in energy usage requires higher grid capacity and increased efficiency. Furthermore, the increased requirement by federal, state and local governments for renewable energy (solar and wind) will require additional equipment (such as transformers) to connect those sources to the current electric grid.
In addition to organic growth, PPSI remains active in M&A, having made five acquisitions since April 2010 (although the Company divested from Pioneer Wind Energy Systems in September 2011). I believe management will continue to be opportunistic with regard to future acquisitions continuing to focus on purchasing attractive integration targets at accretive valuations. Additionally, PPSI's increased ability to use its stock as a component of consideration for acquisitions will increase the size and number of opportunities for management to leverage its deal-making acumen and industry focused expertise.
PPSI's acquisition in critical power in March is the beginning of the Company's entrance into the backup power and distribution generation market -a fast growing market - as everything from data centers to hospitals look to manage power usage more efficiently as well as install redundancies to provide standby power when necessary.
PPSI's acquisition this month of certain PICO Electrical Equipment assets will enable the company to take advantage of a rebounding real estate and building market.

Sources: SEC filings and Samson Bélair/Deloitte & Touche, Inc.
Why PPSI is attractive
Company Fundamentals and Management Team
With PPSI's expected combined organic growth and execution with accretive acquisitions, the current stock price provides a good entry point for patient, value oriented investors. Given expected demand in the sectors PPSI serves, PPSI can maintain low double-digit organic growth through 2014 with revenue likely surpassing $100mn in 2014. I also see meaningful long-term contributions to PPSI's results from its expansion into the critical infrastructure segment. Although currently small, management intends to focus on growing this segment through both organic growth and acquisitions (see 1Q13 earnings release).
Additionally, the proven track record of the CEO and Chairman - Nathan Mazurek - provides confidence in his ability to continue to grow PPSI and show better year-over-year financial results, possibly culminating in an eventual sale to a strategic company once PPSI becomes large enough. Mr. Mazurek has a track record of good execution and extracting value for shareholders. In his previous positions at American Circuit Breakers Corporation (1988-2000) and Aerovox (2001-2005), Mr. Mazurek was instrumental in helping grow both companies eventually leading to a sale - American Circuit Breakers to a strategic company and Aerovox to a financial firm. Mr. Mazurek's proven track record as well as his ability to communicate the PPSI story will continue to be positive for the company's stock.
Comparable Analysis
Although the stock price has come up a bit since a first look back in July (partly a result of a secondary offering and uplisting to the NASDAQ), at current prices PPSI's stock remains cheap. Investors can get in for ~9.2x potential 2014 adjusted EPS and ~5.6x potential 2014 adjusted EBITDA. Adjusted 2014 EPS could reach $0.88 while adjusted EBITDA could get to almost $12mn assuming organic growth continues around 10% annually through 2014 and only modest margin expansion between 2013 and 2014.
As a point of comparison (see chart below), comparable public companies trade at an average of ~23x 2014 consensus EPS and ~11x 2014 consensus EBITDA. PowerSecure International, Inc. (NASDAQ:POWR), the most comparable publicly traded company to PPSI, is currently trading ~20x 2014 consensus EPS and ~8.4x 2014 consensus EBITDA. Another small cap company in the space is Power Solutions International (OTCPK:PSIX) which enjoys a ~41x 2014 consensus EPS multiple and a 20x 2014 consensus EBITDA multiple.
It's just a matter of time before PPSI closes the gap with the rest of its peer group now that it has addressed its technical and stock liquidity limitations by listing on NASDAQ.
Should management be able to maintain positive organic growth (which we think they can) and continue to find and execute on accretive acquisitions (which they appear to be doing with the recent Pico acquisition as an example) holders will be rewarded with a higher stock price.

Risks
I like PPSI - that's clear. But there are risks (which it turns out, also work for the company in certain instances). These risks include:
Limited liquidity in the stock-Although it has recently been improved with the issuance of 1.265mn shares and uplisting to the NASDAQ
Stock is mostly held by insiders: approximately 65% of the stock is held by a management controlled entity-Although this is a risk, management interests are aligned with shareholders.
Fragmented market - 50 or so direct competitors (see 10-K)-This happens to also provide PPSI an opportunity to grow through M&A given PPSI's proven strong deal making capabilities.
Larger competitors that have more/better resources-This is partially mitigated by PPSI's recent equity raise and substantial capacity under its credit facilities, which makes it a more stable company than any time in its history. Additionally, its brand name clientele and history of repeat business validate its standing as a very credible player notwithstanding its overall size.
19% of consolidated sales in 2012 were to one customer - Hydro-Quebec Utility Company and 12% of consolidated sales were to Siemens Industry, Inc.-Hydro Quebec has been a customer for many years and has come to rely on Pioneer as a trusted local (PPSI has a factory in Quebec) high-quality supplier.
Conclusion
Favorable industry trends; smart and patient management team with a track record of creating value; newly uplisted stock and improved equity and liquidity profile enhancing management's ability to complete accretive acquisitions; trading at a significant discount to public comps-all serve to make PPSI an attractive opportunity at current prices.
Disclosure: I have no positions in any stocks mentioned, and no plans to initiate any positions within the next 72 hours. I wrote this article myself, and it expresses my own opinions. I am not receiving compensation for it. I have no business relationship with any company whose stock is mentioned in this article.
Additional disclosure: I have provided, and continue to provide, research and due diligence services to Genesis Capital Advisors. Genesis Capital Advisors, through its affiliated entities and persons, is long Pioneer Power Solutions, Inc. However, I wrote this article myself, and it expresses my own opinions. I am not receiving compensation for this article from anyone (including Genesis Capital Advisors and its affiliates). I have no direct or indirect business relationship with any company mentioned in this article.