"The fact that people will be full of greed, fear or folly is predictable. The sequence is not predictable." -Warren Buffett
Current Events:
Investors who thought it was tough knowing where to put their money this past year are now stumped with the US government shutdown. When the "safest" country in the world decides to shut down one has to think twice about getting into the equity market. That said, the markets have thus far reacted mildly to this large political event and aren't necessarily expected to be moved much more in the near future. Many investors expected a much larger negative move in the markets from this debacle but it seems the constant friction DC has created over the past 5 years has finally worn down investors' knee-jerks. For this cycle around the "crisis," we are seeing relative market stability in the face of government volatility. The near-term outlook is one of volatility but not really much actual fluctuation either up or down.
CEO of largest bond funds in the world calls for volatility:
On Friday, 10/4/13, the CEO and co-CIO of Pimco, Dr. Mohamed El-Erian and Frank Mottek, on KNX 1070's Business Hour offered a forward look at our markets on the radio. Dr. El-Erian stated, "The market has decided that most of this is temporary and reversible..." When asked what to expect over the next 2 weeks approaching the impending debt-ceiling crisis he stated, "volatility in the markets...."
Volatility seems the likely outcome, but how much and is there a way to profit from it? Recent activity in the iPath S&P 500 VIX (NYSEARCA:VXX) suggests there is a good chance we are in for at least a few more days if not weeks of volatility. Look at the last 7 days of this 1 month chart of VXX (courtesy FREESTOCKCHARTS.com):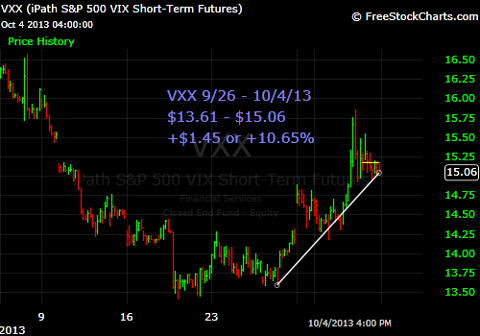 VXX up +10.65% in 7 days of trading
Clearly VXX is benefiting from DC's impotence, but what about the markets? The SPDR S&P 500 (NYSEARCA:SPY) has been volatile over this same 7 days but has ended with only a small change in price. One-month chart of SPY (courtesy FREESTOCKSHCARTS.com):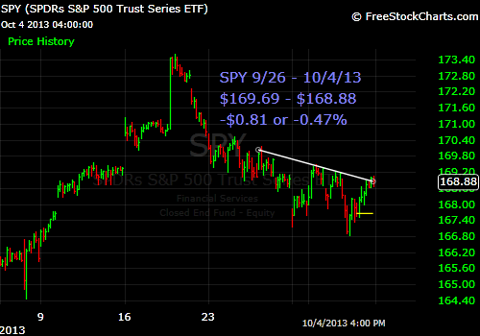 SPY down -.47% last 7 days of trading
So we see fluctuations in SPY with an end result of less than a half a percent move over the last 7 trading days. Though it's hardly making waves, the uncertainty of the market's direction is benefiting VXX and according to Dr. El-Erian, we can expect more of the same coming into the Oct 17th debt-ceiling date.
Bill Gross predicts smooth sailing:
Bill Gross, co-founder and co-CIO of PIMCO, was interviewed on Bloomberg Oct 1st and when asked what will happen with the nearing debt crisis he clearly stated, "Default would be catastrophic but it's not going to happen..." If he is correct this is more reason to think we should continue to see volatility with a small net change in price in our markets for the next couple of weeks. If he is incorrect, well, that would mean extreme volatility with severe negative moves in the markets. Either way, VXX looks to benefit until Oct 17th.
Investors in volatility have made mountains of money over the last year with inverse VIX ETFs: Velocity Shares Daily Inverse VIX (NASDAQ:XIV) and ProShares Short VIX Short-Term Fut (NYSEARCA:SVXY). One-year chart of XIV (courtesy FREESTOCKCHARTS.com):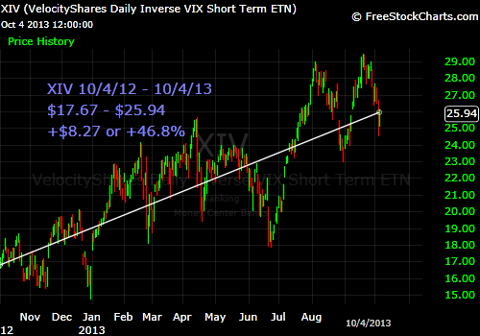 XIV up +46.8% over last 365 days
XIV down -10.39% last 7 days of trading
Though an investment in either XIV or SVXY has been fruitful for the long haul of the last year, the last couple weeks have been devastating, as one would expect when volatility climbs.
Conclusion:
If there is one word to sum up the market's near future it would be "uncertainty," which is precisely the fuel VXX needs to continue to thrive and what will continue to cut the price of XIV and SVXY. The near-term outlook, next 2 weeks, should provide us with gyrations in the SPY with a minor net change in price. Those same gyrations however should push VXX higher and could easily result in another 10% or 15% gain in the next 7 trading days. It must be noted that trading VXX, XIV, SVXY or any other ETF which is somehow attached to the Volatility Index is speculative at best and comes with extreme risk. DO NOT invest in VXX if this is the first time you've heard of it or if you are not very familiar with how it works as it goes down even easier than it goes up.
As far as SPY or investing in the equity markets goes (XIV and SVXY as well), I would suggest holding off until after the 17th of October or whenever a resolution comes. When this "crisis" is resolved there is a strong likelihood that our markets will climb to new heights through the end of the year and quite possibly beginning just after the 17th as we are entering corporate earnings season again and many companies are expected to report rosy results. Though one might miss some of the upside by waiting till the debt-ceiling issue is over, it is safer to miss out on a couple percentage points than to enter ahead of what could be a catastrophe and it is very likely that waiting will only mean buying lower. To all of my readers I wish you to invest wisely and profit tremendously.
Disclosure: I have no positions in any stocks mentioned, and no plans to initiate any positions within the next 72 hours. I wrote this article myself, and it expresses my own opinions. I am not receiving compensation for it (other than from Seeking Alpha). I have no business relationship with any company whose stock is mentioned in this article.
Additional disclosure: This article is for entertainment purposes only and is not a solicitation to buy or sell any equity.