It is hard to find a stock that has a high yield but also big upside potential at the same time. One stock that I believe fits this profile is a company called Canadian Oil Sands (OTCQX:COSWF), which holds a 36.74 percent interest in the Syncrude project located in Alberta, Canada. I believe this company is very attractively priced, offering investors compelling value but also plenty of production upside. The best part about this stock is that you are essentially getting paid to wait it out with a 7 percent yield. To make things sweeter, the company has a rock-solid balance sheet.
Compared to its peers, Canadian Oil Sands appears to be the best investment in the oil sands and I will try to prove my case below.
Canadian Oil Sands Company Info.
Canadian Oil Sands trades on the TSX under the symbol COS and on the US exchange under the symbol COSWF. The company has a market cap of $9.4 billion with 484.6 million shares outstanding. The 52-week range is $17.906 to $22.044.
Canadian Oil Sands owns 36.74 percent of the Syncrude project, with Imperial Oil (NYSEMKT:IMO) owning 25 percent and Suncor (NYSE:SU) 12 percent.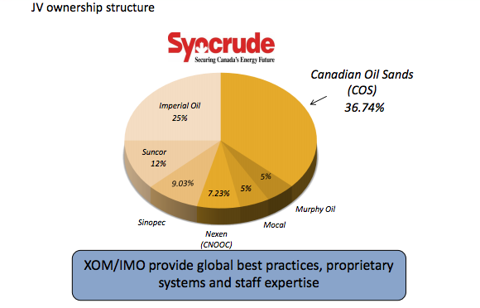 The oil sands are quite enormous and have become a very big part of Canada's economy. Here are some quick facts on the oil sands of Alberta:
The sands contain 169.3 billion barrels of proven oil reserves, or about 13 percent of total global oil reserves.
About 1.6 million barrels of crude were produced every day from the oil sands in 2010.
The energy sector (oil and gas/mining) accounted for almost 28 percent of Alberta's industry output in 2011.
As of April 2012, there were 101 active oil sands projects in Alberta. Of these, five were producing mining projects(three more are under construction); the remaining projects used various in-situ recovery methods.
(Source: oilsands.alberta.ca/).
- As for the Syndcrude project, it has produced an average of 290,000 bbl/d since 2007.
- The project has a predictable reservoir recovery of over 90 percent and over 4.5 billion in proven plus provable reserves. Roughly 2.4 billion of synthetic crude oil has been produced to date.
Bullish on Oil
The price of Light Crude Oil remains over $100 a barrel, as you'll see from the chart below. In the long-term I am bullish on the price of oil and expect prices to eclipse the $150-175 mark sometime in the next several years on supply concerns and inflation.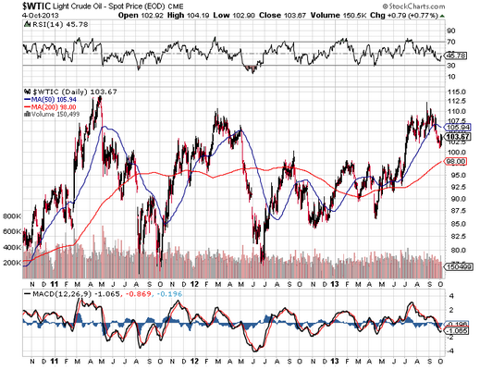 Companies like Canadian Oil Sands are highly leveraged to an increase the price of oil. The company is the "pure play oil sands investment" as 100 percent of its business comes from the oil sands of Alberta. Suncor , for example, receives about 70 percent of its production from the oil sands, while Imperial Oil gets a little over 80 percent.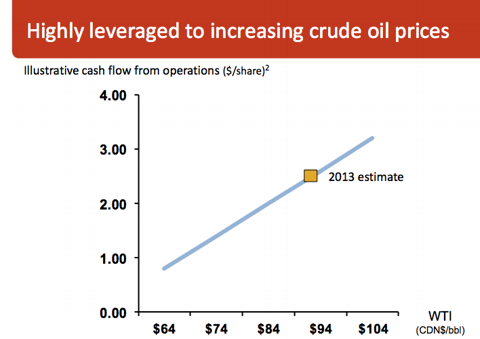 This chart shows that a slight increase in the price of crude oil would result in significant increase in cash flow from operations. This chart only goes up $104 (WTI per barrel in Canadian Dollars). Higher than $104, which I believe is very likely, would result in even greater cash flow.
Peer Comparison
Here is a comparison of Canadian Oil Sands vs. its peers:
| | | | | | |
| --- | --- | --- | --- | --- | --- |
| Company | Market Cap (billion) | P/E | Yield | Debt/Equity | Operating Margin |
| Canadian Oil Sands | $9.4 | 10.4 | 6.94 | .41 | 34.9% |
| Suncor | $53.2 | 20.3 | 2.3 | .289 | 12.3% |
| Imperial | $36.4 | 11.6 | 1.06 | .285 | 13.4% |
| Canadian Natural | $33.9 | 24.6 | 1.54 | .408 | 13.2% |
| Cenovus | $22.1 | 43.1 | 3.2 | .67 | 6.6 % |
You will see from the comparison that when it comes to dividend yield, it is not even close as Canadian Oil Sands takes the crown with Cenovus (NYSE:CVE) taking second place.
Canadian Oil Sands also has superior operating margins of 34.9 percent, better than Imperial and other peers. This means the company makes $.349 on every $1 of sales and shows that they have been very efficient with high operating margins.
Canadian Oil Sands is clearly the smallest company in the group with a market cap of $9.4 billion, far smaller than Suncor , for example, which has a market cap of $53.2 billion. Based on current earnings and future projections, Canadian Oil Sands presents the best value, in my opinion, with a P/E ratio of just over 10.
The payout ratio of Canadian Oil Sands is a bit high at 70 percent, but given the company's ample cash balance and manageable debt,I have little reason to believe that the dividend is in danger of being cut.
Balance Sheet Strength
As of June 30, Canadian Oil Sands has cash and short term investments of $1.4 billion. Total debt equals $1.89 billion, which includes $1.583 billion in long-term debt. The company also has an undrawn credit facility of $1.5 billion.
The company has total debt to equity ratio of .41 and a quick ratio of 1.68. I believe the company has a very strong balance sheet, putting it in a great position going forward.
Earnings and Valuation
Canadian Oil Sands is attractively valued with a current P/E ratio of just 10.
The company recorded net income of $219 million in the 2Q of 2013, giving them earnings per share of .45. Full year 2012 earnings per share came in just over $2, and the 16 analysts covering the company project 2014 earnings of about the same amount. With a share price currently under $20, I believe the company is undervalued.
The Real Upside: Projects Almost Complete, Spending to Drop
The company is currently undergoing several capital projects which are all scheduled to be completed by 2015.
- The company's biggest capital project, the Mildred Lake mine train replacement, is estimated to cost $1.6 billion when complete. This project is 55 percent as of June 30, and is expected to be finished in the fourth quarter of 2014.
- The Aurora North mine train relocation (cost of $400 million, 80 percent complete) and the Aurora North tailings management (cost of $300 million, 90 percent complete) are two other major projects which are expected to be finished very soon.
- In total, the company expects to spend $900 million on capital projects in 2014.
*After these projects are completed, capital spending is expected to significantly drop in 2014 following the completion of the major projects listed above. You will see in the below chart that the company expects to spend only $200 million on major projects in 2015,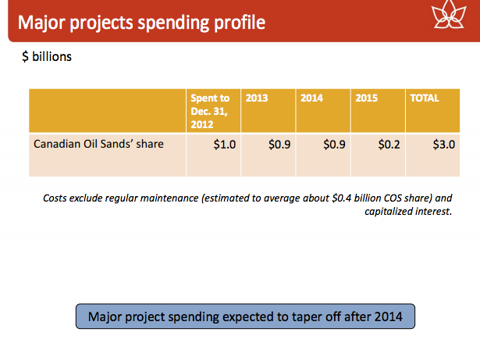 I believe this puts the company is a great position to generate substantial amounts of free cash flow in the future. This chart below really drives that point home: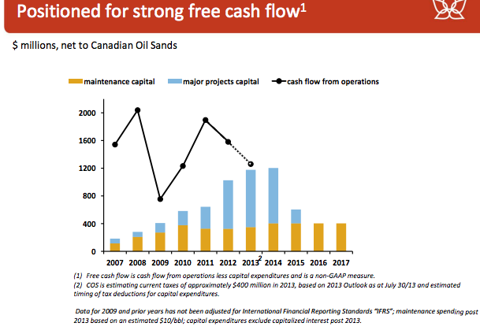 Total spending is expected to drop from $1.2 billion in 2014 to just $400 million in 2016.
The company already pays a industry-leading dividend, proving that management is focused on returning capital to shareholders to increase long-term value.
*With capital spending forecasted to drop significantly in the coming years resulting in higher free cash flow, I suspect management will increase the dividend and perhaps initiate a share buyback.
You will see below that as free cash flow has increased, so to has the dividend.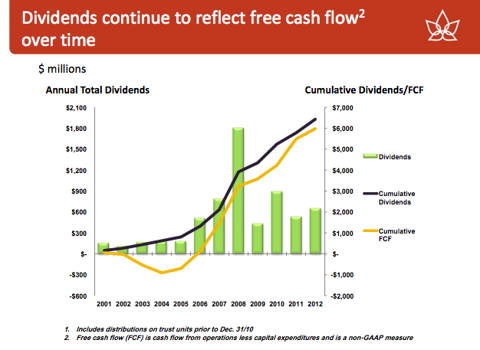 Insiders Are Buying Shares
While insider buying is certainly not the only factor to consider when investing, it certainly doesn't hurt and signals a vote of confidence from management.
Insiders at the company have been purchasing shares. As Seeking Alpha contributor Markus Aarnio pointed out in a recent article, "there have been 14,852 shares purchased and there have been zero shares sold by insiders since April 2013." This would give a value of the purchases since April in the area of $297,040 ($20 share price).
Conclusion
I believe Canadian Oil Sands presents a compelling buy and hold investment for several reasons:
- Leverage to the price of oil, production upside and high profit margins
- Undervaluation compared to peers
- Insider buying
- Management that is focused on increasing shareholder value
- Finally, a great dividend that essentially pays you to wait until 2015, when capital spending should drop significantly, resulting in much higher free cash flow and potentially higher dividends for shareholders
I have recently purchased my first shares of Canadian Oil Sands and will reinvest the dividends and buy more shares on any weakness. Let me know what you think about Canadian Oil Sands in the comments below.
Disclosure: I am long OTCQX:COSWF. I wrote this article myself, and it expresses my own opinions. I am not receiving compensation for it (other than from Seeking Alpha). I have no business relationship with any company whose stock is mentioned in this article.