Since GM morphed into Motors Liquidation Company in 2011, its future has been uncertain and it has been forced to run one gauntlet after another. Nevertheless, for a company that at one time forced its bondholders to eat crow by forcing them to trade their bonds for possibly worthless warrants, things seem to be turning around, since it recently has issued $4.5 billion in senior unsecured notes. The notes are short term and very long term, with maturity dates of 2018, 2023 and 2043. The success of this issuance is still uncertain in what some might categorize as sheer chutzpah given the raw deal GM bondholders experienced in the past, while other more sanguine analysts would characterize this issuance as the necessary optimism of a company just beginning to come out of its doldrums.
Nevertheless, there are some events in the medium-term horizon that will probably depress earnings per share. The stock has been just treading water over the past two years.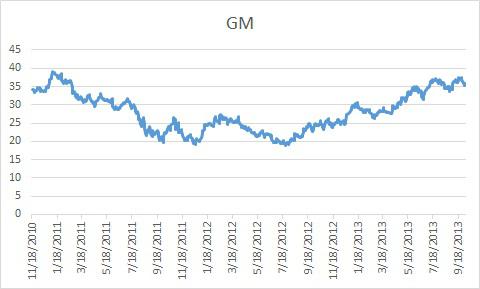 And here are three reasons the stock will experience a triple whammy over the next six months.
Continued depression of EPS through the dilutive effect of warrants and associated charges.
The issuance of warrants to the old GM bondholders (to the tune of 272.8 million warrants, exercisable (at $10 a share and $18.33 a share) will continue to have a depressive effect on EPS through their dilutive effect, although in the money. This can be seen by examining the difference in the reporting of EPS over the past two years, between ordinary EPS and diluted EPS.
| | | | | | | | |
| --- | --- | --- | --- | --- | --- | --- | --- |
| GM | Earnings per share | Dilutive effect of warrants | Diluted EPS | Goodwill impairment charges | Pension settlement charges | Property impairment charges | Intangible asset impairment charge |
| 2011 | $4.94 | 130 million shares | $4.58 | $1.3 billion | | | |
| 2012 | $3.10 | 104 million shares | $2.92 | $27.2 billion | $2.6 billion | $3.7 billion | $1.8 billion |
gm.com
While the impairment charges are likely to die away in future balance sheets, the pension liabilities will continue to weigh on GM's EPS, since GM currently hold $26 billion in pension liabilities. Further, second quarter 2013 EPS have continue to be diminished by warrants, 140 million of them diluting EPS in the first six months of 2013.
Double-dipping by certain GM creditors will lead to continued payouts.
It would seem that not all creditors in the 2009 filings were treated equally. Ordinary creditors were given the choice of the above-mentioned warrants. On the other hand, creditors of GM Canada's Nova Scotia unit bought these notes for pennies on the dollar ahead of the bankruptcy. Three hedge funds, Fortress Investment Group (NYSE:FIG), Appaloosa Management LLP and Aurelius Capital Management LLP strong-armed GM in 2009 to allow them multiple recoveries on the notes they had bought at that time for 20.5 cents to 43 cents on the dollar. The two Nova Scotia Notes ( at 8.375% and 8.9%) continue to trade at half their nominal value. This will continue to weigh down on earnings of GM Canada and GM's consolidated earnings.
The upcoming divestment by the US government.
In June of this year, the Treasury divested itself of 50 million shares of GM. It still holds 101.3 million shares which it presumably plans to sell within the next six months. There is currently outstanding 1.6 billion shares of GM common stock. Between the six months ended 2012 and 2013, GM EPS stabilized at approximately $1.44/share. One can see how dramatically the sale of the Treasury's still outstanding holdings will have on GM's recalculated EPS. 2013 EPS will barely scale $1/a share.
| | | |
| --- | --- | --- |
| | EPS | EPS recalculated with Treasury sale of outstanding shares |
| Six months ended 2012 | $1.59 | $1.51 |
| Six months ended 2013 | $1.57 | $1.03 |
So what does the future look like for GM?
Net revenue for the second quarter of 2013 barely held steady at $39.1 billion. GM North America's net revenue stabilized at $2.1 billion, while GM Europe experienced a loss of $400 million. While the company trumpets its sales of Chevy's worldwide, both the 2013 Silverado and the Sierra have experienced transmission problems. Given the basic problems with some of GM's series, as well as the above mentioned problems plaguing the stock and the company, I would anticipate at least a decline in EPS to 50 cents/share, if not slight losses, and the stock price declining to $20 over the medium term.
Disclosure: I have no positions in any stocks mentioned, and no plans to initiate any positions within the next 72 hours. I wrote this article myself, and it expresses my own opinions. I am not receiving compensation for it (other than from Seeking Alpha). I have no business relationship with any company whose stock is mentioned in this article.