When you look for stocks that have outperformed the market, it does not take long for investors to notice the huge run that Groupon (NASDAQ:GRPN) has been on. Just this year, Groupon has rewarded investors with gains over 140% and is one of the top performing technology stocks this year. The graph below shows the run that Groupon has been on.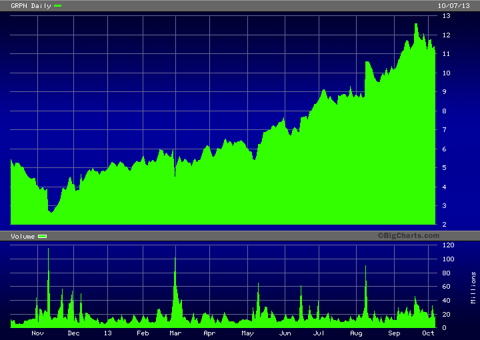 Since its Initial Public Offering [IPO] back in 2011, shares of Groupon are still down more than 40%. Last year was a tough time for investors as shares of Groupon fell below three dollars, valuing the company around two billion. This was a far cry from the six billion bid in which Google reportedly offered to buy the company before it went public.
Nevertheless, shares of Groupon have recovered nicely over the year and hopefully those investors were patient enough to hold on to this very profitable run. So what should investors do now? I personally feel that it might be a good time to start thinking about selling those shares. Why would I say this? Let us look at some of the reasons below.
1) Last Quarter's Earnings Report: The Good And The Bad
On August 7, 2013, shares of Groupon soared 27% after its earnings announcement. So what made the stock pop? There were a couple of things that happened.
First, Groupon made it official by giving Eric Lefkofsky the job as the new CEO. Second, Groupon announced a share repurchase program of $300 million over the next two years. Lastly, Groupon beat on revenues [$608.7 million vs. $606.2 million] and came in-line with analysts' estimates with earnings per share [EPS] at 2 cents.
So did the earnings announcement really warrant the big pop? I don't believe so. In fact, I was a bit disappointed with some of the things in the report. Here are some takeaways from Groupon's latest earning results.
Revenue increased +7% year over year [yoy] to $608.7 million, compared to $568.3 million in 2Q 2012.
Adjusted EBITDA was $80.5 million, -5% yoy compared with $84.7 million in the 2Q 2012.
Gross profit was $384.7 million -11% yoy compared with $433.2M in the 2Q 2012.
Operating income was $27.4 million, -41% yoy compared with $46.5 million in 2Q 2012.
Groupon predicts that next quarter's revenue will be in the $585-$635 range. This averages out to $610 million which is far below the $621 million that Wall street expected.
As we can see, Groupon's operating income had the biggest decline as income dropped more than 40%. As we know, operating income is a good measure of a company's overall health.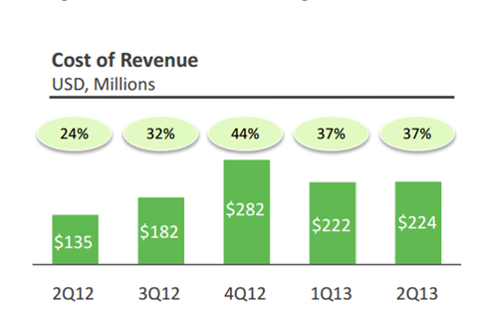 A decline in operating income means there is less money for other things. Some of these things might be paying off debt, expanding and anything else the company has planned. With Groupon's rising costs, it will be interesting to see what next month's earnings report looks like.
2) Earnings Per Share Keeps Trending Down
Earnings per share [EPS], is the amount of income that is allocated to each outstanding share of a company's stock. EPS is considered by many to be one of the most important variable in determining a share's price. It's also a major component used to calculate ratios such as price-to-earnings [P/E] and forward price-to-earnings ratio [Forward P/E].
Watching what is taking place can help determine where the company is headed and if the company has a bright outlook or not. So what is taking place with Groupon? The chart below explains it all.

* Graph taken from Yahoo!Finance
As we can see Groupon's EPS is trending down. Analysts had higher expectations for the company a month or two ago, but have since cut back on expectations and estimates. This clearly isn't a great sign for shareholders expecting a large amount of growth from the company.
3) Groupon Is Overvalued
One of the things that I look at when comparing companies are the P/E ratios of both forward and trailing. This helps show how expensive one company can be to the other.
Because of the losses Groupon has had in the past, it has no trailing P/E. However, now that it has crossed into the black, Groupon does sport a forward P/E of 40. So how does this compare to its peers?
| | | | | |
| --- | --- | --- | --- | --- |
| | Groupon | eBay (NASDAQ:EBAY) | Overstock (NASDAQ:OSTK) | Sector |
| P/E | N/A | 27 | 31 | 24 |
| Forward P/E | 40 | 17 | 24 | 37 |
As we can see Groupon is pretty expensive when compared to eBay, Overstock and the entire sector. If we give Groupon the market average of a forward P/E of 25, Groupon would be worth $7.50. Right now shares are trading just over $11 a share. I know a fair amount of companies that grow revenues by more than 7% with a forward P/E of less than 40. As you can see, there are better plays out in the market right now.
4) Consumer Spending Is Going Down
It's no secret that in order to make money, consumers first have to spend money. So how have things been going for Groupon over the last couple of quarters? Not as good as they claim.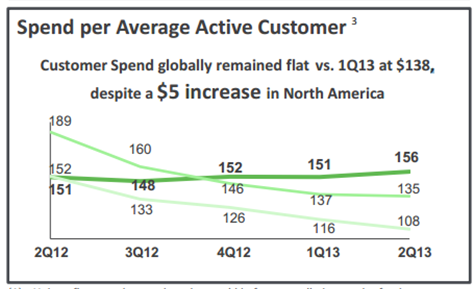 | | | | | | |
| --- | --- | --- | --- | --- | --- |
| | 2Q12 | 3Q12 | 4Q12 | 1Q13 | 2Q13 |
| North America | $152 | $148 | $152 | $151 | $156 |
| EMEA | $189 | $160 | $146 | $137 | $135 |
| Rest Of World | $151 | $133 | $126 | $116 | $108 |
| Total Average | $164 | $147 | $141 | $135 | $133 |
As you can see, total consumer spending has been going down and continues to go down. I find it laughable that Groupon stated its global spending remained flat, meanwhile boasting about a $5 spending increase in North America. The chart clearly shows that not only global spending is on the decline, but the total average is as well.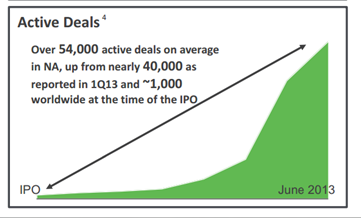 I do have to give credit where credit is due. Groupon, which used to be a one trick pony over the years, has done a remarkable job at getting deals out to consumers. The chart on the right explains it all.
Nevertheless, Groupon isn't out of the woods just yet. While they continue to expand and to grow, they will continue to run into competition along the way.
Because of the business model that Groupon runs, it does not have many barriers to entry. Groupon faces not only tough competition from the likes of Priceline (NASDAQ:PCLN), Amazon (NASDAQ:AMZN), and Travelzoo (NASDAQ:TZOO), but from hundreds of more companies doing the exact same thing.
Remember when Amazon took a big stake in LivingSocial? It has yet to recoup on its investment. LivingSocial continues to post losses every quarter and has become a drag on Amazon's earnings. Just in 2012 alone, LivingSocial lost $650 million.
While some investors called it a victory, others were not so sure what to make of it when Facebook and Yelp retreated from the market. It comes down to two things. Either the daily deals market was headed nowhere, or Groupon and LivingSocial had the market cornered. You can believe what you want, but the results speak for themselves as the daily deal sites continue to post losses.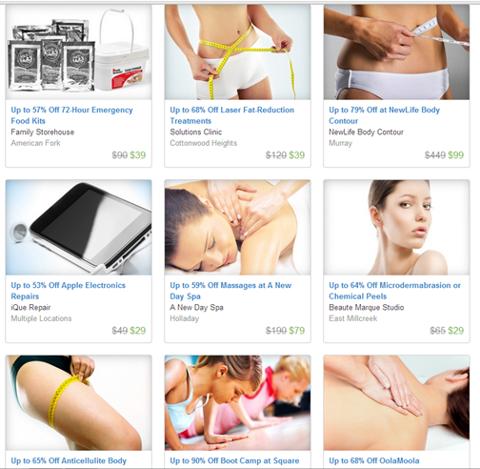 5) Consumer Fatigue
If you are anything like me you get pretty tired of the same emails every day.
Over the years, Groupon has put a lot of pressure on sending a vast amount of daily emails to its customers hoping to prey on their impulsive buying habits.
While it's nice to get offers and reminders, overdoing it can become a drain on the consumer. This is especially true when the offers are for things that most customers would never want or use.
Just look up at the graph of offers that have been sent to me over the last week. Sorry Groupon, but I will pass again on getting my nails done along with my facial and laser treatments. If the offers were for something that I was actually interested in, I might take a look at them. However, seeing as how I come across these offers on a regularly basis, I have no interest in them anymore.
Conclusion
The social media space has had a huge increase in share appreciation over the last couple of months with the likes of Facebook (NASDAQ:FB) and LinkedIn (NYSE:LNKD). Some of that is in part to the Twitter hype of the soon to be IPO. Along with that comes a big valuation which investors are counting on to raise all social media stocks.
We have all heard the analogy of a rising tide lifts all boats. Investors seem to apply that here. However, don't forget about history. Remember when Facebook was going to lift the tide of social media stocks when it went public back in 2012? Well the exact opposite happened as social media stocks got crushed when Facebook went public.
I like Groupon from a consumer standpoint; however, from an investment standpoint, I'm very cautious at this point in time. Investors should remember that just because you like a company doesn't always translate to be the greatest investment. Don't let emotion get in the way of doing your due diligence.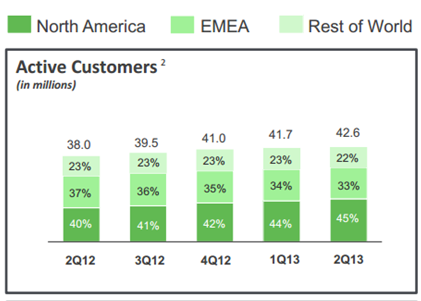 Groupon, just like most social media stocks, operates a highly popular business in which it gains millions of new users every quarter. However, no matter how popular these companies become, it all comes down to generating profits. That is the key.
So what is the bottom line with Groupon? I personally feel that it might be a good time to get out. Don't get me wrong, Groupon is a nice company and all, but there are many plays out there in the market that you could do more with. For example, my technology portfolio which has gained over 70% since April, still has a lot more room to run. With Groupon's revenues growing at just 7% and a P/E of over 40, I think I will pass on this company for sure. Unless earnings are impressive next quarter, I feel that Groupon could be a great short all the back into the $7-$8 range.
It certainly doesn't help either that insiders are relentlessly selling the stock. If you don't believe me then look at the chart below.

Since last year, insiders have sold more than 27 million shares. So where are all of the insiders buys? If management believed in the company you would think they would be purchasing shares at these levels.
Instead they are using the company's own cash to buy back shares. Is this because they continue to plan on selling more shares in the near future? We shall see. Remember, while you shouldn't base your entire investment strategy on what insiders are doing, it's certainly something that should be taken greatly into consideration.
Disclaimer: Investors are always reminded that before making any investment, you should do your own proper diligence on any stock mentioned in this article and to make sure you are comfortable with your investment strategy. Have a great day and as always, I look forward to hearing your thoughts or questions that you might have.
Disclosure: I have no positions in any stocks mentioned, and no plans to initiate any positions within the next 72 hours. I wrote this article myself, and it expresses my own opinions. I am not receiving compensation for it (other than from Seeking Alpha). I have no business relationship with any company whose stock is mentioned in this article.