This a follow up to my recent 'Total Return BDC Portfolio' article and combines my risk profile series to assess if the current projected returns for each BDC is appropriate compared to the amount of perceived risk. In theory stocks that have a higher amount of risk should pay investors with correspondingly higher amounts of return. After performing this analysis I was surprised with the results that ultimately explains why some BDCs are priced at much higher multiples of net asset value ("NAV") per share such as Main Street Capital (NYSE:MAIN), Triangle Capital (NYSE:TCAP) and Hercules Technology Growth Capital (NASDAQ:HTGC), all of which are priced at a 50% or higher premium to NAV compared to American Capital (NASDAQ:ACAS) at a 30% discount or Horizon Technology Finance (NASDAQ:HRZN) with a 12% discount.
In this article I will provide:
Projected total returns
Risk rankings and expected returns
Projected compared to expected returns
The table below is a simplistic view of the potential total return for each BDC. It uses the current regular dividend yield, plus an annual growth that is similar to the last twelve months, plus special dividends and NAV per share growth (using last twelve months for projection purposes) to come up with total projected return from income and capital appreciation. Obviously there are many assumptions used and history does not necessarily indicate future returns. It also depends on what time frame is used. Many of these BDCs have less than three years of information and some of the older companies have been growing NAV at a slower pace such as ACAS and TCAP.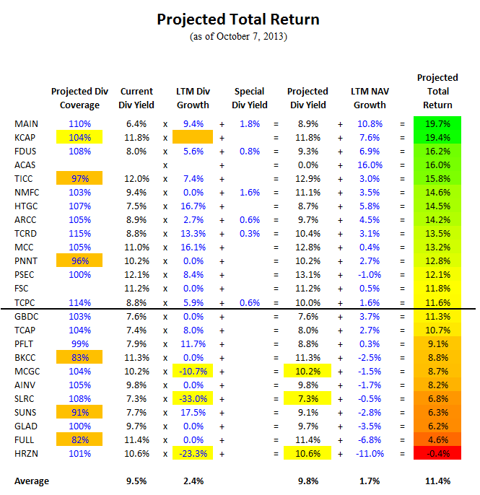 In a recent series of articles "BDC Risk Profiles" I took an in-depth look at the relative risk levels of each BDC. Specifically, I looked at portfolio credit quality, investment asset classes, diversification, non-accrual rates, portfolio yield, fixed/variable rate loans, leverage, interest rate sensitivity, volatility ratios, market capitalization, insider ownership and trends, institutional ownership and trends, and management/operational history for each BDC. I then used various weightings to come up with an overall relative risk rank and compared the projected total return for each. I believe there is a strong correlation between investor's perception of risk, the prices they pay, and expected returns.
The table below shows the projected returns for each BDC with an average of 12.5% (excluding GLAD, FULL, and HRZN as outliers) and the 'standard deviation' that statistically measures the variation of the returns compared to the average, with 68% of BDCs falling within one standard deviation from the average or between 8.8% and 16.2% total return. Then I used the relative risk rank for each to indicate the appropriate expected return with the 'safer' BDCs closer to 8.8% and the 'riskier' ones closer 16.2%.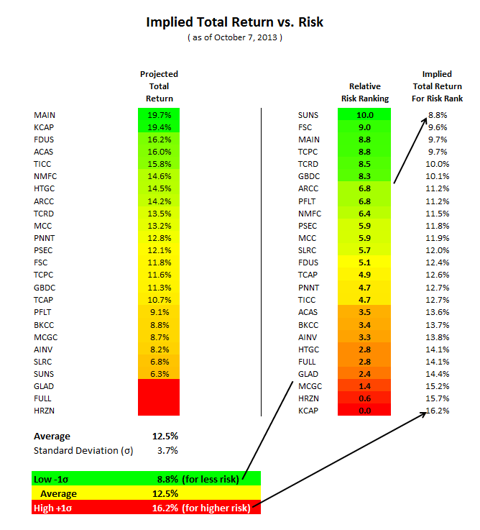 The next table came as a complete surprise with a tight correlation between projected and expected total returns and 10 of the 25 BDCs within 2% of expected returns. The table below shows the variance between the returns implied by the relative risk rank and my projected returns for each as well as indicating which ones that I believe are over or under priced based on this analysis. I have also included a key showing which suggested portfolios each BDC is in.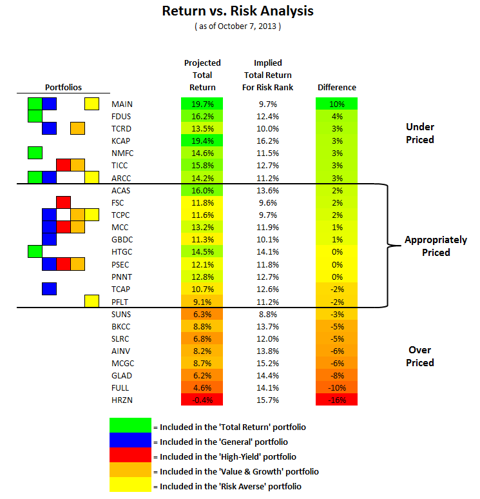 Some of the things I learned from this exercise:
Prospect Capital (NASDAQ:PSEC) is not as underpriced as I had originally thought.
American Capital is priced close to where it should be.
Main Street Capital is a bargain.
Both Fifth Street Finance (FSC) and Medley Capital (NYSE:MCC) are appropriately priced.
THL Credit (NASDAQ:TCRD) should be considered for the 'total return' portfolio.
Apollo Investment (NASDAQ:AINV) needs to be priced lower.
NAV per share multiples are not the key to BDC pricing.
I will try to update these charts on a quarterly basis. Investors should only use this information as a starting point for due diligence. See the following for more information:
Disclosure: I am long MAIN, PSEC, TCRD, ARCC. I wrote this article myself, and it expresses my own opinions. I am not receiving compensation for it (other than from Seeking Alpha). I have no business relationship with any company whose stock is mentioned in this article.