Back in April of this year, I wrote an article listing several dividend growth names I had picked for the future, as well as some older ones I had held onto from years ago. 2013 has so far been a pretty good year for equities. Many names in shale oil and shale oil services, for one example, have rocketed higher, with some more than doubling. A number of Chinese internet names have also doubled or more.
Such is the temptation to look for "multi-baggers." Despite my luck in some of those above names, I often kick myself and think, "Why didn't I just buy more of that?" While dividend growth is a much slower strategy, it often doesn't come with the risks associated with searching for hidden gems. Dividend growth investing requires more time and patience, but in the long run, it can be very rewarding.
A number of companies on the list from April have updated their dividends. Some companies have done very well while a couple have struggled. This article will cover all of those names.
The Laggards
A couple of names on the list have seen better days. Linn Energy (LINE) is one which stands out the most. This upstream oil and gas company has faced difficulty from underperforming wells in the Texas panhandle as well as ethane rejection of its natural gas liquids. As a result, Linn's distribution coverage ratio has fallen to 0.96, just below 1. Linn is still worth holding on to, as management expects things to turn around in 2014. And the stock is just too cheap to sell right now. However, a distribution cut cannot be ruled out.
IBM (NYSE:IBM) is another pick which is not doing so great. Margins are down 3% from last year with higher expenses and lower revenues. In addition, there has been a sector specific downturn in software and services. This year IBM raised its dividend by 11.7%. But with things going as they are, we shouldn't expect such a hike next year. Historically, IBM is very cheap, and the company has weathered through much more difficult times than this. Feel free to pick up shares here, but a turnaround could take time and there may be better dividend deals in tech right now
So-So Performers
McDonald's (NYSE:MCD) has raised dividends by double-digit percentages from 2003 all the way to last year. But this year, McDonald's and other fast food restaurants have seen a pullback in consumers' eating away from home. For the last twelve months, McDonald's has seen flattish systemwide same-store sales. Accordingly, this year's dividend was raised only 5%.
Investors should have confidence in McDonald's long term "plan to win." Modernizing stores, optimizing the menu and expanding in developing markets are all part of the plan. Still, this year's slower increase was a bummer. At 17 times earnings, McDonald's is not yet a bargain. I'd avoid adding shares for now.
Leaders
Johnson & Johnson (NYSE:JNJ) has been a sweet surprise. After lagging for the last few years, J&J is back on track again. The recalls are under control. Emerging markets are bolstering sagging consumer sales in the US. Medical device sales are growing double-digits, helped by secular demand and recent acquisitions. The pharmaceuticals unit is doing great, with its strong pipeline finally jumping into action. In particular, J&J has done a good job harnessing emerging markets growth. This year, revenues are expected to be up nearly 10% and the dividend was raised 8.3%. J&J is a decent buy right here. It is only 16.2 times earnings and yields 3%.
Rayonier (NYSE:RYN) is another great example of a US company growing in developing markets and translating that into outsized dividend growth. This REIT has positioned itself for Asia-Pacific growth by adding to New Zealand acreage.
The trust's high-performance fibers, found in things from tires to toothpaste, are in greater demand as more people come "onto the grid" in the developing world. Rayonier's margins continue to expand and funds from operations, or FFO, are expected to increase mid to high single digits. This year management raised the dividend by a cool 11%. Considering that the dividend is still only 67% of FFO, there's plenty more where that came from. At only 13.5 times FFO and a dividend yield of over 3.5%, Rayonier can certainly be picked up here.
Conclusion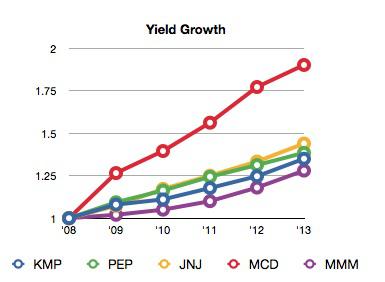 This article ends with a continuation of the chart presented last time. McDonald's is still well ahead of the other picks because it built a big lead years ago, and that lead is still significant despite the dividend slowdown. Notice also how J&J is picking up steam. In the big picture, all names on this chart have done well and should continue to. They just need time.
Disclosure: I have no positions in any stocks mentioned, and no plans to initiate any positions within the next 72 hours. I wrote this article myself, and it expresses my own opinions. I am not receiving compensation for it (other than from Seeking Alpha). I have no business relationship with any company whose stock is mentioned in this article.