With more than 5.3 million customers in 11 states, American Electric Power (NYSE:AEP) is one of the largest utility companies in the U.S. The company has a generational capacity of almost 38,000MW. The company has posted solid earnings in the past, and offers high quality earnings as nearly 80% of the company's income is derived from its regulated operations. AEP remains an attractive investment prospect for income-seeking investors, as it offers a solid dividend yield of 4.5%. AEP is expected to experience an earnings growth rate of 4%-6% in the upcoming years; earnings growth is likely to be derived through rate base growth and cost control initiatives. The stock is down nearly 9% since mid-July, and at current valuations (forward P/E of 13x and P/S 1.4x), the stock looks attractive in comparison to its peers. The recent pullback provides a good entry point for income-seeking investors.
Rate base growth and constructive outcome of pending rate cases remain key catalysts for earnings growth for regulated utilities, as through filing of rate cases, regulated utilities recover their investment spending. Rate base growth remains an important earnings growth driver for the upcoming years for AEP, as it has aggressive plans to incur capital expenditure in the future. For the company's regulated operations, investment in net property, plant and equipment is expected to increase by almost 7% on average from 2013 through 2015.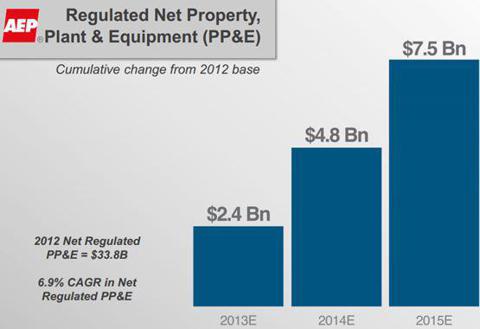 Source: Investors Presentation
Also, the company plans to expand its transmission operations, which will also have a positive impact on its future earnings. Growth opportunity in AEP's transmission operations remains attractive and will have a positive impact on the stock price. AEP's total transmission assets worth $700 million are expected to grow to $1.4 billion and $2.8 billion by the end of 2013 and 2015, respectively. As AEP plans to expand its transmission operations, EPS contribution from the operations is projected to grow to $0.54 in 2017, up from $0.09 in 2012. Also, EPS contribution from transmission operations is likely to increase from 3% in 2012 to 14% in 2017.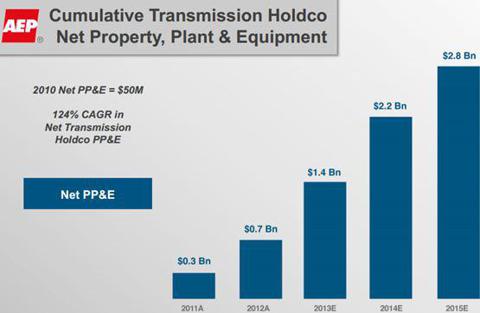 Source: Investors Presentation

The weak PJM capacity prices announced in May, earlier this year, are viewed as a headwind for the company's future earnings. However, AEP has ramped up its cost saving initiatives, which will help the company substantially mitigate the recent weak PJM capacity prices. The company's management is targeting five areas, including finance and accounting, information technology, procurement, generation and organizational effectiveness to derive cost savings. The cost savings measures are continuous in nature and are likely to result in savings over the next several years.
AEP has posted a solid financial performance in the past and has a shareholder friendly management team. The company offers a safe dividend yield of 4.5%, supported by the earnings from regulated operations and backed by a solid operating cash flow yield of 17%. Dividends offered by the company have increased by 3.7% per annum since 2004; it has been paying regular dividends for 413 consecutive quarters. Currently, the company has a payout ratio of 62%; within its target long-term payout ratio range of 60%-70%.
Also, AEP's balance sheet has improved in recent years, as its total debt to capitalization ratio has reduced from 57.2% in 2009 to 55.2% by the end of 2Q'13. AEP has also done well by increasing its pension liability funding from 74% in 2009 to 97% in 2Q'13, which has significantly reduced the risk of underfunding the pension liability.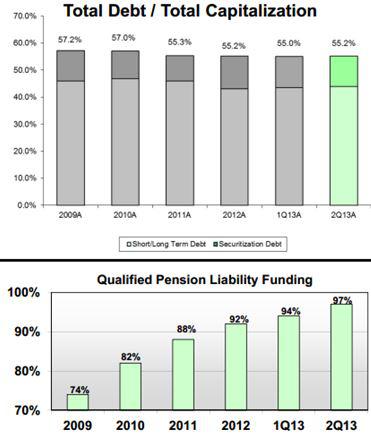 Source: Investors Presentation
Valuations
The stock is down nearly 9% since mid-July. The recent pullback offers income-seeking investors a good entry point to buy the stock. The stock currently has compelling valuations, as it has a cheap forward P/E of 13x, in comparison to forward P/Es of 14.6x and 14.4x for Duke Energy (NYSE:DUK) and Southern Company (NYSE:SO), respectively. AEP also have attractive Price/Sales and EV/EBITDA in contrast to DUK and SO, as shown in the table below.
| | | | |
| --- | --- | --- | --- |
| | AEP | DUK | SO |
| Forward P/E | 13x | 14.6x | 14.4x |
| Price/Sales | 1.4x | 2x | 2.1x |
| EV/EBITDA | 8.2x | 10.5x | 10.5x |
Source: Yahoo Finance
I believe that since AEP is a core regulated utility, the current valuations are attractive. Moreover, AEP's initiatives to increase its investment and cost curtailment measures augur well for the stock price. Therefore, I upgrade AEP's shares from 'neutral' to a 'buy' rating.
Risks
As the company offers an attractive dividend yield of 4.5%, the share price is vulnerable to a rise in treasury yields. As the treasury yields rise, we might observe a slight pullback in the stock price to keep the dividend yield attractive in comparison to treasury yields. Also, almost 80% of the company's earnings are derived from regulated operations, AEP is exposed to regulatory risk. Any changes in rules and regulation by regulators can have an adverse impact on the company's future earnings potential and the stock price.
Disclosure: I have no positions in any stocks mentioned, and no plans to initiate any positions within the next 72 hours. I wrote this article myself, and it expresses my own opinions. I am not receiving compensation for it (other than from Seeking Alpha). I have no business relationship with any company whose stock is mentioned in this article.