On March 12 2009, AOL replaced Randy Falco with Tim Armstrong, who previously ran Google's (NASDAQ:GOOG) North American sales operations. I attended the Media & Money conference on Friday at the Roosevelt Hotel in Midtown Manhattan and heard Tim talk about AOL's future and past.
First 100 Days: Strategy vs. Cost Structure
Before even accepting the Chairman and CEO role at AOL, Armstrong got a ton of advice from experts and Monday Morning QBs alike.
Once he joined, his first 100 days were highlighted with an assessment of the company's assets and position in the marketplace. He received thousands of employees' suggestions. Subsequently, Armstrong decided to wipe the slate clean and formulate a new company strategy that fit on a single page.
The Strategy: Content, Ads and Communications
On this one-pager, Armstrong formulated AOL's three pillars:
Content
Ads
Communications
AOL Time Warner: 50% of Marriages End in Divorce
Of course, to talk about AOL's future, one must put the January 2000 merger with Time Warner (NYSE:TWX) in context:
AOL/Time Warner will be 55 percent owned by AOL and 45 percent owned by Time Warner. The combination will immediately boast a market capitalization of $350 billion and an annual revenue stream topping $30 billion.
That's right, buoyed by the Nasdaq's gains and AOL's growth in the 1990s, AOL acquired Time Warner.
The Nasdaq peaked in March 2000 at over 5,000 and crashed down to 1,200 by the next year. To be fair, while there were macro-level causes for the result, there were also some unique factors at play.
From a 2009 article in TheDeal:
The new economy was never realized, and neither was AOL's potential as the driver and distributor of Time Warner's unmatched inventory of content. Not that AOL Time Warner, which dropped the scarlet letters A-O-L from its corporate name in 2003, didn't keep trying. The efforts have already added two successive AOL heads — Jon Miller and Randy Falco — to the list of those the original deal beheaded.

It didn't help that, as an Internet service provider, AOL has never been more than dial-up. That meant the transaction in which it figured so prominently (its shareholders received 55% of the combined entity's equity) had built-in obsolescence. It also meant, arguably, that the promise misplaced in AOL kept its parent company from pursuing the potential of its much faster and technologically advanced cable-driven ISP, Time Warner Road Runner.
Throughout that decline and the increased obsolescence of dial-up technology, Time Warner's size relative to AOL grew considerably and the AOL/Time Warner merger cost shareholders billions of dollars and after less than a decade, the powers that be at Time Warner decided that AOL had to go.
As a result, the Time Warner brass needed to sell AOL - the new stock - to institutional investors and few have the presence and track record of Tim Armstrong, Google's former North American VP.
The Story Starts: Use of Funds Is the Main Divergent Issue
According to Armstrong, the main driver for the spin-off is how differently AOL and Time Warner would use cash. Oddly enough, while merger was doomed due to culture clashes and bad timing, in theory, the case for the merger is as sound today - on paper - as it was then:
"Together, they represent an unprecedented powerhouse," said Scott Ehrens, a media analyst with Bear Stearns. "If their mantra is content, this alliance is unbeatable. Now they have this great platform they can cross-fertilize with content and redistribute."
The problem, of course, is that big "transformative" mergers and acquisitions are transformative in good or bad ways. They can radically help grow a company (look at how much revenue eBay (NASDAQ:EBAY) generates from Paypal for example) but they can also kill a company.
Let Bygones Be Bygones
If content, ads and communications are the focus of the company, then the company's objectives are:
Objective # 1 - To Become the Largest Producer of Content Online
Armstrong has talked a lot about AOL being the Time of the 21st century with regards to producing content, lots of it.
It's worth noting that Time.com's own Managing Editor Josh Tyrangiel admits that "long form journalism, a staple of magazines like Time, is not working online". As such, maybe emulating Time too well won't serve Armstrong either. Of course, time will tell.
"You are seeing more and more talk of content and scaling it." AOL has hired hundreds of reporters and is investing in systems to scale the production and distribution thereof. Armstrong said he wanted to bring "Silicon Valley's platforms and mentality to content," and echoing something I've been saying for a while, he added that "while there has been a lot of investment into technology, not much investment has been made in content."
He's right. But AOL's not alone in investing in content, though companies are going about it differently.
It should be stated that we at WatchMojo are now one of the biggest suppliers of premium video content online. We not only supply the usual suspects (YouTube, Hulu, etc.) but also vertical sites. Who else, do you know of, for example, supplies both business videos to Thomson Reuters and video game content to IGN.com?
As I also like to say, unlike technology, content isn't a zero sum game, and in fact, as a content entrepreneur and executive, I love seeing more and more focus being put on content.
The heavily-funded startup Demand Media is also into producing mountains of content. What sets AOL apart from Demand Media is that while Demand is intent to play the SEO/Google Ad Sense text advertisement arbitrate card, AOL's second objective is to leverage the strong display advertisement business Armstrong inherits from previous executives such as Mike Kelly (who encouraged the Advertising.com deal, which we ranked as one of the best Internet M&A deals of all-time in our 2006 list here), Jon Miller and, to some extent, Randy Falco.
Objective # 2 - To Become the Biggest Seller of Display Advertising
AOL owns Advertising.com, the largest ad network in the world. Of course, AOL also owns Tacoda, Quigo and a barrage of other ad networks that were bundled and branded Platform A but have now been - shocking I know - separated as well.
The problem with AOL's strategy under Falco was that it became a strictly quantitative approach to sell reach and networks, whereas advertising - and brand advertising in particular - is a different beast.
What is really shocking about Armstrong is that despite his pedigree at Google (a joint run by a bunch of quants, basically) is just how much he thinks like a media / content / advertising guy, which makes sense given his role and success at Google, but still, it's refreshing to see.
Web's phases
If Armstrong is singing the "content is king" mantra, it's because history suggests the next boom will be in content. Yes, this is also a theme in my ruminations, as the Web now shifts to an era of consumption of information and entertainment.
He broke down the Web's phases as such:
Access: ISP, portals, search engines, etc.
Platforms: Facebook, MySpace, Twitter, etc.
Content: speaks for itself.
Across all new distribution platforms (TV, radio, print), over time, it's content that becomes most valuable.
AOL isn't merely interested in producing the right type of content, it's also looking at scaling quality content, building systems and platforms to help content creators.
SMO Replaces SEO?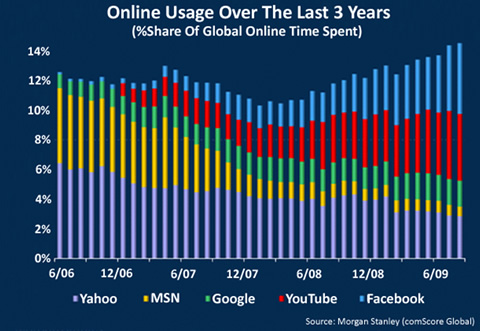 When asked about social media, Armstrong views it as a great way to distribute content.
I agree especially with regard to video, because search engines do a crappy job of indexing videos. SEO has been replaced to some extent by SMO, or social media optimization (I've called this SNO, or social networks optimization, in the past). This has been accentuated by the "deportalization of the Web".
He touched on Bebo, which he suggests is being repositioned to what it did best: sharing media and entertainment amongst friends.
Display and Video to Outperform Search?
The next $50 billion that shift online probably won't respect the same ratio between search and display. He's right, here's a graph to demonstrate that: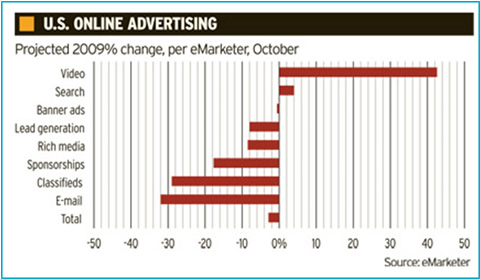 Related: can online video advertising can surpass online search advertising; can online advertising outright surpass television advertising?
It's no secret that Armstrong is repositioning AOL's ad network business, suggesting that AOL's extreme focus on Platform A might have been misguided.
To become the #1 in display banner ads, he added: "Display cannot be about ad networks and reach alone, brand advertising could be done differently, it's about the 'brand story'".
Multi Brand Strategy
AOL has 70 properties, ranging from men's blog Asylum to Spinner, but AOL sells mainly by audience. As Asylum's quick ascent has shown, AOL doesn't merely have the traffic and eyeballs to build large properties, but it has data.
As a VP for men's lifestyle site AskMen, I worked with both MSN.com and AOL.com in the early 2000s, and one thing that AOL had was a lot of information on user interests, click through data and whatnot. As a result, if it decides to focus on an audience, it can move fast… and efficiently.
Of course, that is theory; in practice, it boils down to execution and having the right content.
"More and more advertisers see themselves as content producers," continues Armstrong. I agree, but we're also seeing a more sober stance occasionally when marketers decide to stick to what they do best.
He touched on local and video, too.
Local
"[It's] all about living lives better locally", he stressed. He invested in Patch due to a personal frustration over a lack of information at the local level. AOL acquired Patch, who has since expanded into 30 cities and tends to partner with local media, as is the case in New Jersey.
Video
AOL is producing six times more videos than it was a mere 4-5 months ago. The content can be broken down into two main genres:
Very high quality (Beyonce comes in the studio)
Original videos based on their media properties.
I personally break professional videos into two: super premium and premium. Here is my not-so-complicated view of content online:

At the top, you have "super premium" representing Hollywood, studios etc. You can command extremely high CPMs but the inventory is usually low etc.
In the middle, you have "premium" content, basically being where WatchMojo now has built a nice position. If you're keeping track, CPMs are healthy and inventory is decent, so the overall revenue is highest here.
At the bottom, you have UGC, which totally changes the rules of engagement of media, news and publishing, but which will fail in ad-supported model.
Echoing my bearishness on scripted entertainment, Armstrong believes that there is an "opportunity" in scripted entertainment, but can't take a Hollywood approach online. This is why many companies have failed, in fact, in the video content business.
AOL's Future
The verdict is obviously still out. Friday's chat is largely about getting the story right and out, as institutional investors will have to buy into the story and the stock once Time Warner completes the divorce less than a decade after the marriage.
Will the Street buy in? Who knows. After all, the Street applauded the TWX/AOL merger when it happened, and then evaporated 90% of the value of the combined entity.
But I do know that Armstrong is saying all of the right things to position AOL as the home of great content and as a home for content producers. And, if content is king and in the end content prevails, then AOL might prove to be a nice long term bet amongst media stocks.
You can read more about Armstrong's chat at the Media & Money conference on Business Insider.