Noted billionaire activist Carl Icahn has had a huge 2013. He has made a quadruple in his stake in Netflix (NASDAQ:NFLX), another double while "punking" Bill Ackman on Herbalife (NYSE:HLF) and now has made headlines again taking a substantial stake in Apple (NASDAQ:AAPL).
Mr. Icahn is noted for his sometimes strident activism but has a record of achieving changes that benefit shareholders in the companies he takes an interest in. Here are two less known companies the financier has a significant stake in and should continue to push for changes that will move the stocks higher.
Nuance Communications (NASDAQ:NUAN) is a maker of voice recognition software that supplies its technology to Apple and other smartphone manufacturers (maybe Icahn can engineer a sale of the company to the Cupertino giant given his stakes in both firms).
Mr. Icahn announced he has reached an agreement with Nuance Communications where Dave Schechter and Brett Icahn will join the board of directors. The financier further tweets "I'm optimistic their impact at NUAN will be similar to Hain Celestial Group (NASDAQ:HAIN), where the stock went from $20.20 to $79.56 over the 3 years they sat on the board." Icahn holds roughly 17% of the overall float in Nuance.
The median price target held by the 12 analysts that cover the stock is $22 a share, ~20% above the current stock price. Revenues are tracking to gains in the low double digits this fiscal year. Operating cash flow has grown ~50% since the end of FY2010 and the shares sell for 13x forward earnings.
Investors should keep an eye on the company's next moves now that it has two Icahn proxies on the board. The stock is down some 40% from its highs in 2012 and NUAN also appears to have some long-term technical support at these levels (See Chart).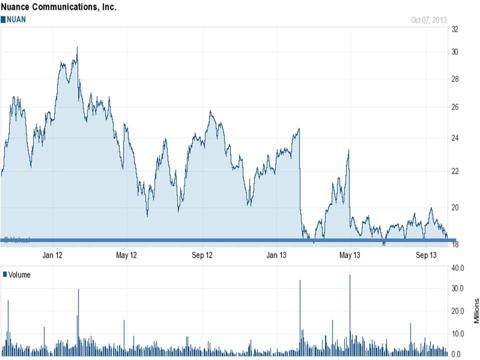 Transocean Ltd. (NYSE:RIG) is one of largest providers of offshore contract drilling services for oil and gas wells worldwide. Mr. Icahn raised his stake in Transocean to ~6% in August and has been a consistent advocate for a higher dividend payout to shareholders. I would look for the activist to continue to press his agenda and hopefully eventually get a board seat(s).
Insiders also have a substantial stake in the company (over 20mm shares) as well and have been infrequent sellers of the shares (~9,000 shares in the last six months)
The stock already yields almost five percent (4.9%). The company is also well positioned for the continued growth in deepwater drilling far offshore. The shares change hands at less than 8.5x forward earnings, a discount to its five-year average (10.3).
Revenues are projected to accelerate nicely in FY2014 to produce ~10% gains and the stock has a minuscule five-year projected PEG (.49). The company has an over $27B order backlog currently. S&P estimates Transocean will grow earnings at ~35% annually over the next three years and it has a "Buy" rating and a $58 price target on the shares.
Disclosure: I am long RIG. I wrote this article myself, and it expresses my own opinions. I am not receiving compensation for it (other than from Seeking Alpha). I have no business relationship with any company whose stock is mentioned in this article.