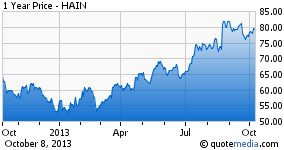 Shares of The Hain Celestial Group (NASDAQ:HAIN) opened the week on a strong note, in a market which saw a broad sell-off. Analysts at Piper Jaffray were upbeat on the prospects for the producer and distributor of organic products.
Piper Jaffray's Upgrade
Analyst Sean Naughton from Piper Jaffray upgraded Hain Celestial from "neutral" to "overweight", while raising the price target from $80 to $94, suggesting some 18% more upside from current levels.
Healthy food should continue to see secular growth according to analysts. Demand for organic, natural, gluten-free foods, as well as food which has not been genetically modified, keeps increasing.
Note that the upgrade comes a day before Hain's analyst day planned for Tuesday.
Valuation
Back in August, Hain Celestial announced its full year results for the fiscal year of 2013. The company ended the period with $41.3 million in cash and equivalents. Total debt stand at $665.9 million, for a net debt position of around $625 million.
Revenues for the full year of 2013 came in at $1.73 billion, up 25.9% on the year before. Net earnings rose by 44.6% to $114.5 million.
Trading around $79 per share, the market values Hain Celestial at $3.8 billion. This values equity in the firm at 2.2 times annual revenues and 33 times annual earnings.
Hain Celestial does not pay a dividend at the moment.
Some Historical Perspective
Between 2004 and 2010, shares of Hain Celestial have traded in a $15-$30 trading range. Shares have steadily risen to highs of $85 earlier this year, marking year to date returns of 47%.
Underlying the strong share price performance is profitable operational growth. Between 2010 and 2013, Hain Celestial has increased its cumulative revenues by 95% to $1.73 billion. Net earnings roughly quadrupled to $114.7 million. The outstanding share base increased by some 17% in the meantime.
Investment Thesis
Hain Celestial has shown decent growth in recent years, through organic growth as well as acquisitions.
Last year Hain Celestial bought BluePrint, which is a manufacturer of fruit and vegetable juices. It also bought packaged peanut butter, honey, jam, fruit jelly and other product offerings from Premier Food's in the UK. The latter deal will add some $270 million in annual revenues. Other deals included the acquisition of Ella's Kitchen, which added roughly $70 million in sales, announced earlier this year.
Through all these acquisitions and organic growth, Hain Celestial is now owning organic products ranging from tea to chips and even baby food.
The organic growth and acquisitions will boost operations into 2014. Revenues for 2014 are now seen around $2.04 billion, suggesting another year of strong growth, with revenues seen up by 18% year-on-year. Net earnings are seen around $3.00 per share, expected to come in at around $145 million. At the current valuation, multiples will come down to 1.9 times revenues and 26 times earrings, based on the 2014 guidance.
Besides acquisition-driven growth, organic producers like Hain are benefiting from the fact that more natural and organic foods can be found in mainstream supermarkets. For instance, Wal-Mart (NYSE:WMT) is now selling Hain's Ella's baby food in its stores, providing a huge boost to sales. Therefore shoppers no longer have to go to specialty stores to pick up these products. Despite having seen rapid growth in recent years, the niche market remains a small sub-segment in the total food an d beverage market.
So far the good news. After shares have quadrupled between 2010 and 2013, prominent investor Carl Icahn decided to cut half of its stake in the business in recent weeks around $79 per share. After selling half his stake, Icahn still holds a 7.5% stake in the business.
After the significant momentum over the past years and into 2013 so far this year, I am a bit cautious. The valuation at 26 times earnings is still quite steep as the majority of growth is driven by acquisitions, which has resulted in modest dilution and a modest built-up in leverage in recent times. With Icahn cutting his stake significantly as well I see sufficient reasons to be cautious in the short to medium term, although the business operates in a long term growth industry. The lack of dividends make me cautious as well.
I will remain on the sidelines, not sharing the views of Raymond James who sees even more short term upside potential.
Disclosure: I have no positions in any stocks mentioned, and no plans to initiate any positions within the next 72 hours. I wrote this article myself, and it expresses my own opinions. I am not receiving compensation for it (other than from Seeking Alpha). I have no business relationship with any company whose stock is mentioned in this article.