Patent stocks are popular bets. For investors, they come with great fantasy, as multi-billion dollar settlements and trial wins shine bright at the end of the rainbow. Court cases can drag on for years though, and no one knows what a jury or judge will decide next; enter the infamous patent trial 'black box'. Much have been written on this website about a lot of patent plays. However, we discovered one small patent stock hidden under a rock: Blue Calypso (OTCQB:BCYP). After some digging, it turns out this stock poses an excellent risk/reward opportunity.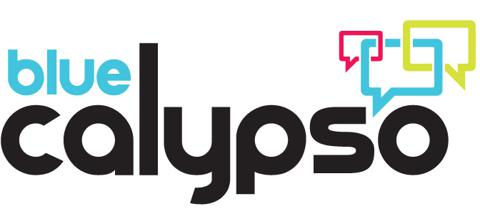 What is Blue Calypso?
Blue Calypso operates as a mobile and social media marketing company. The company provides a patented social mobile advertising platform for advertisers to offer advertising content to its subscribers, who endorse the products and services of the advertisers using their mobile smartphones or personal computers. It activates and measures branded word of mouth campaigns through consumers personal texts, posts, and tweets between friends. The company activates a friend to friend distribution of branded marketing campaigns by motivating brand loyalists to personally endorse and share these campaigns with their digital social streams. A year ago, Blue Calypso filed lawsuits against numerous companies alleging patent infringement. Blue Calypso is based in Dallas, Texas and is headed by CEO Bill Ogle.
Hidden under a rock
Take a look at the next table.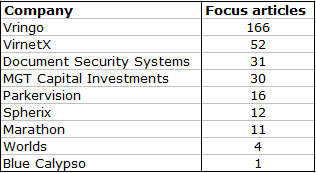 Countless articles have been published about popular patent plays like Vringo (VRNG) (166!), VirnetX (NYSEMKT:VHC) and so on. And the count does not even include related articles. Almost all of them advocate a long position. Promotion of this magnitude gives rise to a 'popularity premium' and could affect the risk/reward profile negatively.
No so with Blue Calypso. On the contrary, here we witness a 'forgotten discount', changing the risk/reward profile in a positive way. Why do some companies get all the attention while others are left aside? We are not sure, but smart investors know lack of coverage often brings about a great investment opportunity.
Financials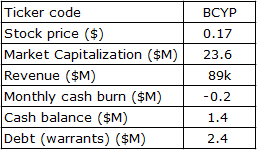 This table is per late June 30. On September 13, 2013 Blue Calypso agreed to allow owners of its debentures to convert for $0.13, instead for $0.25, before year end. We applaud this move. It lowers the interest payments, cleans up the debt and also eliminates certain restrictive covenants. The conversion of these debentures will cause dilution, but the net effect will be small, just 5% of the total outstanding shares of 138 million. Also, the company struck a deal with the warrant holders by lowering the strike price from $0.10 to $0.05. If these warrants would be exercised, which we think already happened given the share price reaction with larger than average volume, $1 million cash is added to the balance sheet, but there will be no extra issuance of shares. In our view this deal is beneficial for the parties involved because they all stood to gain. Blue Calypso now has a healthy balance sheet with a sound cash balance, hardly any debt and low cash burn. Adding the upcoming settlement payments makes any risk of a short-term dilutive stock offering very minimal.
What is Blue Calypso worth today?
Blue Calypso is suing multiple companies, mainly over its two US patents 7,664,516 and 8,155,679. The notable ones are MyLikes, LivingSocial, Groupon (NASDAQ:GRPN), Yelp (NYSE:YELP), Foursquare, and Izea. We assess each case and come up with a valuation (net present value) what a Blue Calypso share minimally should be trading at. We use conservative estimates and factor in taxes, legal fees and the expected convertible stock dilution.
1) MyLikes
MyLikes is the largest content and social advertising platform in the world, utilizing a network of more than half a million publishers with millions of followers on platforms including Twitter, Tumblr, Google Plus and the open web. On November 6th, 2012 Blue Calypso filed patent infringement complaints over two US patents 7,664,516 and 8,155,679. Just 7 months later, they announced having entered into a settlement and licensing agreement which ends all outstanding litigation between the two companies. Under the agreement, MyLikes has agreed to pay Blue Calypso the equivalent of a 3.5% royalty for the use of Blue Calypso patents. What's the value?
MyLikes is not listed at the stock exchange so their annual revenue it is not publicly known. We like to be conservative, so we set annual revenue at a mere $10 million. With 19 years patent term remaining and a risk-adjusted discount rate of 15% and deducting taxes and legal fees of 30%, we come up with a discounted net present value of $2 million. Adding past damages of $1 million makes a total of $3 million.
2) LivingSocial
Same story here. This is the second company Blue Calypso settled with. They filed a lawsuit against LivingSocial in 2012, again over the two US patents 7,664,516 and 8,155,679. News about the settlement was announced last month, well before the re-scheduled Markman hearing. Details? Well, those aren't made public (yet). A spokesperson of LivingSocial stated:
""Blue Calypso dismissed its patent infringement action against LivingSocial Inc. pursuant to the terms of an otherwise confidential settlement and license agreement.""
Due to the confidentiality, its anyone's guess whether the settlement is material and if it comes with an ongoing royalty or a lump sum payment. We do know LivingSocial's annual revenue was $532 million last year and is growing rapidly. Let's be conservative and suppose their revenue remains flat and that a royalty rate of 3.5% and 25% revenue apportionment has been agreed upon. Applying the same calculus as with MyLikes, we come up with a valuation of $33 million.
3. Groupon
Groupon is the biggest alleged infringer. Their annual revenue is $2.42 billion and growing. Blue Calypso and Groupon jointly agreed upon a delay of the Markman hearing, now re-scheduled to February 5, 2014. As a matter of fact, U.S. District Court Judge Michael Schneider on July 19, 2013 decided to group Groupon, IZEA, Yelp and Foursquare into one lead case (MyLikes dropped out due to the settlement). This is good news. All motions filed prior to consolidation must be re-filed in this lead case to be considered by the court. Furthermore, the alleged infringement namely is about the very same patents which yielded Blue Calypso two settlements already. If Blue Calypso were to settle with Groupon, net present value could be well over $150 million. What are the odds? Let's be conservative again, so we use a 25% success rate. That gives a weighted valuation of $50 million.
4. Yelp
Yelp operates Yelp.com, an online urban city guide that helps people find places to eat, shop, drink, relax, and play based on the informed opinions of a community of locals in the know. It offers information from restaurants to nightlife and anything in between.
Annual revenue reached $179 million. It's basically the same pending case as with Groupon (same lead case), so we apply the equivalent calculus. We derive a value of $4 million.
5. Foursquare
Foursquare is a location-based social networking website for mobile devices, such as smartphones. Users check in at venues using a mobile website, text messaging or a device-specific application by selecting from a list of venues the application locates nearby. Foursquare is not listed at the stock exchange. According to experts, revenue is to reach $15 million 2013. Not very material, so we estimate the value of this case at just $1 million.
6. IZEA
IZEA, Inc. provides social media sponsorships (SMS) worldwide. The company offers SMS through its marketplace platforms connecting social media publishers, such as bloggers, tweeters, and mobile application users with advertisers. Annual revenue is $5 million. Not material, so we put the value of this case at 0.
7. Other cases
Apart from these 6 cases, Blue Calypso is acquiring more patents to expand its patent portfolio. For example, it just purchased a new proprietary mobile gamification technology branded DashTAGG, broadening the scope of the existing patents. According to CEO Bill Ogle:
"We are focused on our patent development as it relates to future products and services. Future patents serve to strengthen our patent portfolio, help guard against infringement and protect our core business as we innovate."
Blue Calypso will likely sue companies for infringing upon its other patents, but at the moment there is no further information available. It does signal that the company is there for the long haul.
Summarizing: Out of six alleged infringers, two settled. The other four are grouped together in one lead case since the individual cases are about the same patents. The Markman hearing is to be held February 5, 2014. The next table shows the value per share calculation.

A Blue Calypso share should be worth at least $0.63 right now.
Shares now publicly trade at $0.17.
If more settlements come through, especially with Groupon, shares could be worth well over $1. Also, if the revenues keep growing at a rapid pace, a growth we conservatively set at 0 for all companies in the analysis, royalty payments could be much higher.
Insider trading

Non Open Market transactions generally do not mean as much as open market transactions, but the table does signal that the insiders seem to have a significant personal stake in the company, which we regard as a positive. On tip of this, Ronald Chez, a multi-millionaire private investor, lately reported he owns 8.85 million shares of Blue Calypso. This man has made some good calls in the past, so we also regard this as positive news.
What are the risks?
Investors should bear in mind the following:
- Unexpected delays in settlement payments could occur. This could cause a need for a dilutive stock offering.
- The four remaining defendants could decide not to settle. A trial which keeps dragging on is then within the realm of possibilities.
- Another delay of the Markman hearing is possible. We do not expect this to happen, since a delay already happened, but the case of Worlds proves anything is possible.
- The federal government could implement new patent laws halting any forthcoming lawsuits
- Shares are listed on the OTC boards, so place a limit order
Conclusion
A sum-of-the-cases analysis indicates Blue Calypso is extremely undervalued,
providing a multi-bagger opportunity. In contrast with many other patent stocks, this one is hardly written about and has in fact proven to be successful in realizing settlements, preventing trials from lingering. Blue Calypso is there for the long haul, expanding its patent portfolio with terms for years to come. The balance sheet has been cleaned up and the run up to the Markman hearing in February 2014 with four remaining defendants in the docket could be a major catalyst for the stock.
Recommendation: Speculative buy, short-term price target $0.63, long-term price target $1.70
Ticker code: BCYP
Listing: OTC
Market capitalization: $23 million
Average daily volume: 1.1M
Next earnings date: November 2013, exact date not known yet
Disclosure: I am long OTCQB:BCYP. I wrote this article myself, and it expresses my own opinions. I am not receiving compensation for it (other than from Seeking Alpha). I have no business relationship with any company whose stock is mentioned in this article.