By Kevin Prendergast and Nathan Rutz

Dating back to its conception in the 1950s and 1960s, Modern Portfolio Theory and its outgrowth, the Capital Asset Pricing Model ("CAPM"), have been widely accepted by the investment community. Beginning at the undergraduate level, future financial professionals are indoctrinated with the belief that risk and return are directly related. Accordingly, the search for an investment strategy that consistently delivers a high rate of return with low risk is akin to the search for the Loch Ness Monster, with blurry images and unconfirmed sightings causing our imaginations to run wild. However, many serious investors believe the growing set of "low volatility" investment strategies can provide the elusive low risk returns investors have been chasing for decades.
Weighting Scheme
In the wake of the most recent financial crisis, index developers sought to create baskets of securities in the mold of traditional indexes, but capable of providing investors with more attractive risk-adjusted returns. The SPLV, for example, begins with the constituent securities of the S&P 500 and selects the 100 "least volatile" stocks for inclusion. Then, the inverse of each security's realized volatility, as measured by daily standard deviation over the past 252 trading days, is used to weight each stock.

Popularity & Hidden Risks
Low volatility funds are no secret. There are now more than 70 managers in the space with nearly $60 billion in assets. Like so many investment themes of yesteryear such as tech stocks, real estate, or even the "Dogs of the Dow," we must seriously question the persistence of the attractive risk-adjusted returns provided by low volatility strategies.

Source: Zephyr Style Advisor
As this chart demonstrates, historically, the low volatility index has outperformed the S&P 500 in both absolute and risk-adjusted terms, defying the logic that systematic risk is rewarded proportionately. Perhaps this speaks to the multi-factor models such as Fama French, indicating that investors in the low volatility strategies are being rewarded for less prominent risks such as low P/B or size. These characteristics cannot be captured by objective risk metrics such as standard deviation. As demonstrated by the chart below, the low volatility strategy invests in a portfolio that may be tilted towards value and smaller companies relative to the S&P 500.

Dodging Bubbles
While it is unclear what hidden risks may be rewarding investors in the low volatility space, it is clear that low volatility strategies have navigated the two most recent asset bubbles better than the broader indexes. From 2000 - 2002, the period encompassing much of the tech bubble collapse, the S&P Low Volatility Index outpaced the S&P 500 by nearly 60%! Therefore, there is some evidence that low volatility strategies may insulate investors from the irrational exuberance of markets during these periods.
Tech Bubble

Source: Zephyr Style Advisor
Housing Crisis

Source: Zephyr Style Advisor
Outlook Going Forward
At the present time, the low volatility strategies are allocating over 50% of the portfolio to Utilities, Consumer Staples, and Healthcare, which are widely regarded as defensive sectors that can help shield investors from broad market downturns. As these 2-D area charts illustrate, Utilities have always played a much larger role in the low volatility portfolio than in the traditional market capitalization weighted portfolio. (Source)

Companies in these sectors often provide above market dividend yields and have attracted the interest of traditional bond investors desperately seeking income. Therefore, there is some concern that rising interest rates may adversely impact these sectors. As the chart below demonstrates, during the recent rate hike spanning from April 5th to August 19th, while the low volatility strategy did not perform as poorly as a broad U.S. fixed income index, it did lag the S&P 500 represented by SPY.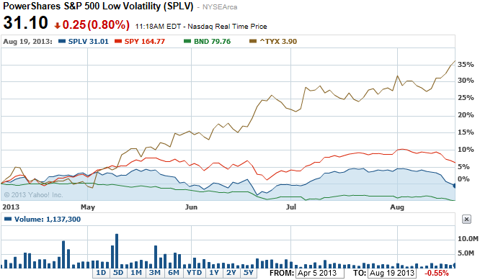 Source: Yahoo! Finance
As demonstrated by the relative outperformance during the recent tech and housing bubbles, low volatility strategies may help investors navigate periods of market dislocation. However, investors in these strategies should proceed with caution as there is some concern that the overweight to defensive, income sectors like Utilities may prove problematic in a rising interest rate environment. We look forward to seeing how these strategies perform in the decades ahead.
Disclaimer: The ETF Authority is a team comprised of two independent financial professionals, Kevin Prendergast and Nathan Rutz. This article was jointly written by Kevin and Nathan. We did not receive compensation for this article (other than from Seeking Alpha), and we have no business relationship with any company whose stock or fund is mentioned in this article.

The opinions expressed in this article are those of the authors, not ValMark Securities, Inc., and are subject to change at any time without notice. This article is not intended to be a recommendation to invest. The securities discussed in this article may not be suitable for all investors. Please consider your personal risk tolerance and investment objectives carefully before considering any investment and consult your tax, legal, and financial professionals.
Disclosure: I have no positions in any stocks mentioned, and no plans to initiate any positions within the next 72 hours.
Business relationship disclosure: Disclosures: The ETF Authority is a team comprised of two independent financial professionals, Kevin Prendergast and Nathan Rutz. This article was jointly written by Kevin and Nathan. We did not receive compensation for this article (other than from Seeking Alpha), and we have no business relationship with any company whose stock or fund is mentioned in this article.The opinions expressed in this article are those of the authors, not ValMark Securities, Inc., and are subject to change at any time without notice. This article is not intended to be a recommendation to invest. The securities discussed in this article may not be suitable for all investors. Please consider your personal risk tolerance and investment objectives carefully before considering any investment and consult your tax, legal, and financial professionals