After initiating enrollment of a Phase 2b/3 clinical trial of TNX-102 SL in fibromyalgia (FM) patients earlier this month, Tonix Pharmaceuticals Holding (NASDAQ:TNXP) is now setting its sights on a Phase 2a trial of its drug candidate as a treatment for post-traumatic stress disorder (PTSD).
"About 50% of FM and PTSD patients meet the criteria for the other disorder," CFO Dr. Leland Gershell says in an interview with BioTuesdays.com. "In FM, patients hurt all over and can't get restorative sleep; in PTSD, patients experience disturbed sleep and widespread pain."
Dr. Gershell explains that Tonix's treatment concept with TNX-102 SL, a sublingual tablet that dissolves under the tongue, is a nightly bedtime therapy designed to improve pain and other daytime symptoms by improving sleep quality.
The active ingredient in TNX-102 SL is a very low dose of cyclobenzaprine, a muscle relaxant that works by blocking pain sensations and receives off-label use in FM. Tonix's sublingual formulation is designed to facilitate fast transmucosal absorption. Oral formulations of cyclobenzaprine can take up to two hours to be effectively absorbed into a person's circulation.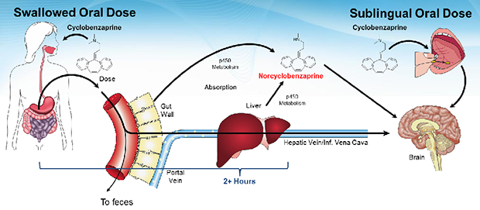 "It's not about sleep duration but, rather, sleep quality," he adds. "This is a unique, non-addictive approach to the treatment of FM. Good quality sleep is restorative and can address the daytime symptoms of FM pain."
In addition, the lack of sleep quality results in fatigue, mood and memory problems, which impair daily function and quality of life. The condition affects mostly women aged 20 to 60. "Patients often take multiple medications, including off-label use of opioids and sedative-hypnotics, often without any sustained benefit," he adds.
In an earlier Phase 2a proof-of-concept study published in the Journal of Rheumatology in December 2011, 36 FM patients, randomized one-to-one, received a very low dose of cyclobenzaprine between dinner and bedtime daily. The study found that the treatment group experienced a 26% reduction in pain versus 0% with placebo. There was also a 22% reduction in depressed mood in the treatment group, compared with a 10% increase with placebo.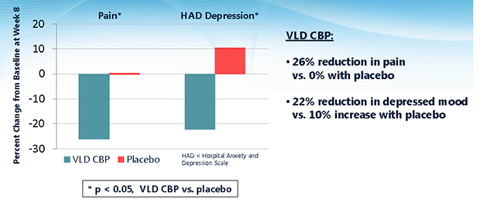 Positive Results from Phase 2a VLD CBP in FM
In addition, there were no serious adverse events in the treatment group, and the types of adverse events were consistent with approved cyclobenzaprine products, such as Flexeril, Dr. Gershell notes.
Tonix's Phase 2b/3 trial, which enrolled its first patient in mid-September, is expected to enlist some 120 FM patients, randomized one-to-one, at 13-to-15 clinics in the U.S. They will receive either TNX-102 SL 2.8 mg tablets or placebo, taken sublingually at bedtime daily for 12 weeks. The primary efficacy endpoint is a change in pain at week 12 versus baseline.
Dr. Gershell says that top-line results are expected in the second half of 2014. "After that, we hope to enter a partnership with a major company to support a final pivotal trial and eventual commercialization."
There are about five million FM patients in the U.S., according to the NIH and U.S. Department of Health and Human Services, of which 2.6 million are diagnosed and 2.4 million are receiving treatment. The FM prescription market in 2012 totaled $1.5-billion, with the market growing at a compound annual rate of 14% between 2007 and 2012. Pfizer's (NYSE:PFE) Lyrica, Eli Lilly's (NYSE:LLY) Cymbalta and Forest's (NYSE:FRX) Savella make up the lion's share of sales.
Earlier this month, Roth Capital Partners analyst, Scott Henry, initiated coverage of Tonix with a "buy" rating and 12-month price target of $8.50. The stock closed at $3.95 on Friday. "The impetus for our buy rating is the potential for TNX-102 SL to navigate through late-stage clinical trials for the treatment of fibromyalgia, receive approval and drive the company into profitability," he wrote.
Existing treatments for FM focus largely on mood and pain components of the disorder. "We expect that TNX-102 SL could be the first drug to focus on sleep disturbance," Mr. Henry added. He figures that a differentiated FM treatment could have a peak annual sales potential of about $400-million.
Dr. Gershell says the FM market is relatively new. Lyrica, which is also indicated for certain types of neuropathic pain, was approved by the FDA for FM in 2007 and followed by Cymbalta in 2008 and Savella in 2009. "Revenue growth of the market is being driven by converting patients from off-label generics to branded drugs approved specifically for FM," he adds.
TNX-102 SL optimizes cyclobenzaprine for FM therapy, and according to Dr. Gershell, TNX-102 SL represents a new class of drugs, compared with the three approved treatments. The company has labeled its drug as SNARI (which stands for serotonin and norepinephrine receptor antagonist and reuptake inhibitor) and as a bedtime treatment for sleep quality improvement.
Dr. Gershell explains that while Lyrica acts as a membrane stabilizer and is a round-the-clock therapy, Cymbalta and Savella are morning therapies and act as serotonin and norepinephrine reuptake inhibitors only.
Tonix also is developing TNX-102 SL for the management of post-traumatic stress disorder. The company had a pre-IND meeting with the FDA in 2012 and expects to begin a Phase 2a proof-of-concept study in the first quarter of 2014.
The core defining feature of PTSD is night terrors, a form of sleep disturbance. Any trauma can lead to PTSD, and the disorder is often associated with suicide and unpredictable violent behavior. There is a high incidence of PTSD among U.S. soldiers and veterans, which represents a trillion-dollar unfunded liability for the U.S. government, Dr. Gershell contends.
He says Tonix has held talks with the U.S. Department of Defense and Pentagon for non-dilutive funding to support the company's clinical program. However, "we could fund the trial on our own with the backing of a high-profile academic partner that has expressed an interest in doing the trial for us while we would supply the tablets," he adds.
Two drugs - trazodone and prazosin - are currently used off-label to treat PTSD. In low dose formulations, trazodone is used for disordered sleep, while prazosin is used by the military to treat night terrors in PTSD victims.
Dr. Gershell explains that trazodone inhibits serotonin receptors and serotonin reuptake, while prazosin blocks norepinephrine receptors. "So we combine, in TNX-102 SL, the activity of trazodone and prazosin in a better and safer treatment."
Tonix also has two products in early development for the treatment of headaches and alcohol abuse and dependence. Both products could enter clinical development in 2014.
Disclosure: I have no positions in any stocks mentioned, and no plans to initiate any positions within the next 72 hours. I wrote this article myself, and it expresses my own opinions. I am not receiving compensation for it. I have no business relationship with any company whose stock is mentioned in this article.