PRESCHOOL TOYS
An in-depth look at the most prominent preschool toy manufacturers, global demographics, and the future of the preschool toy category
The age between four and seven years is the time when a toddler enters the formative period which will determine what person he or she will be for the remainder of life. Researchers in the field of childhood education say that the early years, from ages two to five, are the prime time for the development of cognitive, social, tactile and motor skills. Toys are an integral part of this process. Kids become socially active at the pre-school level. Instead of playing by themselves they will seek out others with whom they can play. Toys are indispensable in this interaction.
Kids also become more physical in their play. They begin to control their limbs, and this allows them to play in ways they could not do before - tossing balls, riding bicycles, skipping ropes. They begin to see their environment not as something remote, but rather as part of their daily life. Toys such as animal sets, wooden trains, dolls, cars, and make-believe cooking equipment are typically chosen by the child in preference over more sophisticated products.
There are a number of product attributes that are of particular importance in the choice of toys for preschoolers. The safety mandate is paramount, not only in terms of the materials used, but also in the construction of the toy itself. Toys that are not sufficiently rugged to stand up to the treatment meted out by the child can break and thus could cause injuries. Typically, preschool toys tend to be gender-neutral because the boy/girl divide has not yet occurred - at least not during the early phases. Finally, the toy must appeal not only to the child, but also to the parent as something that will help in the child's development. .
The choice of preschool toys is not only important for the manufacturing companies in and by itself, but also because a satisfactory consumer experience in the early stages of the child's development will influence purchase decisions by the parents when the child enters the tween stage..
Preschool toys are big business.
There are basically three toy stages - baby, preschool and tweens. Teenagers, while a fourth category, have become much less important as toy consumers and are now much more a factor in consumer electronics. This article will focus on the preschool category of 4 to 7-year-old. This age group is responsible for about 30% of all toys bought - 26% being sales of toys specifically designed for the age group and another 4% being toys targeting older kids but bought for preschoolers- e.g. movie-driven action figures, fashion dolls and the like.
The preschool toy segment has been more stable than the toy biz overall, not only in the U.S. but worldwide. In the U.S., this is how the market developed at retail: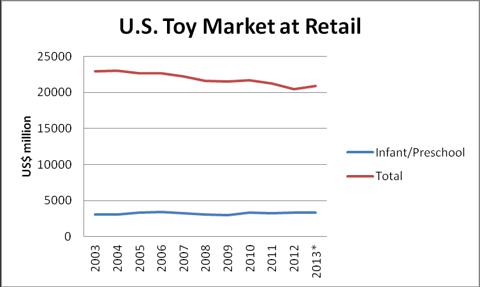 Source: Toy Industry Association
While the overall U.S. toy market trended consistently South over the past 11 years, the preschool category remained steady with a marginal upwards tendency. This disparity is explained by three overriding factors - one is that preschoolers are the last to feel the consequences of tough times the likes of which we had over the past decade; the second that the age group of 4 to 7 is more insulated from the impact of electronic devices, such as tablets and smartphones than older age groups; and the third is population growth.
According to ChildStats.Gov, the population of children in the U.S. in the past 11 years followed the curve shown below: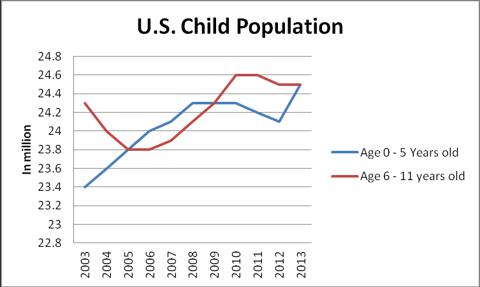 Source: ChildStats.Gov
Typically, child population growth (or decline) is driven by childbirth rates, which are a function of fertility - the number of children a woman has.
To attain population growth, this number has to be higher than the two required to replace the mother and father. This is how the Proceedings of the Royal Society estimate fertility rates to develop: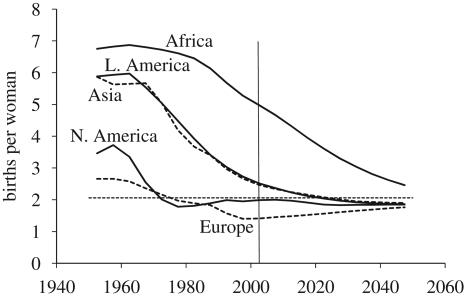 Source: ChildStats.Gov
What this tells us is that between now and 2020 both North America and Europe - the two largest preschool toy markets - will experience negative preschool population growth. Latin America and Asia will hit zero growth around 2020, and Africa will continue to stay well above the replacement rate of two until that date.
This does not mean, in and by itself, that the sales of preschool toys will decline as a consequence. Immigration is a likely positive influence in North America and Europe. Other factors, such as per capita income growth and as a result increasing sales potential, come into play in places such as Africa, Asia, and Latin America. However, the major U.S. manufacturers are completely focused on North America and Europe, two markets which are already totally saturated. Hence, they will have to change their model to accommodate these changes in geography and cultural population factors.
The figure below shows how the sales picture looks like at retail for the leading seven preschool toy companies:
Market

Participants

U.S.

$million

U.S.

%

Intl. Market*

$million

Intl. Market

%

World

$million

World

%

Total Preschool

Market

3300

100

18800

100

22100

100

Fisher Price

Mattel

1650

50.0

1160

6.2

2810

12.7

LeapFrog

430

13.0

295

1.6

725

3.3

VTech

370

11.2

430

2.3

800

3.6

Hasbro

335

10.1

330

1.8

665

3.0

Melissa & Doug

260

7.9

150

0.8

410

1.9

Tomy/RC2

100

3.0

50

0.2

150

0.7

MGA Ent

40

1.2

70

0.4

110

0.5

Total 7 Companies

3185

96.5

2485

13.2

5670

25.6
Source: SEC filings and Klosters Retailer Panel *incl. Canada
Looking at the seven companies in some greater detail, the following picture emerges:
Fisher-Price
This division of Mattel's (NASDAQ:MAT) has reigned supreme over the preschool category for decades. With last year's acquisition of HIT Entertainment - the owner of such global brands as Thomas & Friends, Bob the Builder, Mike the Knight, Sam the Fireman, Barney, Pingu, Rainbow Magic and Ballerina - Fisher-Price will continue to expand its market share as these HIT licenses, previously granted to other companies, revert back to the company and are incorporated into the overall sales effort. Mattel is also greatly increasing its reach in Asia and Latin America, and is hence likely to benefit from the demographic influences described above.
LeapFrog
LeapFrog (NYSE:LF) basically created the electronic learning category of toys in the U.S. First introduced in 1995, they hit its high watermark in 2004 when their sales at retail reached the billion dollar level. Sales declined from that point onwards, and hit in 2009 their nadir at less than half their 2004 sales volume. LeapFrog pretty much stayed on this plateau until 2011, when John Barbour, formerly senior exec at Toys "R" Us (TOYS), became the new CEO. Since then, the company has continued to grow, but still has ways to go before they reach their former peak. Their products, particularly the Leapster and the LeapPad, have managed to harness parents' ambition to prepare their children to the greatest possible extent before starting school...
However, as Stevanne Auerbach, the famous Dr. Toy, said to me recently: "They (LeapFrog) have made a substantial dent in schools but not yet a great impact. They need to concentrate in one or two school districts and show they are so effective they actually make a statistically significant difference in skill building. They need research that justifies limited educational budgets. The company has a range of excellent products with great potential to transform education."
In my opinion, any company that can credibly demonstrate that their products enhance future scholastic performance when the child enters school will have a very major advantage.
The short-term outlook for LeapFrog continues to be very promising particularly since electronic learning products are - along with construction toys - the only toy category that shows solid sales growth and will therefore see a significant expansion in their in-shelf presence at the major retailers this fall. In the longer term, they will need to reach outside their major markets, North America and Europe, to effectively harness demographic changes and to combat their major adversary, VTech.
VTech
VTech has been a significant player in the North American toy space for many years. However, they began to become a major factor only in 2004 with the launch of the VSmile range of Electronic Learning products, which now includes brands such as Mobigo and Innotab. Since then, VTech has challenged LeapFrog for supremacy in the field, and while it has not succeeded in this endeavor in the U.S., it has overtaken its primary competitor internationally by offering products in the major European and Latin American countries in their native languages - something which LeapFrog, with its focus on English, neglected to do. Only very recently has LeapFrog expanded into French and has (at least in France) immediately challenged VTech for market leadership. As a Hong Kong based company, VTech has the inside track to the potentially huge Chinese market, and there are indications that negotiations are underway with the People Republic's Ministry of Education to sync products with the new preschool curriculum being tested in a number of municipalities, including Shanghai and Beijing.
Hasbro
Hasbro's (NASDAQ:HAS) preschool business is divided into five brands: My Little Pony, Play Doh, Playskool, Tonka and the Sesame range, which they took away from Mattel in 2009. Sales have been in line with the preschool market overall - flat to slightly up with a bump for the Sesame addition. A slight setback occurred in June this year when Hasbro lost the Strawberry Shortcake license to Bridge Direct. Preschool is by far the smallest of the four Hasbro Divisions and both shelf space and marketing support allocations reflect this.
Hasbro is moving aggressively into Latin America, notably Brazil, and is attempting to piggyback on the muscle of local enterprises in India and China to expand their footprint there.
Melissa & Doug
Melissa & Doug was founded in 1988 and is still managed by Melissa and Doug Bernstein. However, ownership is held by Berkshire Partners, a leading private equity firm, who acquired Melissa & Doug in 2010. Of all seven companies, Melissa & Doug is the only one with the majority of its sales in Specialty as opposed to Mass Retailers (Target (NYSE:TGT), Toys "R" Us, and Wal-Mart (NYSE:WMT)). It is also the only one that sells all its products under a single Melissa & Doug family brand. Their toys are all strictly preschool, strictly low-tech and do not include any electronic elements. Equally interestingly, in an industry that relies on outside licenses for 30 percent sales, M+D has no licenses. While this may well be part of the bedrock company philosophy, it nevertheless represents an unexploited avenue for growth should this ever become necessary. So far, this has not been the case since sales growth has been pretty steady year-in and year-out.
Their international reach outside Europe is virtually nil and there does not seem to be any major effort from the side of the company to rectify this potentially dangerous situation.
Tomy/RC2
RC2 was originally a maker of model racing cars, but they entered the preschool arena with the acquisition of the Learning Curve in 2003. The company hit a very rough patch in 2007 when it had to recall a large part of the Thomas & Friends range, Learning Curve's single largest brand. This led to the loss of the non-wood segment of Thomas & Friends to Mattel in 2010 and the rest of the Thomas range this year. To compensate, RC2 acquired the Chuggington license in 2010, but it never measured up to the sales volume that had been generated by Thomas & Friends. Management recognized at this point that RC2 needed to merge with a larger entity in order to survive, and were acquired by Takaratomy in 2011. As a result, Takaratomy now claims to be the fifth largest toy company after Lego, Mattel, Hasbro and Bandai.
With their roots in Japan, and their influence in the remainder of Asia, Tomy appears well positioned to take advantage of the demographic and economic changes described previously.
MGA Entertainment
MGA Entertainment, best known for its tween-focused fashion dolls Bratz and Lalaloopsy, is engaged in preschool through two acquisitions made in 2006: Little Tikes and Zapf Germany. The former originally had an exclusively North American presence but is now well represented in Europe. On the other hand, Zapf, the leading Germany maker of preschool dolls, never succeeded in jumping to North America. Neither range carries outside licenses - in fact, the company overall shuns licenses and completely relies on brands of its own. As in the case of Melissa & Doug, the absence of licenses may well represent an untapped growth opportunity should the company see this as a need. However, given the very real enmity that exists between MGA and Mattel, most top licenses, specifically Disney's, are probably unattainable. MGA Entertainment is still a non-public company, owned by Isaac Larian.
MGA is virtually totally dependent on North America and Europe to sustain their business and there appears to be no major effort to broaden the company's reach.
In summary, even though demographic trends do not look particularly promising, the short term (the next ten or so years) offers plenty of scope for the seven companies engaged in the preschool toy category. According to Dr. Toy, "There is a solid base in preschool and childcare programs to warrant continued focus, and expanded innovation with great potential for the right mix of basics, low- and high-tech, creative, and many other products to make a difference."
The international potential as it exists today remains largely untapped. Also, as economies grow - particularly in Asia, Africa and Latin America - the pool of families that will be able to become consumers is bound to expand. Lastly, there is incredible scope for the electronic learning subsector for companies that can credibly demonstrate that their products in fact deliver what they promise.
This article was first published by the Toy Book on October 1, 2013
Disclosure: I have no positions in any stocks mentioned, and no plans to initiate any positions within the next 72 hours. I wrote this article myself, and it expresses my own opinions. I am not receiving compensation for it. I have no business relationship with any company whose stock is mentioned in this article.