Aegon (NYSE:AEG) is an insurance provider of mostly life insurance and annuity products with its headquarters in the Netherlands. There are still significant problems in the eurozone but: Aegon gets almost all of its revenue from the U.S.
Well, actually its a little more diversified, but the U.S. is very important to them. In 2012, $1.69 billion of earnings were coming from the Americas. According to Morningstar, 70% of pre-tax earnings came specifically from the United States. You may know Aegon by the Transamerica brand.
Transamerica provides life insurance, savings, pensions, accident & health, and asset management throughout the Americas - in Brazil, Canada, Mexico and the United States.
Since the financial crisis, the iShares Dow Jones US Insurance Fund (NYSEARCA:IAK) has rebounded nicely. On April 30, I wrote Cherry Picking Euro Insurance Company Stocks when it traded at $6.70; now it's $7.64 but that is still cheap. Just compare the gap to the U.S. Insurance Index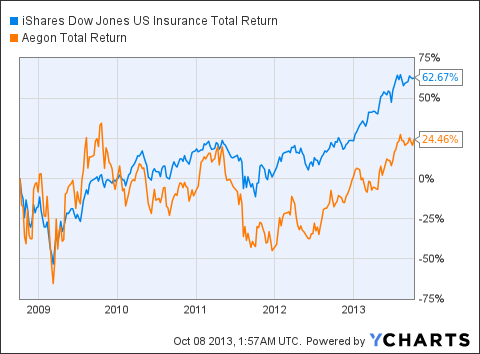 IAK Total Return Price data by YCharts
The U.S. markets have recovered much better than their European counterparts, and some of that lag slowed down Aegon, which is in reality deriving most of its profit from the U.S.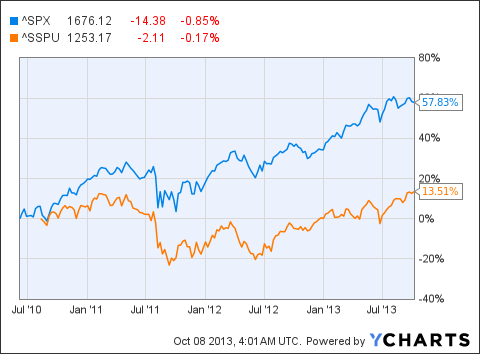 Turnaround Aegon
Aegon got bailed out by the Dutch government in 2008. It accepted EUR 3 billion ($3.95) as a loan, but it didn't actually use it. In 2011 it returned the money after having paid 36% in compound interest.
During this time, Aegon was not allowed to take a price leadership strategy. Since the crisis, Aegon is structuring its business to be less risky in nature. It tries to focus on providing corporate products and is moving to spread its business geographically.
Aegon is selling off units that do not generate what it considers favorable returns and focusing on the activities that will create more shareholder value.
Growth Drivers
Although you may expect growth to come from emerging markets, the world is changing and some of these changes create opportunity in mature markets.
People are living longer, healthier lives. In many countries, people are spending longer in retirement than before, and there is a growing demand for life insurance, private pensions and long-term investment products.
Reduced safety net. Fewer economically active people fund the traditional safety net of pay-as-you-go state pensions. As a result, governments, particularly in Europe, are under pressure to reform pension systems. At the same time, individuals increasingly rely on private sector providers to help them finance their retirement. The private sector providers are well-positioned to offer this service, while facing the challenge of low interest rates and volatile equity market returns.
Brazil and Mexico offer strong opportunities for growth and form part of Aegon's strategic focus for investing in the future.
Important Restructuring Steps
The financial crisis hit Aegon hard. Since then the company restructured to be more robust in the face of challenges, both voluntary and forced by regulation. The restructuring steps it underwent last year that I liked a lot:
Leveraging Aegon's significant expertise and resources across the organization; investing in technology to drive innovation and further enable cost and operational efficiencies.
Restructuring its main businesses in the United States, the United Kingdom and the Netherlands, Aegon has significantly reduced operating costs. In the United States, the company lowered expenses in its main Life & Protection business by USD 100 million; in the United Kingdom, costs have been reduced by 25%; in the Netherlands, Aegon will save an additional EUR 100 million.
Aegon also received the Life Transaction of the Year Award for excellence and innovation in the insurance sector. The award is based on a transaction with Deutsche Bank to offset tail risk related to longevity. The innovative "swap" transaction was the first of its kind in Europe. This is an interesting hedge, because the industry is widely criticized for the risks inherent in variable annuities.
Aegon's Weakness
Aegon does not have a competitive advantage over its peers. That is a weakness in a market with essential commodity products. It might benefit from some customer preference in a few markets, but that loyalty is not widespread enough to make a big difference.
This means there is a implicit limit to the returns on capital the company can attain. Aegon is not a company you want to buy and hold forever.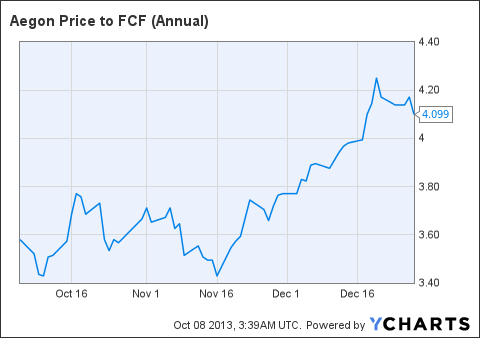 AEG Price to FCF (Annual) data by YCharts
Valuation
Aegon trades at a Price/Earnings ratio of 11.7 to the industry average of 17.2, Price/Book value at 0.4, and the dividend yield is 3.2%. The company vowed to buy back all the stock that got issued because of the stock dividend which is ~50% of the dividend. That means they are returning cash to shareholders at a pretty good clip. Something I value highly.
With no competitive advantage, Aegon deserves to trade at a slight discount to larger insurance companies that manage to wield economies of scale or strong customer preference, but the discount is too deep. I expect Aegon to make up ground to the industry ETF over the coming years.
When it does, I'll re-evaluate, but most likely advise a sale. Lack of a substantial competitive advantage means Aegon is not a company to hold for the ages.
Additional Sources:
CEO speaking about Q2 2013 Results (English).
Disclosure: I have no positions in any stocks mentioned, and no plans to initiate any positions within the next 72 hours. I wrote this article myself, and it expresses my own opinions. I am not receiving compensation for it (other than from Seeking Alpha). I have no business relationship with any company whose stock is mentioned in this article.