Earnings season starts this week, but things don't really pick up until the middle of October. As shown in the chart below, just 32 companies are set to report third quarter numbers this week. On October 24th alone, we'll see nearly nine times that amount report in a single day.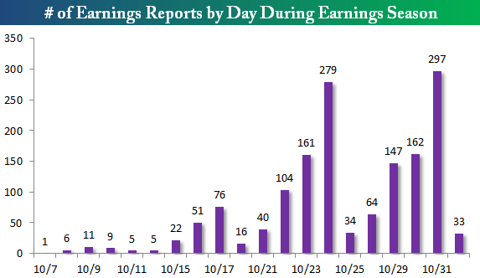 As we do each quarter before earnings season starts, below is a list of the stocks that have historically been the most volatile on their earnings report days. From our Interactive Earnings Report Database, we looked at the past earnings report days for every stock in the S&P 1500 over the last ten years and calculated each stock's average absolute (+/-) one-day percentage change on earnings. (For companies that report earnings in the morning, we use that day's change. For companies that report earnings after the close, we use the next day's change.)
As shown below, Netflix (NASDAQ:NFLX) has historically been the most volatile stock in the S&P 1500 on its earnings report day. The stock has averaged a huge one-day change of +/-14.47% in reaction to earnings. With a gain of 253% year to date, the NFLX certainly has a lot to live up to when it reports on October 21st.
Digital Generation (NASDAQ:DGIT) is the second most volatile stock on earnings with an average one-day change of +/-14.27%, followed by VASCO Data (NASDAQ:VDSI), First Solar (NASDAQ:FSLR) and Green Mountain Coffee (NASDAQ:GMCR). All of the names in the top five certainly come to mind when you think of volatile stocks. Other notable names on the list of most volatile stocks on earnings include priceline.com (PCLN), Intuitive Surgical (NASDAQ:ISRG), Nutrisystem (NASDAQ:NTRI), SanDisk (SNDK) and Deckers Outdoor (NASDAQ:DECK).
For traders out there looking for volatile stocks this earnings season, this list should be a good start.