For many couples who get divorced, settlement over who gets what and custody with whom will be the most significant negotiation of their lives. Luckily, they only have to experience that pain once. Congress and The Administration are now headed down the same path that led to an unprecedented downgrade of the country's credit rating by a major credit rating agency. To date, market participants have not appeared overly worried. The markets are roughly flat since this drama began. Maybe they are right and both parties will come to an agreement at the last minute. Or maybe they are underestimating the righteousness of the parties involved.
While mediation among divorcing couples has become increasingly popular over the past twenty years, many couples still chose to go back and forth to negotiate a settlement with and between their respective lawyers. In a divorce, the primary parties are the spouses while the secondary parties are the lawyers, children and other family members who will be affected by the decisions they ultimately decide to make. In what has become a regular tradition in the increasingly polarized land of Washington D.C., the primary party should be the American people and the world at large (anyone who holds our debt and/or pays taxes in the U.S.). However, of the greater than 125 million households in our country, less than 1,000 will be directly involved in ultimately negotiating a settlement.
The stakes are extremely high for couples who are seeking a divorce. It is understood going into the process that neither party is going to get everything they want; as a result, few will feel victorious at the end of the process. Giving up assets people have worked hard for over their lifetime, the right to part of their income and relinquishing full time visitation with children can all be devastating, and once agreed to, will have to be dealt with for a prolonged basis. Similarly in the government, both the Democrats and Republicans feel that the stakes are extremely high. The Republicans have had little say in decisions the government has been making since 2009, sans the unpopular sequester. They've only held control of the House for three years. In that capacity, all they can really do is attempt to hold up bills from getting passed. The problem is that the Obama Administration worked to get most of its key legislation passed prior to the Republicans gaining control of the House in 2011. This strategy led to an uprising of an extreme wing of the Republican party that has since been met with an equally liberal faction on the left. Since 2011, both sides of the debate have come across as ineffectual, foolish and uncompromising. Does any of this sound familiar? Yes, couples who allow the negotiation of their divorce settlements to get out of hand often come across similarly.
Most people on the outside of the situation looking in, whether it is divorce or Washington impasses, would advise the parties to find common ground and use that as a starting point. However, it now seems that there is so much bad blood between the administration and House Republicans that it is almost impossible to arrive at a deal. Both parties stand up at their podiums and deliver speeches they believe will speak to their base in an attempt to draw public support. This approach does not seem to be working. A recent CNN poll showed Congress's approval rating at an all-time low, while the RealClearpolitics average of the President's approval rating is also at/near an all-time low.
It looks like the markets are holding up fairly well for two reasons. First, there is the chart below that shows that since the last debt ceiling impasse, the S&P 500 (NYSEARCA:SPY) is up 40%, give or take. Second, basic behavioral economics is taking hold. Not only does the chart below show the extent to which the market has appreciated over the past two years, but also the degree to which it has been relatively uninterrupted. The fear in the market has switched from not wanting to lose money to not wanting to miss out on making money.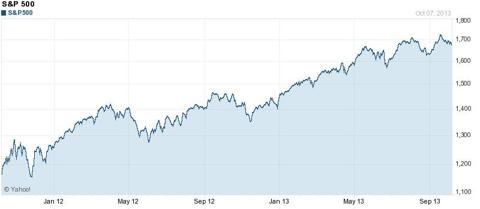 So how do impasses end between spouses that are breaking up? After spending thousands of dollars in unnecessary legal fees, more than 99% of the time they eventually reach an agreement. The reality is that they have to if they want to move on from each other. The same can be said for the current government stalemate. Assuming that all parties involved are not interested in sparking a crisis, they will reach an agreement. The question though, of course, is when. Investors don't seem worried about the when, but it is an extremely important variable. Global markets can be, at times, unpredictable. In 2008, when the number of challenges and stressors that were there in the system was fairly transparent; panic was sparked by one defining event. We never can know what that defining event will be. But history has shown investors unwilling to price in these types of tail risks.
Disclosure: I have no positions in any stocks mentioned, and no plans to initiate any positions within the next 72 hours. I wrote this article myself, and it expresses my own opinions. I am not receiving compensation for it (other than from Seeking Alpha). I have no business relationship with any company whose stock is mentioned in this article.