By Dee Gill
Here's a potentially lucrative project for an entrepreneurial techie: figure out a simple way to track the number of people watching "Breaking Bad" or "Insidious" on their smartphones and iPads. There are just loads of cable companies, content providers and advertisers that would pay big money for the data.
Nielsen (NYSE:NLSN) should have had this down by now, having been named the god of program ratings years ago for its ability to quantify the number of television viewers for any given show. Nielsen did announce recently plans to incorporate, eventually, some mobile viewers in its ratings. But it sounds like Nielsen might be missing the bigger opportunity here, and it's a company that could clearly use some growth.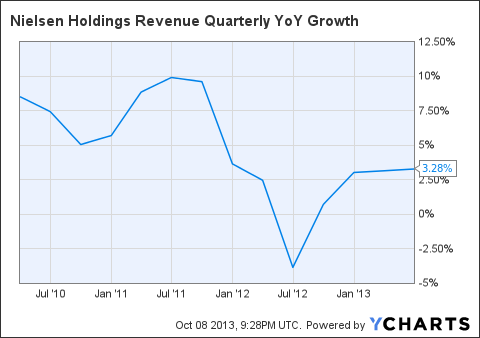 NLSN Revenue Quarterly YoY Growth data by YCharts
Nielsen has ignored streamed viewership mainly because its mission focuses on giving customers information to determine advertising rates. You can stream a television program from Netflix (NASDAQ:NFLX) or Amazon.com (NASDAQ:AMZN) without seeing any ads at all. Its new ratings won't consider viewership from those places either, but they will track viewing on devices by people using Time Warner Cable's (TWC) smartphone app, for example, where viewers get the ads too. To say it's limited is an understatement.
Content makers and cable companies would like to know how many people stream their shows, old or otherwise so they can better price advertising and licensing agreements. Advertisers would like to reach these streaming people too, but have no idea of the size of this market or its habits yet. Everyone is still trying to figure out what kind of advertising works best on devices, and some hard numbers on what people watch as they try different things would be most appreciated. So right there, you have massive companies ranging from CBS (NYSE:CBS), Walt Disney (NYSE:DIS) and Comcast (NASDAQ:CMCSA) to PepsiCo (NYSE:PEP) and Verizon (NYSE:VZ) as potential customers for the new databank.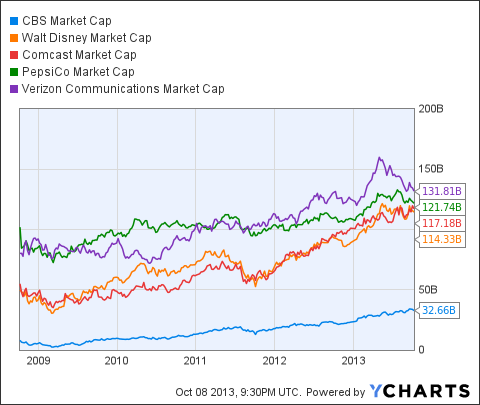 CBS Market Cap data by YCharts
Content providers already get data for streaming viewership by show in a piecemeal way. Netflix, for example, can tell CBS how many people streamed each episode of "Dexter", as could Google Play or other streaming services. The missing element is collective data that quantifies viewership per program across streaming sources, ideally in a way that Nielsen could easily incorporate in its traditional ratings. As Eric Solomon, Nielsen's senior VP of global audience told Variety Magazine: "Networks are starving for a number they can publish that really represents their audience not just on TV but across all platforms."
Really, what all these companies want is one big number that shows viewership across all platforms, including those TV watchers that Nielsen so consistently tracks. But a mobile tracking app will do for now. (Just think of the buyout opportunities if Nielsen really wants in after all.) Oh, and there's time. Even Nielsen's limited mobile viewership numbers won't come out until fall of 2014.
Meanwhile, Nielsen has slightly outperformed the S&P 500 over the past year. But trading at a PE ratio of more than 20, it's a stock that seems vulnerable to a disruptive competitor.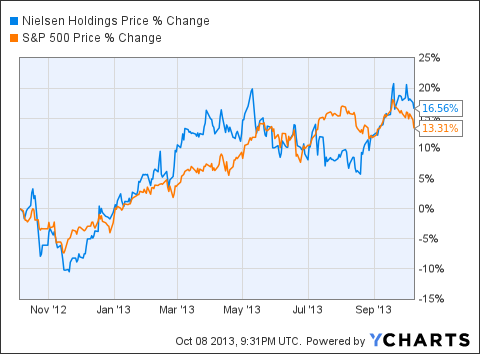 Disclosure: I have no positions in any stocks mentioned, and no plans to initiate any positions within the next 72 hours. I wrote this article myself, and it expresses my own opinions. I am not receiving compensation for it. I have no business relationship with any company whose stock is mentioned in this article.