After visits with technologists at an explorer and three trusts in Calgary, we have confidence in our assessment of attractive investment potential signaled by McDep Ratios of 0.87 for Birchcliff Energy Ltd. (BIR), 0.91 for Freehold Royalty Trust (OTCPK:FRHLF), 0.95 for Peyto Energy Trust (OTCPK:PEYUF) and 0.95 for Penn West Energy Trust (PWE).
BIR is for investors looking for high growth subject to higher risk. The remaining three income stocks have strong resource value at the same time they expect Canadian taxation changes in 2011. All are applying newly developing techniques of multifrac horizontal drilling (HZ) to unlock oil and gas accumulations more profitably. Neither fracturing nor horizontal drilling is new, but the combination of multiple fracture treatments with horizontal drilling is sweeping Canada after having been advanced in the Barnett Shale natural gas drilling in Texas. In its Analyst Day presentation, PWE illustrated in a deliberate oversimplification how 8 single frac vertical wells costing $8 million might be replaced by one multifrac horizontal well for $2 million (see slide below). We think HZ is promising for individual companies without depressing industry pricing from too much long-term supply. We'll have more to say about each of the four stocks in future analyzes.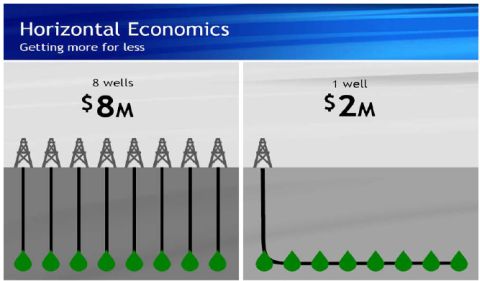 Originally published on October 23, 2009.