Silver prices, along with related exchange traded funds, are outshining gold as uncertainty fuels safe-haven investments, but industrial activity could help silver keep up its momentum.
The iShares Silver Trust (NYSEARCA:SLV) rose 2.9% Friday while the SPDR Gold Shares (NYSEARCA:GLD) gained 1.1%. Since the early August low, SLV has increased 14.4%, whereas GLD is only up 3.2%.
Precious metals are strengthening as a safe-store of value, with Congress deadlocked over extending the country's debt limit to avoid a default.
"Gold is getting some bids because of the uncertainty," Frank McGhee, the head dealer at Integrated Brokerage Services LLC in Chicago, said in a Bloomberg article. "It will be a very big deal if the U.S. defaults."
Gold futures were up 1.1% Monday, trading around $1,324.6 per ounce. Silver futures were up 2.7%, trading around $22.35 per ounce.
However, over the mid-term, silver could outperform gold as the U.S. monetary policy normalizes, Shanghai Metals Market reports.
According to Bank of America Merrill Lynch, gold will weaken along with a gradual rise in interest rates, with bullion hovering around $1,300 per ounce in the fourth quarter and dropping to $1,294 an ounce next year.
The bank, though, anticipates silver prices to average $26.38 an ounce due to increased economic activity, which would support silver for industrial applications.
iShares Silver Trust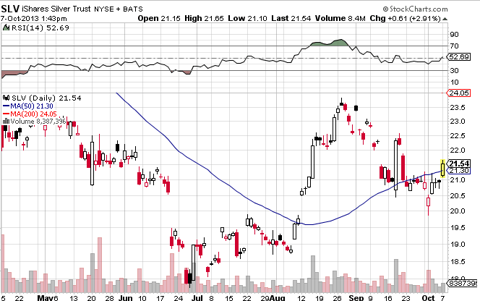 Max Chen contributed to this article.
Full disclosure: Tom Lydon's clients own GLD and SLV.
Disclosure: I am long SLV, GLD. I wrote this article myself, and it expresses my own opinions. I am not receiving compensation for it. I have no business relationship with any company whose stock is mentioned in this article.