While Microsoft (NASDAQ:MSFT) has struggled in both the smartphone and tablet arenas, two recent developments may be the type of catalyst the company needs to spark some positive movement in its hardware business. First, Delta Air Lines (NYSE:DAL) recently announced that it was replacing hard-copy manuals and charts used by pilots with 11,000 Surface 2 tablets, choosing Microsoft over Apple (NASDAQ:AAPL) iPads because of their multitasking capabilities. Not only is the news good press for the new device, it could mark the type of move that will be followed by other airlines like United (NYSE:UAL) and Southwest (NYSE:LUV).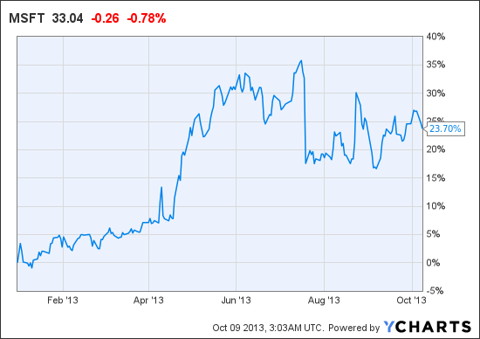 MSFT data by YCharts
The second announcement highlights a redesign of the Twitter app for the Nokia (NYSE:NOK) Lumia Windows Phones to follow a trend set by Facebook (NASDAQ:FB) to include more data on the lock screen. In the video below, I discuss these two developments in more detail and highlight why with a dividend yield of 3.3% and a P/E below 13, Microsoft looks attractive at current levels.
Disclosure: I have no positions in any stocks mentioned, and no plans to initiate any positions within the next 72 hours. I wrote this article myself, and it expresses my own opinions. I am not receiving compensation for it (other than from Seeking Alpha). I have no business relationship with any company whose stock is mentioned in this article.