The Chinese internet industry is full of surprises and there are many developments happening in the industry. Among the top players, Baidu (BIDU) has a product portfolio, given in the table below, spanning the entire market. With the acquisition of 91 Wireless, PPS, and Nuomi in the last quarter, it made its intentions of mobile monetization very clear. It was a latecomer to mobile Internet, but it surprised the market in the second quarter of 2013 with more than 10% of its revenue coming from its mobile platform. While Baidu is still the leader in the Chinese search market, a lot of activity has been going on at the bottom of the table, and this will definitely have implications on the players operating in the industry.
| | |
| --- | --- |
| Service | Product |
| Mobile browser | Baidu mobile browser |
| Mobile search | Baidu mobile search app |
| Mobile map | Baidu map |
| Mobile app store | 91 Wireless, Baidu mobile assistant, Hiapk |
| Mobile ad platform | UUCun |
| Mobile video | iQiyi, PPS |
| Mobile security | Android mobile assistant |
Chinese search market share by usage and revenue
In August 2012, Baidu was the king of the search market with a share of 80.40%. A year later Baidu is still the king of search, but its share has dropped to 63% in August 2013. However, the numbers alone won't give the whole picture.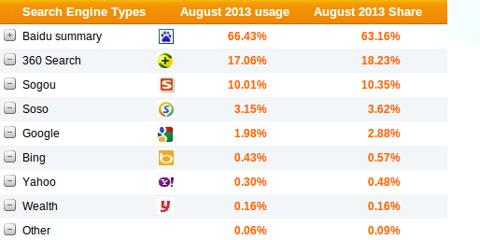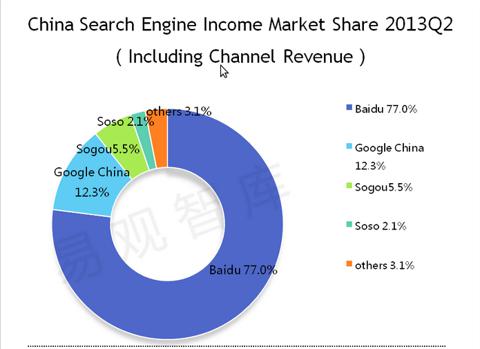 The decline in Baidu's share could be attributed to Qihoo 360 Technology (QIHU), which has gained around 18% share in August 2013. Qihoo has achieved significant growth since the launch of its search services in August 2012, and its partnership with Google (GOOG) in 2013. It is using Google's expertise in online ads to gain more market share. However, the revenue impact from Qihoo's 360 Search is limited; Baidu continues to have a major share of revenue in the search market with 77%, while Qihoo's revenue from the search market is practically non-existent.
Qihoo still lacks in revenue share in the search market because it has a relatively new platform with few advertisers. Due to fewer advertisers, the advertisement auction is not that competitive and leads to low cost per click, or CPC. In addition, Qihoo also has a low Click through Rate, or CTR, due to a less developed advertisement system. CTR is the ratio of total clicks on the ad to the number of times the ad is viewed. CTR depends on the advertisement system, ad campaign, and keywords used. Thus, we believe that Qihoo will take a longer time to close in the market share gap between its search traffic and search revenue.
Merger between the competitors
Tencent's (OTCPK:TCEHY) search engine, Soso.com, launched in 2006, but it has only 3.62% market share as of August 2013. Soso has been struggling to compete with the market leader Baidu, and new entrant Qihoo. In a move to gain share in the Chinese search market, Tencent bought 36.5% stake in Sohu's (SOHU) search engine Sogou, China's third-largest search engine, for $448 million on September 16, 2013.
Tencent merged its Soso with Sogou, and both will collaborate in search technology and user data sharing, which would expand Sogou's products to the large user base of Tencent on both the PC and mobile front. The deal will take Tencent's search traffic share to 14%, combining Sogou's 10.35% and Soso's 3.62%. This will take its search share close to Qihoo's and challenge its growing market share.
Tencent has a strong presence in both PC and mobile, with the largest news portal, QQ.com, and messaging service, Wechat, in China. It has been a slow-starter in the search market, but the Sogou merger will strengthen its offering on both PC and mobile search. We believe Tencent will benefit from the better mobile search user experience, after combining with the strength of Sogou. Tencent's partnership with Sogou can also help direct more traffic to Tencent's e-commerce platform, as the search engine is an important traffic source for e-commerce sites.
Impact of the merger
Earlier, Qihoo was in talks to buy Sogou to jump-start its search engine traffic market share and narrow its gap with Baidu. The combined entity of Qihoo and Sogou could've had a search share of 30%, thus challenging the dominance of Baidu. Now, after the Tencent- Sogou merger, Qihoo may find it difficult to expand its search-engine market share through merger, as the remaining players in the search market are very small.
On the other hand, Baidu will remain unaffected in the near term, as Qihoo and Tencent are still in the early stages of their search monetization, and users are shifting towards mobile. Tencent may not be able to threaten Baidu's dominant position in the near term since Baidu still has a supreme position and a developed platform for advertisers. Baidu has made its intentions clear to move towards the mobile segment, with the acquisition of 91 wireless app store and launch of its Light app platform, which we covered in our last report.
Who's who in mobile?
Baidu is a latecomer to mobile Internet, and it still has a long way to go in achieving mobile monetization. The two leading apps in the mobile segment are Tencent's Wechat, and SINA Corporation's (SINA) Weibo, which could well become the mobile Internet gateway for consumers.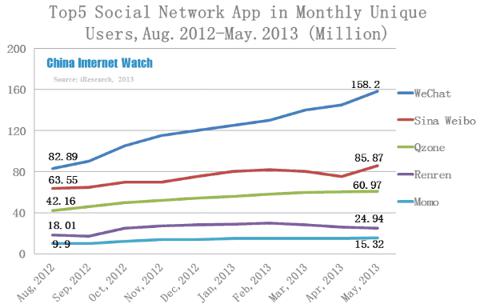 (Source: Chinainternetwatch)
Weibo contributed a quarter of the total advertising revenue of $30 million, but it recorded 209% year-over-year increase. The revenue models of Weibo and Wechat are a bit different; Wechat relies on a third-party payment platform and games, while Weibo depends on its advertising revenue. The growth of Weibo has slowed down due to the rising competition from Wechat, and government regulations. China's top court issued a notice that people could be charged if they create online rumors that receive 5,000 visitors or are shared 500 times. This could restrict activity of users on Weibo, which will attract fewer advertisers on this platform. In contrast, Wechat monetization could speed up in the near term, as management has emphasized leveraging on its large user scale to bring a constant revenue source for its messaging service.
Bottom line
Just when Baidu was struggling to compete with Qihoo and facing the challenge of being late to the mobile Internet arena, Baidu surprised the market with its results. The impact of the Tencent-Sogou merger will also have a minimal effect on Baidu due to its dominant position and shift towards mobile search. We are bullish on Baidu, and consider it to be a promising investing opportunity.
Disclosure: I have no positions in any stocks mentioned, and no plans to initiate any positions within the next 72 hours. I wrote this article myself, and it expresses my own opinions. I am not receiving compensation for it (other than from Seeking Alpha). I have no business relationship with any company whose stock is mentioned in this article.
Additional disclosure: Fusion Research is a team of equity analysts. This article was written by one of our research analysts. We did not receive compensation for this article (other than from Seeking Alpha), and we have no business relationship with any company whose stock is mentioned in this article.