Over the past decade McDonald's (NYSE:MCD) has provided investors with some pretty impressive returns, including a nearly four-fold increase in stock price as well as a seven-fold dividend rise. If you bought 400 shares of Mickey D's in November of 2003, your $10,000 investment would now be worth about $38,000. More impressively, your $160 annual dividend check has now grown to $1,248.
Looking back, McDonald's has been a dividend growth investor's dream. Interestingly enough, the yield on McDonald's in November of 2003, assuming a $25 per share price, was only 1.6 percent, far below the typical threshold that attracts most dividend investors. Today the company's yield is double that, roughly 3.3% based on TTM dividend payments. Yield on cost, a widely utilized performance metric, has risen from 1.6%, our hypothetical initial purchase in 2003, to about 12.5% today - based on roughly 23% compound growth.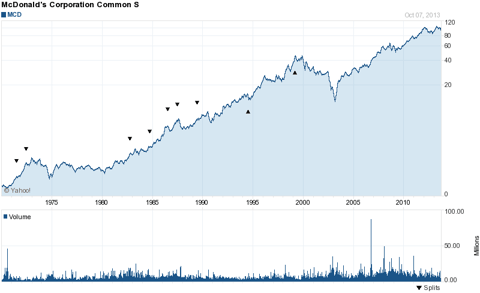 Few remember that after hitting nearly $50 a share in 1999, McDonald's stock tumbled nearly 75% over the next four years, with "Mad Cow" concerns and other operational issues damaging the company's sales and reputation. Since bottoming out in 2003, however, the sky has been the limit for the company, with healthier offerings, a value menu and McCafe spearheading a return to glory.
Other DG Stocks Over The Past Decade
To put MCD's dividend performance in perspective, it should be compared to that of other widely held stocks over the past decade. Let's take a look at the relative performances of Procter & Gamble (NYSE:PG), J&J (NYSE:JNJ), Coke (KO) and Wal-Mart (NYSE:WMT). We'll measure initial yield, compound growth and yield on cost achieved over the course of ten years. All data is compiled with prices in Nov. 2003 and Oct. 2013 with no reinvestment of dividends.
| | | | | | | | |
| --- | --- | --- | --- | --- | --- | --- | --- |
| Stock | 2003 Dividend | 2003 Yield | 2013 Dividend | DGR '03-'13 | '03-'13 YOC | Current Yield | Payout Ratio (X) |
| MCD | .40 | 1.6% | 3.12 | 22.8% | 12.48% | 3.43% | 55% |
| PG | .865 (*) | 3.57% | 2.36 | 10.56% | 9.74% | 3.18% | 59% |
| JNJ | .925 | 1.85% | 2.59 | 10.84% | 5.18% | 3.05% | 55% |
| KO | .44 (*) | 1.87% | 1.12 | 9.79 | 4.76% | 3.02% | 57% |
| WMT | .36 | 0.63% | 1.88 | 17.97% | 3.29% | 2.62% | 34% |
* - denotes split adjusted
x - per Yahoo Finance
McDonald's generated the highest dividend growth rate by far, doubling the growth rates of three of the other four companies. Procter, JNJ and Coke generated similar dividend growth rates and provide almost identical yields in today's market. And even though McDonald's yield was half that of P&G in 2003, it has provided substantially better yield on cost.
What Constitutes The Perfect Dividend Growth Stock
As we all know, the "perfect" investment is somewhat in the eye of the beholder. Some DG'ers won't consider stocks that yield less than X amount or ones that haven't increased the dividend for X amount of years. And if that's your dividend game plan, you should stick to it. But given the income-return performance that McDonald's provided over the past decade, I for one would like to strive to own companies like it, rather than "safer" plays that may provide less dividend growth over the next ten years.
Back in 2003, given its rather paltry 1.6% yield and shaky business, dividend investors in all likelihood were not rushing to buy shares. Yet with hindsight, that's exactly what aggressive dividend investors should have been doing. Though one has done "OK" with PG, JNJ and KO, McDonald's has been quite the standout. The problem is that other than having a rather contrarian view towards McDonald's at the time, there was really no way to predict this kind of superior performance.
While we can analyze historical corporate behavior and identify companies that have shareholder friendly managements, I feel that a vision toward the future is what can create tremendous value for both total return and dividend growth investors. As is often said, the best time to invest is when there is blood in streets. After a 75% decline, I would argue that there was blood in the streets pertaining to McDonald's in 2003. And though it may have taken some guts to invest in it then, that courage has certainly paid off, much more so than if one had put money in a Coke or JNJ - not that there was necessarily anything "wrong" with that.
Still, even if one had waited until the recovery was underway in the '04-'05 timeframe, they would have done very well with MCD. As somewhat of a contrarian, I like to look at companies under duress for whatever reason, but would like to see signs of rehabilitation first, rather than attempting to catch the proverbial falling knife.
So, utilizing this McDonald's case study and considering other variables that bode favorably for robust dividend expansion, I would posit that dividend stocks capable of producing well above average growth over the next decade may possess one or more of the following attributes:
A quality business under duress, one flying under the radar, or with very low current expectations
A low current payout ratio, preferably below 40%
High comparative levels of cash relative to market cap
Stated intent to increase dividend payments
Non-specific current yield
No specific dividend growth history
Stocks With Above Average DG Prospects
With new money today, I would be looking at the following large-cap companies to form the backbone of an aggressive dividend growth portfolio going forward.
...and a wild card pick for next decade's McDonald's-like dividend performance ...

Dunkin Brands (NASDAQ:DNKN) - I believe the quick service purveyor of donuts, coffee, ice cream and other food items is on a growth trajectory to equal Mickey D's achievement over the past decade. Although the company has been public for a little over two years, management already has a commitment to raising the dividend. The brand is strong and the outlook for accelerating earnings and dividend growth seems rather robust. And while not a particularly important, indeed, more of an ironic data point, the dividend yield is about 1.7%, identical to MCD's ten years ago.
Conclusion
While there is certainly no exact science to picking stocks that will provide one with desired or optimal yield on cost going forward, a bit of historical perspective, a bit of current balance sheet analysis and a bit of instinct should all prove helpful in maximizing portfolio cash flow growth in the years ahead. Let's check back in ten years and see how we did.
Disclosure: I am long AAPL, JNJ, TGT, ACN, CSCO, MSFT. I wrote this article myself, and it expresses my own opinions. I am not receiving compensation for it (other than from Seeking Alpha). I have no business relationship with any company whose stock is mentioned in this article.
Additional disclosure: Disclaimer: The above should not be considered or construed as individualized or specific investment advice. Do your own research and consult a professional, if necessary, before making investment decisions.