The early Sept. 2013 announcement that Walgreens (WAG) plans to move the management of its health insurance benefits to a private exchange known as the Aon Hewitt Corporate Health Exchange which is run by Aon Hewitt (NYSE:AON) seems to have muddied the waters for pure-play PBMs (Pharmacy Benefit Managers) such as Express Scripts (NASDAQ:ESRX). The market over-reacted to the announcement and punished Express Scripts, the largest PBM, whose shares have traded down more than 5% since then.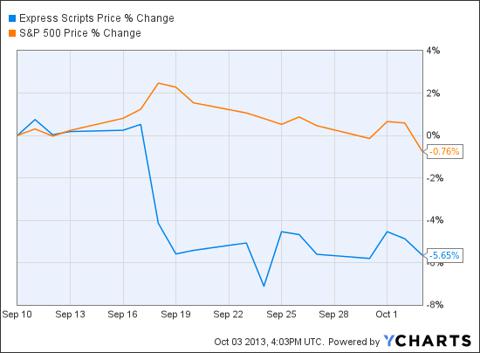 The relatively new Aon Hewitt Corporate Health Exchange says that it expects to serve 18 companies that employ about 330,000 people in 2014. Another huge employer, IBM (NYSE:IBM) with over 400,000 employees, has also joined the private exchange bandwagon by announcing that it was planning to shift its retirees into Extend Health, another private exchange program. Extend Health has already garnered quite a following, with some of its notable clients being Caterpillar (NYSE:CAT) and Time Warner (NYSE:TWX).
Panic not warranted
Express Scripts' core service is to assist pharmaceutical benefit payers' member prescriptions through processing prescription claims and ensuring that claims by members comply with the benefit plan parameters. PBMs, in effect, pay retail pharmacies on behalf of their customers.
The huge bargaining clout that Express Scripts commands in the prescription drug delivery market chain was clearly demonstrated in 2011, when it parted ways with Walgreen, the largest retail pharmacy chain in the country. Walgreen was the clear loser in the stand-off, with its sales plunging 8.1% in the fourth quarter of 2012, as its customers turned to CVS and Rite Aid. Walgreen's numbers have improved considerably since its acquiescence to Express Script's terms, with its August 2013 sales growing 5.6% Y-o-Y and pharmacy sales growing 6.4%.
The recent developments in the space have led PBMs such as Express Scripts to fall out favor with investors. But we believe that investors could be overreacting to the planned implementation of the Affordable Care Act. Private exchanges constitute a miniscule part of the prescription drug delivery pie. Large PBMs such as Express Scripts are not likely to be negatively impacted in a tangible way by the direction the evolution of health care benefits delivery has taken. Following its 2012 merger with Medco Health Solutions, Express Scripts commands a huge 40% share of the PBM market in terms of lives covered, followed by CVS Caremark (NYSE:CVS) with 12% of the market. The two-top PBMs command a huge 60% of projected 2013 PBM revenues, according to this CVS report.
Large PBM players such as Express Scripts have increased their claim volume so much that they now directly negotiate favorable drug pricing and good discounts with various drug manufacturers as well as other players in the drug supply chain, including distributors and retail chains. The spread between what PBMs pay drug manufacturers and what the customers pay them is their main source of revenue. Although PBMs at first charged a fixed fee for every processed claim, their current revenue structure has morphed considerably in such a way that it favors spread retention. Large PBMs in general are perfectly placed to negotiate large enough discounts with drug manufacturers, such that they can provide their clients with favorable drug pricing and still manage to make handsome profits.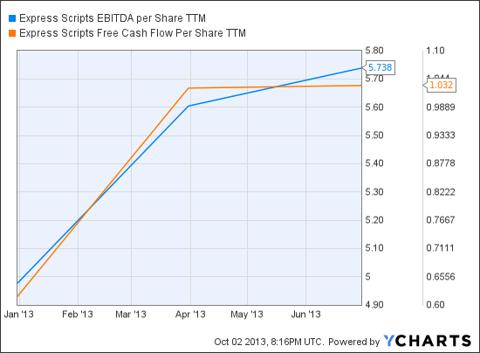 Express Scripts processed a staggering 1.3 billion claims in 2012 alone. During the first half of 2013, the company managed to process 759.4 million claims and is, therefore, well on the way to surpassing last year's sales. The huge claims volume processed by Express Scripts allows the PBM to effectively leverage its well-positioned asset-light capital structure to maximize returns. Express Scripts boasts some of the lowest sales, administrative and general costs as well as the highest profit per claim in the industry.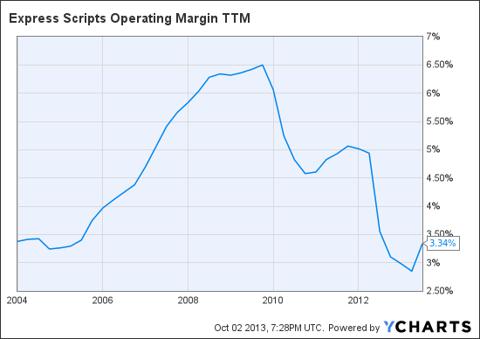 Another deep-value fund, Weitz Value, has of late been increasing its Express Scripts position. The $1 billion fund had accumulated more than 25% in cash by the end of the second-quarter, as it sold off positions whose discounts had eroded, but had been facing difficulties identifying new value stocks. Express Scripts accounted for 3.2% of Weitz's portfolio by the end of the second-quarter, the firm's eighth-largest holding.
Pullback offers fresh entry points
Express Scripts strong competitive advantages have enabled the industry-leading PBM to consistently deliver excellent returns on capital. The Morning Star, a leading investment advisor and consultant, expects the firm to continue with its robust growth in the future. The firm gives Express Scripts a fair value of $89. ESRX's current price of $62.53, therefore, represents a considerable 30% discount to Morning Star's fair value.
Good value plays have become pretty scarce in Morning Star's Market Vectors Wide Moat ETF, and Express Script 30% discount makes the stock an outstanding outlier in the Moat. Most Wide Moats are currently trading at par with their estimated fair values, with just six of the 20 of the 200 stocks tracked trading at discounts above 15%.
Avid investors are usually aware that stocks trading at deep discounts are usually discounted at those levels for a good reason. Indeed, the Market Vectors cheapest stocks, Western Union (NYSE:WU) and Exelon (NYSE:EXC) are on the ropes and seriously bleeding. Express Script, the third-cheapest stock on the Wide Moat, is a different story altogether.
The biggest reason for the deep discount is Morning Star's revision of Express Scripts fair value from $73 to $89, citing adjustments for time value as the reason for the upgrade. Morning Star also expects Express Scripts to grow its revenues by an average 5.1% over the next five years and its operating margins by 6.4%, thus taking the firm back to its pre-crisis growth rates.
The 5.65% pullback in Express Scripts' share price since early September offers investors fresh entry points.
Underlying risks
Despite its huge competitive advantage, a few headwinds remain for the drug distribution giant. Although its competitive position has improved considerably, aggressive pricing by major competitors such as CVS Caremark can potentially hurt the firm's profitability. UnitedHealth (NYSE:UNH) plans to fully in-source its PBM division in the current year. This might provide more competition for Express Scripts.
Overall, although Express Scripts stands to benefit from several health-care reforms such as the expansion of insurance coverage in the US to include 32 million of the country's uninsured population as well as other developments such as generic biologics legislation, other reforms such as the new PBM transparency requirements can potentially make the going a bit tougher for the firm.
Conclusion
The rapidly-changing prescription drug delivery landscape is causing jitters among PMB investors. One of their major concerns is that the enactment of the Affordable Care Act in January 2014 will negatively impact the bottom-line of PMBs such as Express Scripts. These companies are, however, better placed to handle the challenges that will come their way, and a deeper analysis into the developments reveals that Express Scripts is likely to continue growing its sales and profits for years to come.
Disclosure: I have no positions in any stocks mentioned, and no plans to initiate any positions within the next 72 hours.
Business relationship disclosure: Syncopy Research is a team of financial analysts. This article was written by Alex Kimani, the company's Senior Analyst. We did not receive compensation for this article (other than from Seeking Alpha), and we have no business relationship with any company whose stock is mentioned in this article