The markets are doing their typical slide showing again markets may not repeat, but as Mark Twain said, may instead rhyme.
It's hard to keep perspective when accounts are falling because it's easy to extrapolate the current into the future. But, instead of reacting to current events you may find it more profit friendly to consider the historical market ebb and flow and its impact on your holdings.
One way you can navigate October's rough seas is to stay focused on the bigger picture rather than the LCD screen -- after all, you can't control Washington anymore than you can Mr. Market.
Seasonality is rooted in repeating business cycles tied to end-user demand and industry supply. It's not based on voodoo or tea leaves. Instead, seasonality reflects repeatable business cycle demand and supply trends, similar to the repeating cycles used by commodity investors for decades. It's because of this equity investors are joining commodity investors in recognizing demand for goods and services ebb and flow throughout the year based on consumer spending, manufacturing lead times and government and corporate budgets.
I've been tracking seasonality for a decade and I've learned seasonality can be a valuable checkpoint for investors. It helps you screen for new ideas, determine timing for buys and sells and position ahead of good and bad times.
Based on seasonality, you should have basic materials on your radar as markets retreat.
I discussed the potential in coal stocks earlier this month. But, a less risky opportunity for investors may exist in basic materials exchange traded funds. Over the past decade, the iShares Basic Materials ETF (NYSEARCA:IYM) has gained nine times in the final quarter, generating an average and median return of 6.7% and 8.7%, respectively.
Source: Seasonal Investor Database

The returns of the Materials Select SPDR (NYSEARCA:XLB) have been similarly strong. Over the past 10 Q4s, the basket has gained eight times, returning an average and median 6.38% and 9.32%, respectively.

And, returns have been strong for specific industry baskets too. The S&P Oil & Gas Equipment & Services ETF (NYSEARCA:XES) and the S&P Metals & Mining ETF (NYSEARCA:XME) have gained in the quarter during six of the seven years since inception, with the XME producing a median return of 9.77% in the quarter.

The seasonal shift in energy services comes following some of the toughest months for the basket. Typically, the XES has struggled through summer, rebounding into the end of the year before accelerating in Q1.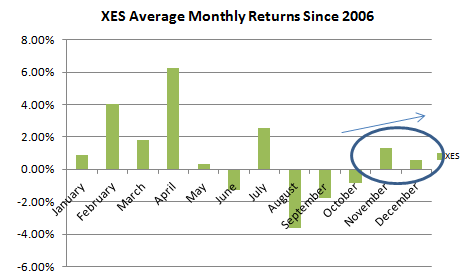 Given the drop-off in the market, you may find basics offer you an opportunity to get exposure to these baskets before a move higher. If history repeats, getting some exposure to basics appears a smart move before winter.
Disclosure: I have no positions in any stocks mentioned, but may initiate a long position in XLB, XES, XME over the next 72 hours. I wrote this article myself, and it expresses my own opinions. I am not receiving compensation for it (other than from Seeking Alpha). I have no business relationship with any company whose stock is mentioned in this article.