Sorl Auto Parts Inc. (NASDAQ: SORL) develops, manufactures and distributes automotive brake systems and other key safety related auto parts to original equipment manufacturers ("OEMs") and offers aftermarket parts both in China and international markets. While Chinese companies haven't been in favor for many years, the company offers investors appealing growth rates and a strong margin of safety if they are willing to accept the associated risks.
Appealing Growth Rates
Sorl Auto Parts' revenues have grown from $131 million in 2008 to more than $194 million during the trailing 12-month period, representing a compound annual growth rate ("CAGR") of more than 8% over the past five or so years.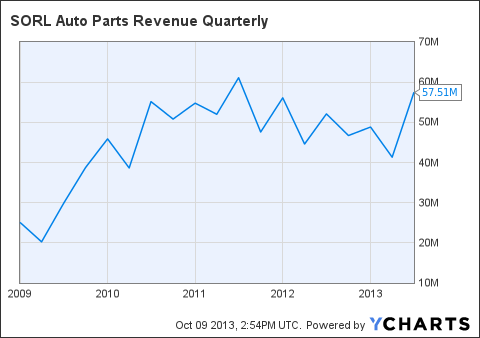 SORL Revenue Quarterly data by YCharts
During the second quarter of 2013, these sales were driven by higher domestic (Chinese) demand for commercial vehicles before the new National IV emission standards became effective nationwide on July 1, 2013. Infrastructure projects focused on highways, railways and other structures also helped boost demand during the quarter. In total, revenues jumped more than 10% to $57.5 million driven by a 19.5% increase in commercial OEM sales.
In response to an analyst question, management also indicated that they expect sales to expand throughout the rest of 2013:
So, we expect that the OEM sales for the rest of 2013 is going to be slightly better than the 2012, and that partially reflects the new macroeconomic policies that the new regime is implementing, which is less strict than restrictive than previous regime. So, on the OEM side, we are focusing our major customers to improve our sales quality and to achieve economies of sale, the economies of scale. So, overall, we expect that the OEM sales to increase by approximately 7% year-over-year to reach about $99 million.


... On the aftermarket side, so there are two directions that the company is going after. And the first one is in terms of our new product development and this is mainly working with large customers, Jiefang and FAW. Then on the other side is the company is also focusing on engineering vehicles which we think is going to be a new major area of the company. So, overall, on the annual basis, the company expects the aftermarket segment of sales to increase by approximately 5% to $50 million.
Improving export markets in the eurozone could also help improve its international sales, which management expects to grow 10% to 12% year over year to $50 million.
In summary, the company continues to see high single-digit to low double-digit top-line growth with relatively stable margins. These figures are likely to continue or move higher due to catalysts like the National IV emission standards and a recovery in its export markets.
Undervalued with Margin of Safety
Sorl Auto Parts' trades at a discount to its liquidation value, which provides would be investors with a strong margin of safety.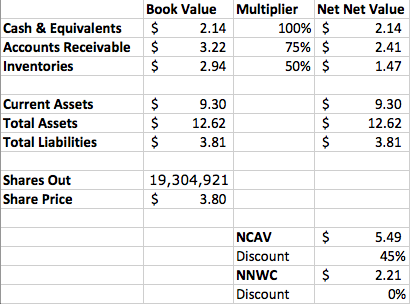 Figure 1 - Liquidation Valuation - Data Source: Morningstar
As can be seen in Figure 1, the company trades at a 45% discount to its net current asset value ("NCAV"), which is calculated by subtracting current assets by total liabilities. The absolute liquidation value - or net-net working capital - stands at about $2.21 per share. While the stock trades at a 72% premium to this very conservative liquidation value, its growth rates and discount to NCAV still make it an appealing investment opportunity.
The company's financial ratios also trade at a discount to the S&P 500, industry peers and its own historical averages, which leaves the potential for multiple expansion.

Looking at financial ratios in Figure 2, the company also appears to be undervalued relative to both its industry and the S&P 500, despite its 8% 5-year CAGR. Assuming $0.66 in earnings per share, even a modest 8x price-earnings ratio would yield a share price closer to $5.28 per share, which is still below its NCAV price. Finally, to hit these points home, the stock trades with a price-earnings to growth ("PEG") ratio of 0.3x, whereas 1.0x is considered a fair value.
In summary, the company trades at a level that provides investors with a strong margin of safety, with an NCAV figure above $5.00. While there are certainly risks associated with doing business in China, the discount to its own historical averages suggest potential multiple expansion - even modest - in addition to its top-line growth potential.
Risks to Consider
Chinese Accounting Scandals - Most investors are hesitant to commit capital to Chinese companies after several accounting scandals rocked the industry a few years ago. But with a U.S. auditor, EFP Rotenberg LLP, and the tightening of regulatory security in China, investors may want to consider revisiting the company.
China's Economic Slowdown - China's economy is growing more slowly, but this growth remains above 7% per year. While the slowdown could impact the company, spending on public transportation and commercial vehicles appears to be robust and growing, which means that the company's operations may be insulated to an extent.
Micro-Cap Valuation - Sorl Auto Parts is a micro-cap stock with a market capitalization of under $100 million and an average of just 33,000 shares traded per day. As a result, investors could experience less liquidity than blue chip companies.
In summary, Sorl Automotive Inc. represents an attractively priced investment for investors willing accept the risks associated with Chinese companies and micro-cap stocks.
Disclosure: I have no positions in any stocks mentioned, and no plans to initiate any positions within the next 72 hours. I wrote this article myself, and it expresses my own opinions. I am not receiving compensation for it (other than from Seeking Alpha). I have no business relationship with any company whose stock is mentioned in this article.