While stores ranging from Amazon (NASDAQ:AMZN) to Best Buy (NYSE:BBY) have had trouble keeping up with demand for Google's (NASDAQ:GOOG) Chromecast video streaming device, similar to Apple (NASDAQ:AAPL) TV, the device suffers from a major limitation: the inability to stream local media. Particularly when you consider that streaming local media to your TV only requires a PC and an HDMI cable, the lack of this option on all but the Roku device is as puzzling as it is frustrating. All three allow users to stream Netflix (NASDAQ:NFLX), Amazon Prime, Hulu, and more, but only Roku allows total flexibility. Particularly as Amazon prepares to release its own streaming device in time for the holidays, Google shareholders should watch to see how this issues plays out.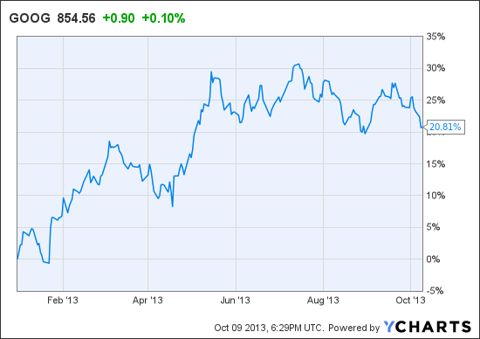 GOOG data by YCharts
In the video below, I discuss the significance of this functionality and why both Google and Apple may have chosen to leave it out thus far. I then consider Google shares at their current level, look at why Chromecast could ultimate be important to Google's future, and explain why I am bullish here.
Disclosure: I have no positions in any stocks mentioned, and no plans to initiate any positions within the next 72 hours. I wrote this article myself, and it expresses my own opinions. I am not receiving compensation for it (other than from Seeking Alpha). I have no business relationship with any company whose stock is mentioned in this article.