Background
On August 5, I wrote an article called Spherix - An Emerging Intellectual Property Stock On The Run.
The stock price exploded to $27.86 because of investor's appetite for IP monetizing stocks, but has gone back to levels where it started before the enormous price increase.

This stock can be dangerous for traders (short sellers) because of the huge profit opportunities that can arise from intellectual property. For more patient investors this company will offer value going forward.
Investment Thesis
Spherix (NASDAQ:SPEX) generates licensing revenues by investing in and acquiring patent rights and assets, in other words Spherix is a monetizing IP company. We think the company's technology focus could drive the stock price to new heights in the foreseeable future.
Intellectual Property Assets
A 2012 report by the United States Patent & Trademark Office indicates that intellectual property ("IP")-intensive industries contribute more than $5 trillion dollars, or 34.8%, to U.S. GDP (gross domestic product). IP is not only important to the country's economy, but it is also a valuable company asset. This is supported by AOL's sale (NYSE:AOL) of 800 patents and patent applications to Microsoft for $1.1 billion last year, as well as Google's acquisition (NASDAQ:GOOG) of 25,000 patents and patent applications from Motorola Mobility for $12.5 billion. Additionally, the bankruptcy sale of Nortel Network's patent portfolio for $4.5 billion is a reminder of the proportion of a company's value that is attributable to intellectual property.
Management
Spherix CEO Anthony Hayes has successfully monetized patents through a wide variety of monetization methods, including asset restructuring and licensing brought against companies such as Cisco, Broadcom, Nokia, Ericsson, Tellabs and Alcatel-Lucent.
On September 10, 2013, the company's board of directors appointed Anthony Hayes as its Chief Executive Officer and a member of the board of directors. Mr. Hayes has served as the Chief Executive Officer of North South Holdings, Inc. ("North South") since March 2013. As reported in the company's 8-K filing, the company closed the acquisition of North South, the holder of a portfolio consisting of approximately 224 patents in the wireless communications and telecommunication sectors.
Anthony Hayes, 45, has served as the Chief Executive Officer of North South since March 2013 and, since June 2013, has served as a consultant to the Company. Mr. Hayes was the fund manager of JaNSOME IP Management LLC and JaNSOME Patent Fund LP from August 2012 to August 2013, both of which he co-founded. Mr. Hayes was the founder and Managing Member of Atwater Partners of Texas LLC from March 2010 to August 2012 and a partner at Nelson Mullins Riley & Scarborough LLP from May 1999 to March 2010. Mr. Hayes received his Juris Doctorate from Tulane University School of Law and his B.A. in Economics from Mary Washington College. Mr. Hayes was chosen to be a director of Spherix based on his expansive knowledge of, and experience in, the patent monetization sector.
The economic value of a patent must be carefully weighed in the analyses of which IP portfolios deserve any investment. Not all intangible assets are equal. The IP monetizing company must use consistent techniques for valuating the intangible assets and take decisions on when or whether to invest based on such valuation.
Managers who have demonstrated they are killers at business execution, and who have a history of always acting in the best interest of all shareholders are important to shareholder value. We think CEO Hayes is the right person to ensure growth and profitability.
CEO's Track Record
To find more about information about the CEO's track record we looked into the latest 8-K filing, which contained the company's presentation.
Portfolio Optimization

Through connections in the finance community, Mr. Hayes was retained to evaluate a patent portfolio held by a company on the verge of bankruptcy. The large IP portfolio of 70+ patents and patent applications provided wide coverage in the cosmetic laser space. Mr. Hayes created a "special investment vehicle" to purchase and resell the IP portfolio. The special investment vehicle raised funds from investors to purchase the patents, as well as maintain and rehabilitate the portfolio. Mr. Hayes compiled a team that included the inventor, industry experts, and the world's largest patent broker, to effectuate a sale of the entire portfolio in nine months, for a "pure return/gross return" of 600%.

Patent Licensing

Mr. Hayes has also mentioned IP through litigation based licensing program. As a result of relationships in the IP market place, Mr. Hayes identified undervalued IP in the DSL communication space that was being spun off by an operating company. An analysis of the portfolio showed that the most value could be extracted by licensing the patents to infringing companies. Over a two year period, Mr. Hayes oversaw an aggressive licensing program. The campaign involved litigation in multiple jurisdictions, against some of the largest names in the telecommunications industry. At the conclusion of the licensing program, Mr. Hayes effectuated a "pure return/gross return" of 495%.
Rockstar Partnership
Spherix has a partnership with the Rockstar Consortium. Rockstar is jointly owned by Apple, BlackBerry, Sony, Microsoft, Ericsson and EMC. Through this partnership, Spherix has secured a suite of patents, which is the basis of the company's latest lawsuit against both Uniden and VTech.
Rockstar is an equity stakeholder in Spherix and the companies both continue to work together to optimize their relationship, through consulting services and other possible intellectual property transactions.
BlackBerry's (BBRY) stake in Rockstar could also become valuable for Spherix, especially if BlackBerry's patent portfolio would be sold to one of the other partners in Rockstar for example Microsoft (NASDAQ:MSFT) or Apple (NASDAQ:AAPL).
We think BlackBerry will carefully explore its IP licensing and enforcement options to generate further revenue from its patent portfolio. Aggressive licensing and monetization may provide for a beneficial long-term revenue model for BlackBerry.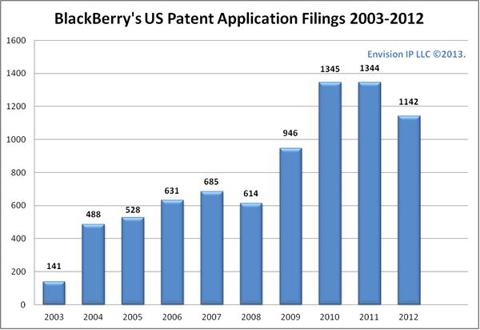 BlackBerry's patents are valued at $2 billion to $3 billion.
Spherix's partnership with Rockstar and Rockstar's investment in Spherix could start to gain traction and lead to renewed interest in the company.
Assets And Licensing Campaigns
For the company's current assets and licensing campaigns, we looked again in the 8-K filing and found the following sheets.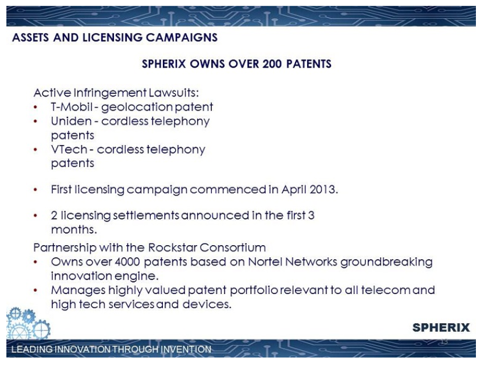 On September 3, 2013, Spherix issued a press release that they had filed a patent infringement suit against VTech Communications. The patents in question were acquired in the Rockstar deal.
The patents included in the suit cover many cordless telephones, including patents dating to 1993. VTech claims to be the world's largest cordless telephone producer, including the production of phones for AT&T. VTech is reported to have over $2.6 billion of revenues during the claimed infringement period. VTech cordless phones are sold at Wal-Mart, Best Buy, Circuit City, Costco, Office Depot, Staples, Target and other locations.
The patents at issue were invented by former Nortel employees working in the U.S. and Canada. VTech claims an 80% US market share and has moved virtually all of its manufacturing to China.
If Spherix can settle some lost profits or will get some reasonable royalties of the $2.6 billion of revenues, the company could become profitable in the next quarters.
On September 9, 2013 Spherix detailed another suit now against Uniden Corp., regarding Rockstar patents on cordless handsets. Uniden is also believed to infringe Spherix patents.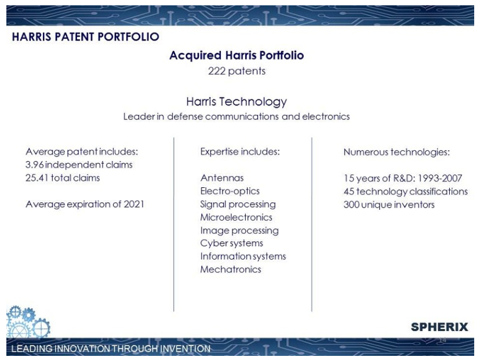 Fundamentals
This NASDAQ- listed company has 16,361,584 shares outstanding and zero debt. We think the stock offers value at this price point and are waiting for confirmation of our thesis.
The company operates still at a loss.
Working capital was $2,643,825 and cash on hand was $3,019,894 at June 30, 2013. On August 16, 2013, the company obtained the approval of a majority of its shareholders necessary to complete the Merger with North South.
Management believes that the merger with North South is critical to the realization of its business plans. Management anticipates that the acquisition of North South will provide opportunities for the company to generate revenue and operating cash flows by monetizing North South's portfolio of patents.
Risks
Although IP commercialization has become more lucrative then ever it is not an easy task to manage.
Important criteria used in deciding which patents to monetize include:
How valuable is the patent?
Is someone infringing the patent?
How strong are the patent's claims?
Does the patent cover the client's core or non-core technology?
If Spherix can address all these criteria successfully, the company will have a bright future.
In the two lawsuits regarding cordless handset patents against VTech Communications and Uniden for continued infringement of intellectual property the company addressed these criteria.
VTech Communications
The patents included in the suit cover many cordless telephones, including patents dating to 1993. VTech is reported to have over $2.6 billion of revenues during the claimed infringement period.
The patents at issue were invented by former Nortel employees working in the U.S. and Canada. VTech claims an 80% US market share and has moved virtually all of its manufacturing to China. As referenced in the complaint, VTech's overall revenue for North America has risen 20% since Nortel's bankruptcy filing in 2009.
Many of VTech's own patents cite Spherix technology yet VTech has failed to recognize the important patents on which its core products rely by seeking a license.
Instead, VTech has elected to disregard these patents entirely. Spherix intends to seek recompense for the significant investment made by Nortel in developing these important inventions and intend to try these cases to conclusion.
Uniden
From 2007 to the present, Uniden's estimated U.S. revenue from cordless phones believed to infringe one or more claims of one or more of the Spherix patents exceeds $785 million. The lawsuit goes on to note that Uniden has stated that one of its key business goals is to "Dominate North American market with marketing power."
Both lawsuits cover the core technology and have a good chance of success.
"Spherix is committed to protecting intellectual property rights. When intellectual property rights are infringed by foreign companies the damage that occurs extends beyond the cost of inventiveness of innovative companies like Nortel, but hurts employees and domestic industries." said Harvey Kesner, Interim Chief Executive Officer of Spherix. "The patents we acquired from Rockstar/Nortel are exceptional, having been cited before the USPTO as a basis to reject pending patent claims 81 times. We are working with the former Nortel employees and inventors who created this technology to recover compensation for the inappropriate infringement by cordless phone manufacturers."
Lost profits or reasonable royalties are damages available for patent infringement. Interest on the damages can often be as much as the damages. Lost profits assumes that the patent owner is selling the patented item, that he could have met the demand in the lost market, and that the patent owner can determine with reasonable probability how much profit would probably have been made if there was no infringement. Reasonable royalties are available when that amount would be more than lost profits or if lost profits cannot be proved. Enhanced or punitive damages of three times the award are available for willful infringement
Future success is not guaranteed!
Final Note
Spherix is a new IP monetizing power house that will transform undervalued, underutilized IP assets into revenues. IP value does not track the market and can capture past commercial activity, making revenues countercyclical. IP investing could lead to unlimited potential returns.
A great and talented management team is a very important factor for building a great company. We think Spherix has the right person in the right place to be successful. The company provides a compelling opportunity for investors that have the patience to wait for IP portfolios to become revenue generating and profitable.
Investors have the chance to hedge against exposure to technology companies, by investing in IP monetizing companies that have technology exposure in IP assets. Patents, trademarks, copyrights, and other intangible assets have inherent value and a company like Spherix has been created to capitalize on these assets.
Disclosure: I have no positions in any stocks mentioned, and no plans to initiate any positions within the next 72 hours. I wrote this article myself, and it expresses my own opinions. I am not receiving compensation for it (other than from Seeking Alpha). I have no business relationship with any company whose stock is mentioned in this article.