Supply Side for Copper: A Game Changer in 2010?
Copper has had one hell of a run. On October 20th, I wrote a post for Seeking Alpha arguing that even if copper did not break through the $3/lbs. level, mining stocks would be able to fare just fine. My argument is relatively simple and straightforward: with copper prices significantly above even the producers with the highest marginal cost of production (somewhere between 90 cents to 1.50/lbs.), copper miners can earn an excellent return on invested capital. So long as copper prices remain strong (notice I did not say 'keep climbing'), copper mining companies should continue to drift higher and I would expect them to outperform the general market.
Some recent data put out by Barclays indicates that the supply of copper is expected to increase by 8% in 2010. This would undoubtedly be a significant headwind for the price of copper to overcome, if it were only true.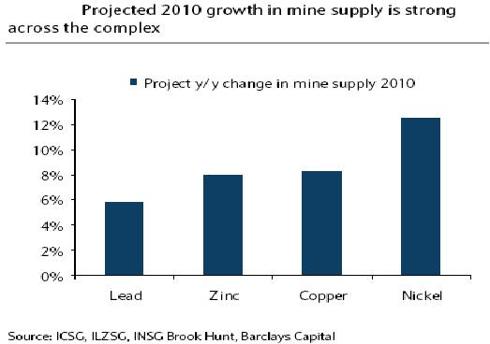 The reality of the situation is probably nowhere near as extreme as 8%. In fact, investors must ask if that number is even logical. Very few companies maintained capital budgets over the course of 2009 and quite frankly they probably won't bring their budgets back into full swing during 2010. As I recall, a lot of the mining companies I tend to focus on cut their cap-ex spending by at least 30%. Where in the world is this 8% increase in supply going to come from?
I am not exactly sure why analysts that forecast mining supply are so off so consistently when it comes to projecting growth in mining supply. The reality of the situation is that they are consistently off target by being far too optimistic about the supply side of the equation.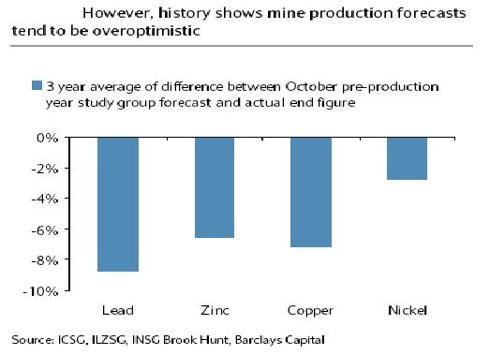 Over the past 3 years, the analysts responsible for projecting mining supply have tended to overestimate the growth in supply by about 7% on average with respect to copper. So perhaps the actual supply of mining will increase by 1-2% during 2010, but one must seriously doubt it will increase by 8%.
In fact Barclays argues that,
it would be wrong to consider these current 'market consensus' projections for 2010 output as not at risk from some revision. There are some obvious sources of risks capable of disrupting current production schedules. First, the risk to output estimates stem from an increasing number of labour strikes – rising prices have inflated miner's expectations, whereas mining companies are generally still in defensive balance sheet mode, meaning the risks of fall-out are high. Already there have been such episodes at mines in Canada, Chile and Peru. Related to this, lower capital expenditure budgets – in some cases close to bare minimum needed to sustain facilities - mean that output is generally at higher risk of disruption. In addition, many of the new mine projects coming online are located in less established mining countries, thus being at greater risk of logistical and labour deficits. Depletion of ore reserves is a particularly serious issue for copper and zinc mines, resulting in a moderation of run rates at existing mines as well as fewer new projects.
What can investors conclude from all this? Demand is not the only thing that affects prices. Sometimes the supply side of the equation is the crucial dynamic that can be missed by investors. I am not sure how one can measure how widespread a certain perspective is, but if the 8% supply growth view is a relatively entrenched view within market expectations for copper then the market might very well be setting up for some solid performance out of the red metal, as well as copper mining companies, throughout 2010 as their supply expectations are proven to be WAY too optimistic (yet again).