Intel (NASDAQ:INTC) reports earnings on October 15, 2013. Most analysts have a bearish view of the nine month report owing to soft sales of personal computers (PC's) and very little penetration of mobile. At least, that is the conventional wisdom.
The average forecast of 40 analysts is for earnings of $0.54 per share, a decline from $0.58 last year. The range of estimates is from $0.44 per share to $0.61 per share. Revenues are forecast at between $13 billion and $14 billion.
IDC and Gartner just reported their 3Q estimates for PC sales. Gartner estimates unit sales were 80.3 million, down 8.6% from 87.8 million last year.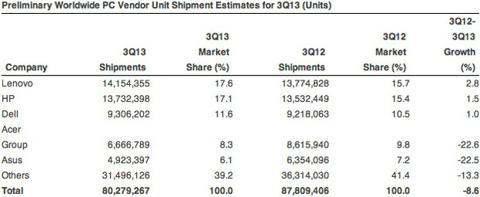 IDC estimates were slightly higher, with the quarter estimated to come in at 81.6 million units, a 7.6% decline.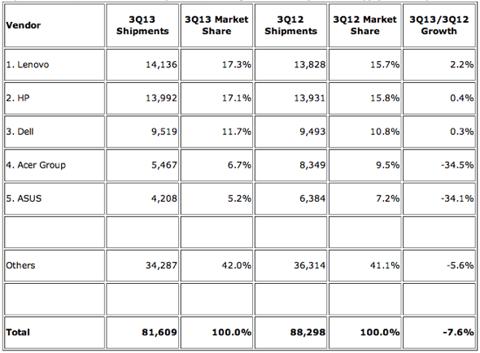 Both estimates are improved over third quarter estimates released earlier in the year. Sales of Apple's popular Macbooks are forecast to show a greater-than-industry decline of 11.6%.
Hewlett-Packard (NYSE:HPQ), Dell (DELL), Lenovo (OTCPK:LNVGY) and Toshiba (OTCPK:TOSBF) are all forecast to show year over year improvement in unit sales for the quarter.
The news is good for HP, Microsoft (NASDAQ:MSFT) and Intel. Intel has a 73.7% share of the PC market for processors according to CPU benchmarks.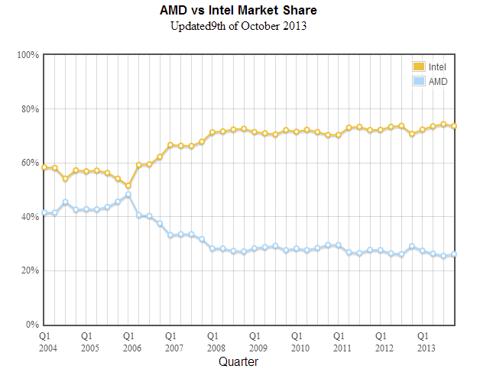 A 73.7% market share implies that over 60 million PC's with Intel CPU's were shipped to end users in the quarter. With the holiday season fast approaching, and Microsoft having released Windows 8.1 to original equipment manufacturers (OEM's) ahead of the October 18, 2013 launch, there is no doubt in my mind that the OEM's have been busy building inventory of their new Haswell and Bay Trail devices loaded with Windows 8.1 and shipping them into the various retail channels. I believe inventory build of at least 1 week is likely, which would add another 5 million units into the quarter.
Intel content includes more than CPU's however. SA Author Ashraf Eassa estimates Intel content per PC is about $120. If he is correct and my inventory assumption holds water, Intel revenues from PC's should be somewhere around $7.8 billion.
Intel has made very little progress in smart phones to date and only appears in a handful of models. Smart phone sales in the quarter were on the order of 225 million and I think Intel powered devices may have been as little as 2% or 4.5 million units. I believe Intel content in a smart phone is about $40 which would suggest revenues from this source would be about $180 million. The number is small enough that if it is wrong, it won't make much of a difference to my estimate for the quarter.
In tablets and hybrids, which are not included in the PC data from IDC or Gartner, Intel has made some headway. I have counted over 130 designs of tablet and hybrid with "Intel Inside". While Q3 data for tablet market share are not yet released, in Q2 Intel powered Windows tablets had 4% of the market according to IDC.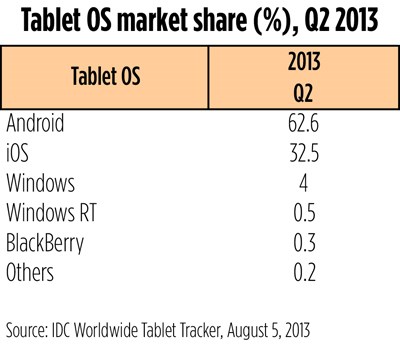 In its Q2 conference call, Intel stated that it was targeting a fourfold increase in its tablet volume for this quarter. That target may be ambitious. However, with a large number of new Windows 8 and Android tablets now in the marketplace with "Intel Inside" I would expect to find that the total percentage of tablets sporting Intel processors is closer to 8% in the third quarter, or about 4 million devices based on a running rate of about 50 million tablets a quarter worldwide.
Intel content in tablets is likely about $50 per device on average so tablet based revenues are on the order of $200 million. Again, the number is small enough that it will not create a material error if wrong.
If we add up the smart device content from the foregoing estimates, we get about $8.2 billion in revenues. Add to that another $5.5 billion for the rest of Intel's business, and sales for the quarter should come in $13.7 billion. Intel guided to $13.2 billion in its Q2 conference call, so the outlook seems to be for a modest beat on revenues.
At $13.7 billion in revenues, and assuming a 60% gross margin, I estimate Intel will earn about $0.56 for the quarter, in line or just a bit better than consensus.
Disclosure: I am long INTC. I wrote this article myself, and it expresses my own opinions. I am not receiving compensation for it (other than from Seeking Alpha). I have no business relationship with any company whose stock is mentioned in this article.
Additional disclosure: I hold calls on 260,000 Intel shares with expiry dates as far out as January 2015. I am also long MSFT calls.