"I don't know anyone who has consistently timed the market right. I don't even know anybody who knows anybody who has gotten it right." John Bogle, Founder of Vanguard Funds
It's that time we've all been waiting for. Another correction that presents us with an opportunity for buying great stocks at bargain levels.
Even though this time the circumstances for this correction sound more frightening with the deadlock in D.C. and the threat of debt-ceiling debacle, I sense that we've heard this sad song before.
As the chart below demonstrates, the correction has impacted the 1-year stock prices of Johnson & Johnson (NYSE:JNJ), General Electric (NYSE:GE) and DuPont (DD).
We can see from the chart that we've had peaks and dips in these stocks several times since the end of May.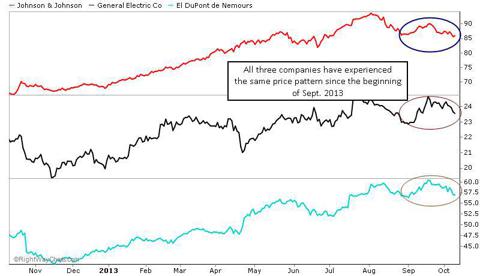 The circled areas illustrate the recent trough to peak to trough pattern in the shares' prices. By the way, JNJ, GE, and DD are holding up well so far yet have corrected enough to each offer more than a 3% yield.
DD has the lowest PE ratios (trailing and forward) of the three and GE has the lowest price-to-earnings-to-growth (PEG) ratio (5-year expected).
All have the potential to end the year from 5% to 10% above the closing prices on Wednesday October 9th.
To protect myself from unacceptable losses, especially during market corrections, I use one of the best risk management tools available today, TradeStops.
Its "Complete" version offers a suite of alerts including trailing stop alerts that the exchanges' market-makers can't see and can't pick off with a mini "flash crash" or with some high frequency trading algorithm.
GE, according to a September 23rd Barron's article is poised to outperform in coming quarters. "Shares at a recent $24," the article postulated, "...could rise more than 30% over two years to $32."
GE is expected to announce a spinoff of its consumer-lending division by December 2013. This could encourage investors, especially those who like industrials with lots of international exposure.
CEO Jeff Immelt told Barron's in an interview, "We have the biggest backlog of new business in the company's history...We're in industries that are growing much faster than the local economies."
GE will most likely hold onto segments that are competitively advantageous like aircraft leasing, a profitable business that it excels at.
GE may also spinoff lower profit margin divisions like appliances and lighting, unlocking even more shareholder value.
"We're creating a high-margin industrial company with a profitable financial business, sustainable earnings growth and a ton of cash flow" Immelt was quoted as saying.
It's hard not to be bullish about GE when its CEO is so ebullient and also says, "I'm still incredibly hungry to make the company do better."
More Bargain Stocks and an ETF with Healthy Dividend Yields
The number of bargain stocks seems to increase each week. Three that I've been waiting to buy are Lockheed Martin (NYSE:LMT), ConAgra (NYSE:CAG) and Enbridge Energy Management (NYSE:EEQ).
Here's a similar 1-year price chart with comments that are timely and worth considering.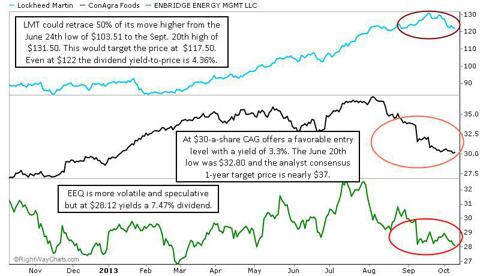 LMT which reports earnings on Oct.22nd is currently selling at less than 13 times next year's earnings. The government shut-down may put some of the LMT contracts on "ice" until the situation is resolved.
If the shut-down or a looming Treasury default scares the market more, you may get to buy LMT shares nearly 5% below the Oct. 9th closing price.
The next 2 quarters have conservative estimates on LMT's earnings per share (EPS), with the last quarter of 2013 projected to show an EPS increase of over 19% from the year-ago quarter.
Analysts consensus estimated 1-year target price for LMT averages out at $129, which also seems to be conservative. Have I mentioned that LMT's current dividend yield is above 4.3%?
ConAgra Foods is an ideal "defensive" stock. The company has 4 divisions; Consumer Foods, Commercial Foods, Ralcorp Food Group and its Ralcorp Frozen Bakery Products.
Folks will still need to eat, no matter what happens on the political scene. In fact, if the debt-ceiling drama scares people enough they're likely not to eat out as much and will fix more meals at home.
CAG has lots of branded names from Banquet frozen dinners and Chef Boyardee to Van Camps, Wesson and Orville Redenbachers. It does a wide assortment of private brand and customized food products too.
Its 52-week low is $27.48. A realistic entry strategy for shares of CAG would be to buy some at the current price of just above $30 and buy the rest if the stock tests its 52-week low.
Enbridge Energy Management is a worthwhile speculative "bargain" with a dividend yield that may be difficult to sustain.
You can see from the chart above the last time this owner and operator of crude oil and liquid petroleum transportation and storage assets came close to $27-a-share back in late Feb. 2013, it was the start of a nearly 20% upside gain for investors who were paid a generous dividend yield during the move higher.
Here's Where a Suitable ETF May Be More Appropriate
EEQ is volatile and has a market cap of only $1.52 billion. While the company is not structured as an Master Limited Partnership (MLP), it is a holding of The First Trust North American Energy Infrastructure Fund ETF (NYSEARCA:EMLP).
EMLP is an "almost" MLP ETF that helps investors avoid unpleasant tax surprises by capping its MLP holdings to under 25% to meet regulatory rules while holding other energy infrastructure stocks through subsidiaries.
Of EMLP's top-10 holdings, six are not MLPs and of the remaining four, three are MLP affiliates or general partners. Top holdings include EEQ, Kinder Morgan Management (NYSE:KMR), and Duke Energy (NYSE:DUK). The ETF payout yield is over 3% and the diversification provides less risk.
The Bottom Line
As John Bogle reminds us, no one can consistently time the market. It's for that reason that bottom-fishing and searching for stock bargains is best done a little at a time. Scale down as the sell-off continues.
I've presented you with mostly companies that dominate in their sectors. Buying the strongest companies in sectors makes more sense today than ever.
To diversify, consider the sector ETFs, and for fun, if you can afford it, have a few speculative stocks in your portfolio with big upside potential.
Use trailing stops to limit your possible losses, and use position sizing as another way to be defensive.
Let the government shut-down and the looming debt-ceiling crisis (and all the other excuses for this latest market correction) as a chance to buy low.
With the Fed's massive bond-buying program and zero interest rate monetary policies, there's likely to be tremendous upside for the stock market once things settle down, as they always eventually do.
Disclosure: I am long JNJ. I wrote this article myself, and it expresses my own opinions. I am not receiving compensation for it (other than from Seeking Alpha). I have no business relationship with any company whose stock is mentioned in this article.