In 2011, self-proclaimed technophobe Warren Buffett announced that Berkshire Hathaway (BRK.B, BRK.A) took a position in International Business Machines Corporation (NYSE:IBM). It is not surprising that Berkshire would buy IBM. IBM was the once-great computer company that almost collapsed in the 1990s but its visionary CEO Lou Gerstner saved it and turned it around. While IBM may have lost the PC war, its reorientation towards the Internet and strategic IT Services and Solutions helped the company get its groove back. It is surprising that the SEC and other organizations engaged in Industry Classification include IBM as part of the computer and office equipment industry when it sold off its personal computer business to Lenovo (OTCPK:LNVGY) in 2005 and it only generated 14.2% of its H1 2012 revenue from its Systems and Technology division. IBM generates the lion's share of its revenue from technology services and software and investors should compare it against other preeminent technology consulting organizations like Accenture (NYSE:ACN). Warren Buffett tried to keep Berkshire's position a secret in 2011 because he loves IBM's strong record of dividend growth and share buybacks.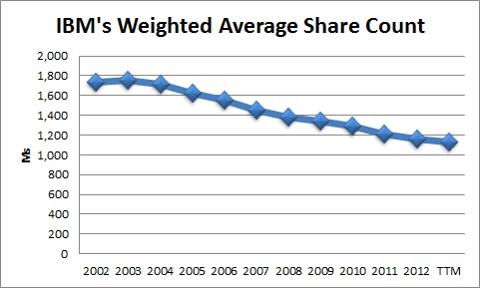 Source: Morningstar Direct
IBM's revenue and profits have been soft lately due to the weak global economy. IBM's Q2 2013 revenue declined by 3.3% due to the weak macroeconomic environment as well as currency headwinds from the stronger US Dollar. On a constant currency basis, IBM's revenue still declined by 1%. IBM's currency headwinds to its revenues also partially offset its cost of revenues and resulted in IBM's gross profit only declining by 1.2%. IBM's operating expenses in Q2 2013 increased by 12.2% year-over-year as the company took a $1B charge for workforce rebalancing expenses. IBM's operating expenses declined slightly excluding the impact of the $1B workforce rebalancing charges. IBM reported EPS declined by 13.3% but its adjusted EPS increased by 8% excluding the impact of workforce rebalancing charges and its acquisition and retirement related adjustments.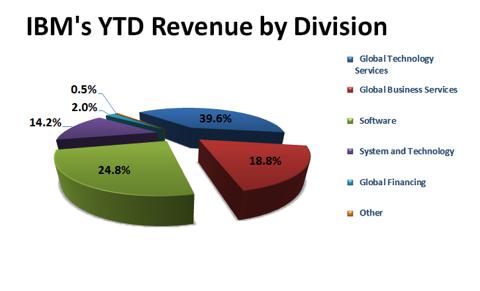 Source: IBM's Q2 2013 report
IBM expects to earn $15.08 EPS for FY 2013 on a GAAP reported Basis and $16.90 EPS on a non-GAAP adjusted basis, which adds back $1.17/share of charges for amortization of purchased intangible assets, other acquisition-related charges, workforce rebalancing charge and retirement-related charges. According to FactSet, analysts are expecting IBM to earn $3.96 in adjusted EPS for Q3 2013 (up 9.3% versus Q3 2012) and $6.07 for Q4 2013 (up 12.7% versus Q4 2012). Although I expect IBM's revenue to remain under pressure for the year, IBM's ability to hold the line on costs as well as its 4% year-over-year reduction in its outstanding share count will enable it to grow its adjusted EPS by 10.6% in FY 2013.
IBM has three bright spots in its business this year; IBM Cloud (70% revenue growth), IBM Smarter Planet (25% revenue growth) and IBM Business Analytics (11% revenue growth). IBM bolstered its cloud presence when it acquired SoftLayer Technologies in July. SoftLayer is the world's largest privately held cloud computing infrastructure provider. As businesses add public cloud capabilities to their on-premise IT systems, they need enterprise grade reliability security management. The SoftLayer acquisition will enable IBM to accelerate the build out of its public cloud infrastructure to give clients the broadest choice of cloud offerings to drive business innovation. IBM also acquired CSL International in August in order to expand System Z's cloud capabilities, including simplified management of virtualized Linux on Z.
The company's cumulative sales growth since 2002 has been less than 30%, which is quite pedestrian. However, the company has been able to grow its EPS (excluding the impact of a $1.755 due to cumulative effect of accounting changes in 2002) from $3.07 in 2002 to $13.90 over the last 12 months. This was due to its ability to holding the line on its cost of revenues (which increased by less than 10% cumulative since 2002) and keeping its operating expenses as a percentage of revenue constant over this period. Another fact that helped IBM quintuple its EPS during this period was because it spent over $100B over the last 10 years to repurchase shares and reduced the outstanding share count by over 600M shares during this period.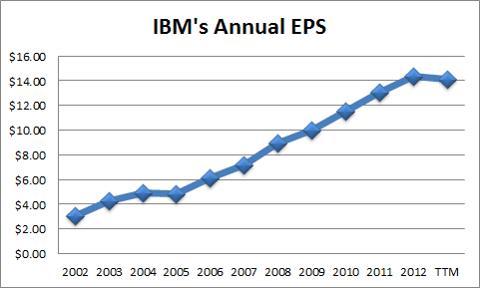 Source: Morningstar Direct
In addition to IBM's gargantuan share repurchase program, IBM has also generated strong dividend growth for its shareholders. When IBM was in trouble in the early 1990s, it slashed its split-adjusted dividend from $1.21/share in 1992 to $.25/share in 1993 and it froze the dividend for three years. IBM finally increased its dividend from $.25/share to $.35/share in Q2 1996 and has provided shareholders with consistently strong dividend increases since then. IBM's annualized dividend is now $3.80/share and it has increased at a compounded annual rate of 16.3%. IBM has a mature business that focuses on maximizing earnings per share and free cash flows and this has manifested itself in IBM increasing its dividend payout ratio from 14% in 1995 to 25% in 2013. IBM has also increased its annual share buyback spending from $4.66B in 1995 to $12.14B in the last 12 months.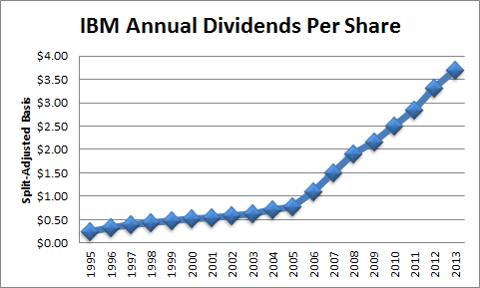 Source: IBM Investor Relations
In conclusion, although IBM reported results that were soft IBM is still a titan in the technology sector. Investors should see why Berkshire is the largest shareholder of IBM as of Q2 2013 and in addition to Berkshire holding nearly 6.25% of IBM's shares as of Q2 2013, I was pleased to see Boston area asset boutiques Geode Capital Management and GMO LLC amongst the Top 10 holders of IBM's shares as of Q2 2013. It is not surprising that Buffett wanted to keep Berkshire's purchases of IBM secret, though it is curious that the bulk of BRK's return on IBM came before November 2011, when the SEC finally forced Buffett to disclose Berkshire's position. Investors should consider accumulating IBM for its shareholder friendly financial management and its diverse portfolio of technology services. Although IBM is not in the same position as Apple with its wildly popular rapidly growing iOS device business, at least it is not in the same position as Hewlett-Packard or Dell with a sagging hardware business and a small presence in low-end outsourcing services.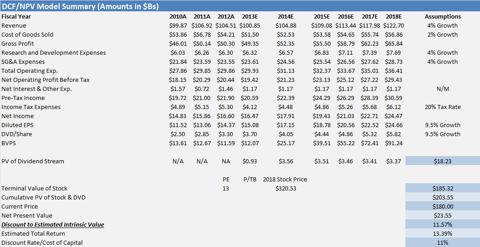 Source: Author Estimates
Disclosure: I have no positions in any stocks mentioned, and no plans to initiate any positions within the next 72 hours. I wrote this article myself, and it expresses my own opinions. I am not receiving compensation for it (other than from Seeking Alpha). I have no business relationship with any company whose stock is mentioned in this article.