Energy consumption is forecasted to increase over the next decades as a consequence of growing populations and as Asian urbanization trends contribute to an escalation in energy demand. Non-OECD Asia will be responsible for incremental energy consumption with liquid commodities, such as oil, remaining dominant energy sources. The US Energy Information Administration (EIA) suggests that Non-OECD Asia will be responsible for nearly 60% of additional energy use until 2040. With a population of over one billion, China will remain the largest energy consumer and likely will become one of the largest producer countries in the world.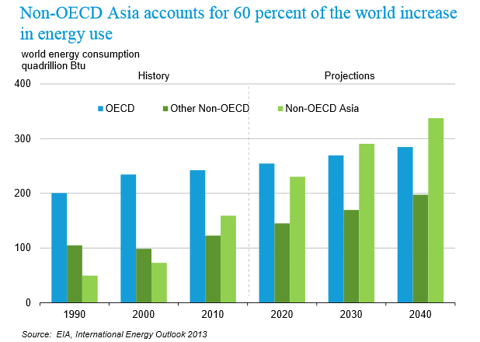 A growing world population and an expanding global economy, driven by emerging Asian economies with incremental energy demand, are likely to benefit multinational oil and gas companies with globally-diversified portfolio assets engaging in up- and downstream activities. Large-cap players like Exxon (NYSE:XOM), Chevron (NYSE:CVX), Total (NYSE:TOT) and BP are generally well positioned to serve those energy needs although their final products allow little room for differentiation.
Share performance
Exxon is currently in a consolidation phase: The stock is down 11% since July. Over the last five years, Exxon shares have only gained 25% in value while Chevron and ConocoPhillips have performed much better (see chart below). BP and Total have even underperformed Exxon and make interesting candidates for value investors who desire low valuations and high yields.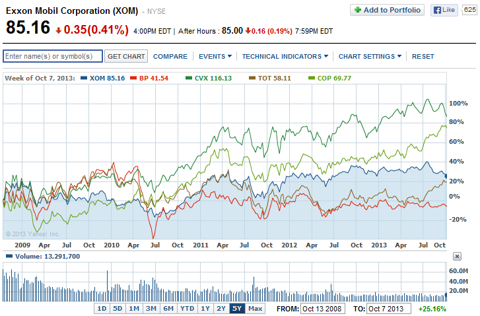 Supply/demand picture
As outlined in the introduction, supply/demand dynamics are generally positive for the industry. Energy demand will grow while supply remains at least restricted. Large new oil discoveries do occur but happen less frequently than in the 1960s or 1970s. New exploration technology such as Fracking allows more supply to come to the market although the exploration technology remains controversial and faces serious regulatory risk in Europe due to its uncertain environmental impact. With growing energy demand, increasingly energy-intensive industrial production processes and depleting global oil resources, the long-term fundamentals favor an investment in large-cap oil and gas companies.
Investment overspending not an issue for the oil sector
A theme in the basic materials sector over the last year has been investment overspending. As I have pointed out in various articles about this sector, resource companies post very high capital expenditures as a percent of operating cash flows indicating huge investments in the development of portfolio assets and the need for subsequent project shelving as commodity prices plummeted. Oil companies are somewhat resistant to this theme as generated free cash flows remain hugely positive underlining the attractive industry outlook. Exxon for instance posted an average free cash flow (before net borrowings) of $29.3 billion over the 2010-2012 time period which is attributable to consistently high oil prices in the $100 region.
Valuation and peer comparison
Since the output product allows little room for differentiation and all majors have globally-diversified portfolios of oil- and gas assets the most important metric to decide which company to buy remains the price (forward P/E ratio). As indicated in the chart below Exxon has the highest P/E ratio of 10.63. Now, by itself, this isn't a high ratio (it gives investors a 9.4% earnings yield) it is just that other oil majors are that much cheaper. Investors need to recognize that money is being made when a stock is purchased not when it is sold. Lower valuations do not only provide investors with much more upside potential because the market assigned multiple really has room to grow, but also allows investors to enter into an investment at a much higher initial dividend yield.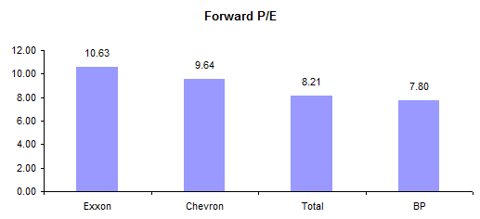 On a forward P/E basis, Exxon is the most expensive company of the peer group and keeps its top spot when compared on an EV/EBITDA basis. Exxon and Chevron keep their respective rankings but Total and BP switch places three and four. In any case, 4-5 times EBITDA still remains cheap for multinational oil companies with billions of dollars in proven reserves.
(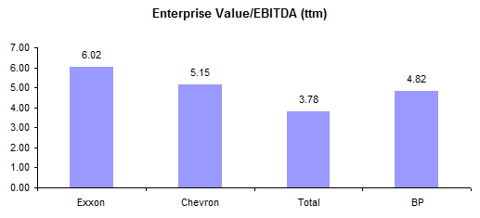 Oil companies are often sought out because of the dividends they pay. Major oil players have substantial operating cash flows and low marginal production costs. This cash flow profile makes dividends low risk. Even though cash flows can fluctuate wildly due to the underlying oscillating oil price, on average, cash flows are low risk given the outlined global supply/demand picture. In terms of dividend yields, I would really want to point investors towards BP and Total. BP faces challenges of its own which relate to its Deepwater Horizon debacle back in 2010 and is facing serious settlement risks. I think contrarian/value investors can find great value in BP as there is a good chance that settlement fears are detached from reality. Also, BP earns significant amounts of cash flow which will likely allow the company to pay claims without further divestitures. Investors seeking less risk than a BP investment but want better dividend value than Exxon could consider Total which still has the second highest dividend yield of 4.59%.

If one compares the different P/E and dividend metrics, it becomes apparent that Exxon trades at a 17.20% premium to the peer group average and at the same time has a 27.91% discount to the average peer group dividend yield. Exxon remains the most expensive of the oil majors.

Conclusion
Oil majors like Exxon, Chevron, BP and Total face fundamentally attractive long-term demand drivers while at the same time supply is likely to remain suppressed. Alternative exploration technologies like Fracking are subject to regulatory risk. Expanding economies and high energy demand also contribute to persistently high oil prices supporting free cash flows and dividends with potential for significant dividend increases in the future. Long-term oriented investors who believe that the global economy will continue to grow might do well with oil majors which make attractive investments for income seeking investors/retirees. Despite earning huge free cash flows, Exxon remains one of the most expensive oil majors out there with a low dividend yield compared to its peers. Investors who desire dividends but also consider themselves value-driven should take a closer look at BP which offers an outsized 5.20% dividend yield based on temporary settlement risk.
Disclosure: I am long BP. I wrote this article myself, and it expresses my own opinions. I am not receiving compensation for it (other than from Seeking Alpha). I have no business relationship with any company whose stock is mentioned in this article.