3D Systems (NYSE:DDD) and Stratasys (NASDAQ:SSYS) sold off over the last several days, following the general market's weakness caused by the government shutdown crisis and the debt ceiling deadline coming closer. A longer general market downtrend could cause a more severe correction of 3D printing stocks, although the decline is likely to end if the political crisis is resolved soon. However, recent developments in the 3D printing industry are mostly positive, and will help drive long-term growth for 3D Systems and other stocks in the group.
General market weakness
The market has punished the high beta growth stocks over the last several days, with some of them falling even 10% and 15% in only one trading session, although 3D printing stocks did not have such a severe decline. ExOne (NASDAQ:XONE) was the exception, as it is trying to recover from a precipitous decline it suffered in September. Prolonged weakness of the general market will certainly have a negative impact on 3D Systems and other related stocks in the group.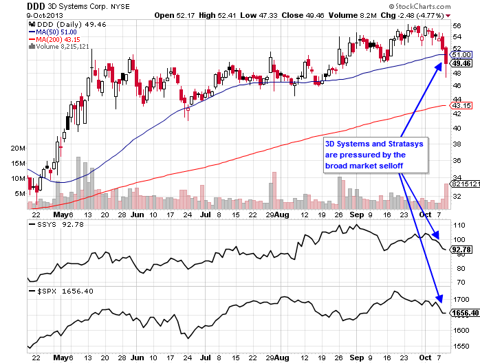 Source: Stockcharts.com
General Electric to expand the use of 3D printing
General Electric (NYSE:GE) is expanding the uses of 3D printing and expects the technology to be involved in more than half of its manufacturing in 20 years. GE uses less than 10% of 3D printing in its manufacturing processes today, but that share should rise to 20% to 25% in 10 years and 50% or more in 20 years, says Christine Furstoss, GE's technical director of manufacturing and materials technologies in an interview with IBD. Last year, GE aviation acquired additive manufacturing company Morris Technologies, a move that was perceived as a threat to 3D printing companies. But GE has no plans to make its own 3D printers at this point, which is positive for 3D Systems, Stratasys, ExOne and other companies in the industry, as they do not have to compete with GE.
Stratasys enters China's 3D printing market
Stratasys has signed an agreement with The Aurora Group, China's largest electronics and office supply retailer. Under the terms of the agreement, Aurora will be the exclusive distributor of Stratasys' Idea Series of professional desktop 3D printers. This deal gives Stratasys a major presence in China, which accounted for $163.4 million of the estimated $2.1 billion 3D printing market in 2012. China's 3D printing market is expected to exceed $1 billion in the next three years, and might become the World's largest 3D printing market by 2016.
3D Systems is already present in China, and has expanded its presence in late July, with a distribution deal with Tianjin Real Estate Development Management. Tianjin has begun selling 3D Systems' complete portfolio of professional and personal 3D printers. Both 3D Systems and Stratasys have clearly recognized the importance of such a big and fast growing market, and should focus on capitalizing this great opportunity.
Weak Cube sales?
In late September, William Blair reiterated the underperform rating on 3D Systems, citing valuation concerns, and after sales checks with Staples. Analyst Brian Drab called 112 Staples stores to gauge sales volume and consumer interest in 3D Systems' Cube printer. He has been able to confirm the sale of only two Cube printers. It appears that consumer adoption of 3D printers is not going so well. However, this does not dismiss the consumer initiative, and the effects will have to be measured on a longer-term time frame.
Valuation
3D Systems is trading at 37 forward P/E, the same forward valuation as Stratasys. Professional uses of 3D printing will remain dominant in the future, and the consumer initiative is a bonus field, which will bring long-term results. My short-term price target is $60, based on my own estimate of $1.50 EPS for 2014, and a forward P/E of 40. The EPS estimate is above the Wall Street consensus estimates, and is based on the company's enhanced efforts on international expansion, with the latest acquisitions in U.K. and France, and on fast adoption and growth in China. With that in mind and the overall long-term industry growth, I believe that the future estimates will be raised as the adoption of the 3D printing technology expands to other fields and across other geographies.
Conclusion
The 3D printing industry is in its early stages of growth, and revenue and profits should grow as product adoption expands. Although the indication of weak Cube sales is a cause for concern, it is still too early and we should not jump to conclusions over the short-term consumer efforts of 3D Systems. The long-term perspective for both personal and professional 3D printers is still quite positive, as evidenced in GE's prediction for the presence of 3D printing in future manufacturing. A presence in China, probably the fastest growing 3D printing market in the world, is very important, and both 3D Systems and Stratasys are making efforts to capitalize the opportunity. I believe that once the weight of the market is lifted, 3D Systems will turn higher again.
Disclosure: I have no positions in any stocks mentioned, and no plans to initiate any positions within the next 72 hours. I wrote this article myself, and it expresses my own opinions. I am not receiving compensation for it (other than from Seeking Alpha). I have no business relationship with any company whose stock is mentioned in this article.