After the close of the markets on Wednesday, October 9, 2013, Dynavax (NASDAQ:DVAX) announced it will begin dosing patients in the first human trial in its asthma program. The trial, which is being conducted under a collaborative agreement with AstraZeneca (NYSE:AZN), is intended to assess the safety of a proprietary TLR9 agonist known as AZD1419 that was developed by Dynavax under the terms of the collaboration. While the details of the trial have yet to be posted to the FDA's ClincalTrials.gov Web site because of the current situation in Washington, we do know it will be conducted in two parts. First, the study will enlist up to approximately 45 healthy subjects who will receive inhaled doses of AZD1419 or a placebo in single and multiple ascending doses. Then, in the second part of the trial, another cohort of approximately 24 patients with mild asthma will be treated (presumably in a similar manner). The data are expected to be available by mid-2014.
According to Dynavax, "AZD1419 therapy is designed to modify the course of disease by changing the basic immune response to environmental allergens, such as house dust and pollens, leading to a prolonged reduction in asthma symptoms. In contrast, the current mainstays of asthma therapy, corticosteroids and bronchodilators, control disease activity or relieve asthma symptoms." The TLR9 agonist being studied was selected after extensive preclinical studies conducted by both Dynavax and AstraZeneca. These include a demonstration that AZD1419 can produce long-lasting disease-modifying effects in a mouse model of atopic asthma. Development expenses for AZD1419 will be fully funded by AstraZeneca through Phase 2a.
The company's work on second-generation TLR9 agonists is well protected by a broad composition of matter patent issued in 2007 by the US Patent Office.
Technical Analysis
The Daily chart, courtesy StockChart.com, shows the stock sinking to just above $1 as fear overtakes the market during the government shutdown. Relative strength is falling and the MACD is neutral. Basically, the stock's lackluster performance stems from the lack of news as to what type of safety trial the FDA will require before it will reconsider Dynavax's biologic license application (BLA) for Heplisav, DVAX's lead product for hepatitis B and chronic kidney disease (CKD). Readers will recall that while the agency voiced a "strong endorsement for Heplisav's immunogenicity data demonstrated in previous clinical trials," it nevertheless sought additional safety data before it again would consider approving the treatment. Dynavax is expected to submit its response to questions from the European licensing authority, to which the company submitted Heplisav for approval both for hepatitis B and CKD, before the end of the year. I previously addressed the issues relating to Heplisav here, here, and here.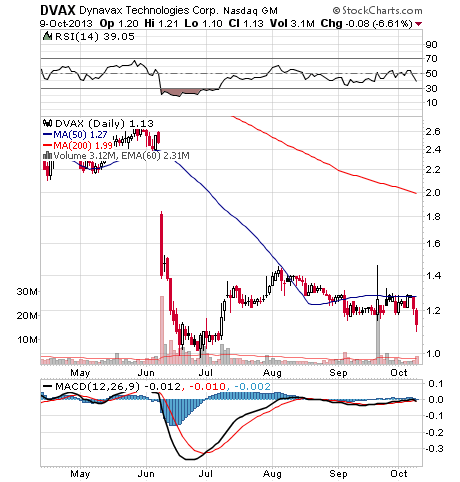 The Weekly data tell a similar story.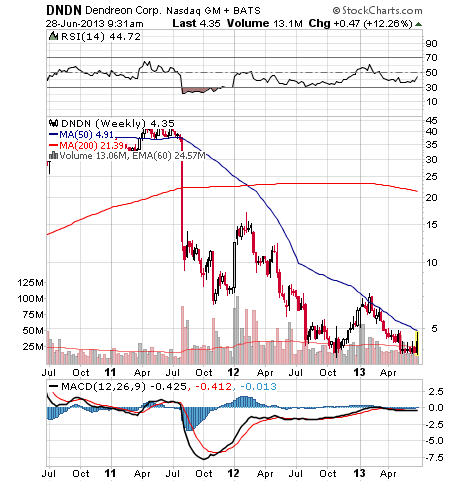 Disclosure: I am long DVAX. I wrote this article myself, and it expresses my own opinions. I am not receiving compensation for it (other than from Seeking Alpha). I have no business relationship with any company whose stock is mentioned in this article.
Additional disclosure: I am long DVAX. I am not a registered investment advisor and do not provide specific investment advice. The information contained herein is for informational purposes only. Nothing in this article should be taken as a solicitation to purchase or sell securities. Before buying or selling any stock you should do your own research and reach your own conclusion. It is up to investors to make the correct decision after necessary research. Investing includes risks, including loss of principal.