Seadrill's (SDRL) dividend yield as of the second quarter ending in June this year averaged around 9%. In addition to its attractive dividend, the company has an attractive portfolio of offshore drilling rigs. With the increase in offshore drilling, Seadrill has been on a growth trajectory that is driving the stock price to new heights. Its stock price increased from around $39 in September last year to around $44 currently.
Jacking up the revenues
Seadrill continues in its effort to strengthen its jack-up rigs portfolio. Presently, the company owns 17 active jack-ups, out of which two were completed this year. The company has 14 new builds under construction that are scheduled to be delivered from the end of 2013 through 2016. The average age of Seadrill's combined fleet of active and new build jack-up rigs, will thus be lower than the average age of jack-up rigs in the industry. The following graph shows the position of Seadrill's jack-up rigs average age compared to that of the other players in the offshore oil drilling industry.
Fig: Average jack-up rig age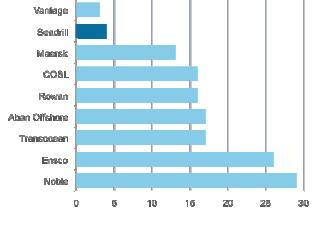 Source: Seadrill
The low average age of the jack-up fleet makes them one of the most modern, incorporating the latest technologies and giving the company an advantage over its peers. Seadrill's jack-up rigs coming into operations have a high capacity with the ability to work at depths of around 350 feet to 400 feet. The lower average age combined with high capacity enables the company to garner high average day rates. The average day rate for Seadrill's jack-up rig fleet is around $190,000 while the average for similar rigs is around $163,000.
Seadrill operates a significant portion of its jack-up rigs portfolio in the Middle East market. Seadrill operates eight rigs in Kuwait and Saudi Arabia. The average age of its jackup rigs is around 3 years, with the oldest one operating since 2007. We expect that Middle East offshore drilling market will continue to drive growth for the company as other jack-up rigs age. A majority of the OPEC nations like Kuwait, Qatar, Saudi Arabia, Iran, and Iraq are located in this region. On average, the life span of a jack-up rig ranges between 20 years-25 years. In the Middle East there are currently 337 jack-up rigs, out of which 250 are over 30 years old and would require conversion. The region's aging jack-up rigs might drive demand in the coming quarters. As of the end of August this year, the company has a backlog of around $3.1 billion in its jack-up rigs segment.
Moreover, Seadrill's rig utilization rates provide a tailwind for its future growth. Rig utilization is a metric used to calculate the amount of rigs being used as a percentage of the total fleet. Rig utilization also indicates the economic well-being of a region. High rig utilization denotes the high economic activity. The average rig utilization in the region last year was around 81.8% with 90 rigs, and it has maintained a stable rate of around 80% currently with around 101 rigs. This shows an increase in rig operations in the region. On the other hand, Seadrill jack-up rig utilization averaged at around 98% for the two quarters ending in March and June of this year, which indicates high utilization of its jack-up rigs.
Another competitor in the jack-up drill segment is Ensco (ESV). The company has around 42 jack-up rigs operating around the world and three are under construction. The jack-up rigs constitute 60% of the company's rig portfolio. The company is currently introducing high capacity jack-up rigs into its fleet. In September this year, the company took delivery of Ensco 120, which could work at a water depth of around 400 feet. In the quarter ending in June this year, Ensco's jackup rig utilization was around 83% compared to 90% a year earlier.
Revenue goes ultra-deep
| | | | | |
| --- | --- | --- | --- | --- |
| Year | 2009 | 2010 | 2011 | 2012 |
| Revenue (in $ millions) | 3254 | 4041 | 4192 | 4478 |
| Operating Income (in $ millions) | 1372 | 1480 | 1774 | 1791 |
| Operating Income Margin | 42.16% | 36.62% | 42.32% | 40.00% |
Source: Google Finance
The chart above shows Seadrill's operating margin over a period of four years. The operating margin hovers around 40% during this period, which is impressive. The strong growth of its operating income is supported by revenue from ultradeepwater, or UDW, drilling. UDW drilling is done at a water depth of more than 1,500 meters. The UDW drilling fleet consists of drilling ships and semi-submersibles. Drilling ships and semi-submersibles are different types of floaters. The company has a fleet of around 17 active floaters with more than 90% used in UDW drilling.
Seadrill has three contracts on its drill ships that will be realized through the next year, having a total value of around $1.87 million. As of August this year, the total order backlog in the floater segment stands around $15.4 billion.
The company is growing its presence in the UDW drilling segment. Seadrill has experienced a 100% utilization of its UDW fleet since its inception in 2005. The UDW drilling market is growing in significance because of its oil and gas reserve. Last year around 49% of oil discoveries came from UDW sources. According to Goldman Sachs, the UDW drilling market is expected to grow at around 40% through 2016. The region that shows highest potential is the Gulf of Mexico. Since October 2010, the region has given permits for 130 new offshore wells. We expect Seadrill to experience strong demand for its floaters during the next year due to the increase in the offshore drilling activities.
A major competitor in the UDW drilling market is Transocean (RIG), as it is refocusing its portfolio towards this market. The company has around 29 UDW rigs with a rig utilization of around 94%. The company has also ordered four new build UDW rigs, which would contract to Royal Dutch Shell. Being a major player in the offshore drilling market, Transocean has been quick to tap the opportunity from the UDW drilling market and has presence in the Gulf of Mexico UDW market. Transocean recently entered a $2 billion UDW drilling contract with Chevron (CVX), taking its total order backlog to around $30 billion. In order to focus in the UDW drilling market, Transocean sold around 38 jack-up rigs last year.
These dividends are just great
Seadrill's strong exposure in the offshore drilling market provides the ability to give higher dividends. Let's look at the company's dividend yield year to date, YTD.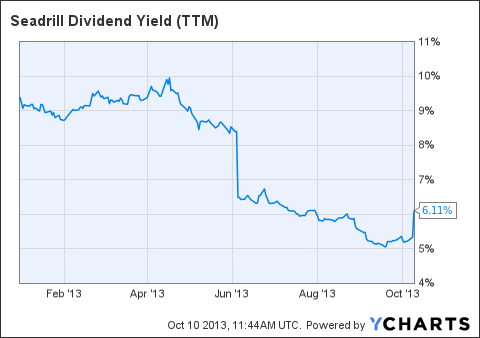 SDRL Dividend Yield ((TTM)) data by YCharts
The chart shows that the company has a dividend of around 9% through the end of second quarter ending in June this year, and it paid a second quarter dividend of around $0.91 per share. However, the current dividend yield is around 6%, as seen in the chart. To keep the dividends at its historical levels of 9%, we expect the company might provide higher dividends. Also fueling our expectations is the company's revenue potential from its drilling operations.
Conclusion
| | | |
| --- | --- | --- |
| Company | P/B | P/E |
| Transocean | 1.04 | 23.34 |
| Ensco | 1.04 | 10.28 |
| Seadrill | 2.93 | 9.72 |
Source: Yahoo finance
The table shows that the price-to-book value, or P/B, of Seadrill is a bit higher than its competitors' P/B value. This is because the company has a new fleet in both the jack-up rig and floater segment, which is yet to come into operation and so the market is discounting that factor into the price. We can also see from the table that the company has a lower P/E ratio when compared to its competitors. This is possible due to its high capacity fleets, and the rigs that are in operation have a high utilization ratio. We believe that the company's current rig fleet and those that will come into operation will provide the company with long-term revenue generation because of both its capability and the overall improving offshore oil drilling market. We are bullish on SDRL.
Disclosure: I have no positions in any stocks mentioned, and no plans to initiate any positions within the next 72 hours. I wrote this article myself, and it expresses my own opinions. I am not receiving compensation for it (other than from Seeking Alpha). I have no business relationship with any company whose stock is mentioned in this article.
Additional disclosure: Fusion Research is a team of equity analysts. This article was written by Madhu Dube, one of our research analysts. We did not receive compensation for this article (other than from Seeking Alpha), and we have no business relationship with any company whose stock is mentioned in this article.