As mentioned in my other recent small-cap articles here, here, and here; the Russell 2000 small-cap index recently broke out to new all-time highs. Expecting that scenario within the typical cycle, I've focused on small and mid-caps since early this year, even though a larger portion of my portfolio is large-caps. I'm continuing in that direction since I believe small and mid-cap outperformance will continue for a while. As detailed in my 'Gentlemen, Start Your Buy Lists (Ladies Too)' article, "speculatives" are expected to be the next area of opportunity. To be crystal clear, when I talk about speculatives, I am not talking about "penny stocks." I don't do windows and I don't do penny stocks. Well, actually, I do windows; but only my own so you get my point. Check the "Buy Lists" article for more on that subject ("speculative" stocks, not doing windows).
Cott Corporation (NYSE:COT) is another under-the-radar stock I started researching this year since it's a small-cap that also has a speculative element. For that reason, I must warn you that this isn't an article well suited for scan reading. I know it's long and I apologize, but I needed to cover both sides of many issues; which is why scanning through will definitely leave you with a wrong impression, whether positive or negative. So, if you have a serious interest in this company/stock, consider reading the whole article. If you can't do so now, perhaps use the bookmark button above and come back later.
Company Overview:
Cott Corporation, founded in the 1950s and a public company since 1985, is a producer of beverages on behalf of retailers, brand owners and distributors. Product lines include carbonated soft drinks (CSDs); shelf-stable juice and juice-based products; clear and sparkling flavored waters; energy products; sports products; new-age beverages; ready-to-drink teas; and alcoholic beverages for brand owners. Cott has five operating segments: North America, U.K., Mexico, Royal Crown (RCI) and All Other. Cott Corporation markets or supplies over 500 retailer, licensed and company-owned brands in its four core geographic segments. See the company website or company profile at Reuters for more.
Important Considerations:
Q2 revenue increased 11%, decreased 10% vs. prior-year quarter
Q2 EPS increased, but decreased 23% vs. prior-year quarter
SG&A cost-saving plan began in Q3 to save $6 million per year
SG&A expenses had already been lowered 15% in Q2
Share repurchase plan intentions announced May 2013
Aggressive debt reduction plan recently accelerated
Stock is down ~30% from 52-week high of $11.25
Current dividend yield ~3%, reinstated in 2012
Acquired U.K. Calypso Soft Drinks April 2013
Announced SodaStream strategic relationship March 2013
Synergies from late 2010 Cliffstar merger now kicking in
BMO Capital rates "market perform" with $10 target
Deutsche Bank rates "buy" with $11 price target
Opportunity Summary:
As the world's largest private-label beverage company, selling products in over 50 countries; COT shares offer opportunity for short and mid-term gains, but more so as a long-term value play. The stock has been beaten down by a shift in the company's industry, which caused extended period of weakness as the company pulled out of the depths of the "great recession." However, because the company has addressed needed changes, continues landing new partnerships, and recently initiated aggressive capital deployment and debt reduction strategies; I believe the worst is in the rearview mirror. I expect a period of appreciation that's faster than normal as the stock comes out of a turnaround trough. That will likely be followed by a leveling-off period as the company continues growing in its new direction. At that point, the stock has additional support that it hasn't had in many years due to newly-implemented buybacks and dividends (from a company that's truly "juicy"). Forgive me … I couldn't help it. Anyway, I see an attractive risk/reward with upside potential in the ~32% range and downside in the ~10% range. There may be some concerns with COT, but there also many promising signs, so I think COT has strong potential to turn into a good long-term value play.
Why Is There An Opportunity In Cott Corporation Shares?
In the "business prospects" section below, I'll discuss each of the three factors that combined to bring the stock down to current levels and why I believe each factor should be much less a concern going forward. For now, I'll offer brief overviews of how and why each issue has contributed to creating a potential value opportunity in Cott Corporation shares.
First, people are simply drinking less soda these days and soda (aka., CSDs) has traditionally been Cott's main product line. The core issue is a widespread obesity problem, which has resulted in more health-conscious trends. One of the primary contributors to the obesity problem is considered to be that people had been drinking too much soda. As a result, the entire beverage industry has suffered in recent years.
Second, the shift away from CSDs led to poor financial performance from Cott, thus the poor stock performance. For 2013Q1, Cott reported abysmal results -- sales were light, revenue was down and the company barely broke even. However, while 2013Q2 results were not great, they did improve and the outlook indicates that Q1 would be the trough.
The third contributing factor largely results from compounded effects of the first two factors. In other words, a weak CSD market caused weak financial performance for Cott; which in turn, rekindled old concerns about customer-concentration risk. The crux of the issue is that Cott earns a large portion of total revenue from a group of large customers like Wal-Mart (NYSE:WMT), which can make a company vulnerable if a large customer alters the relationship.
What Are The Business Prospects For Cott Corporation?
Regarding the first factor mentioned above, the shift away from CSDs has hurt the entire beverage industry, including the mega players like Coca-Cola. A recent research report from IBISWorld explains the issue:
"As one industry loses health-conscious customers -- i.e. Carbonated Soft Drink Production (CSDs) -- another reels them in -- i.e. Fruit Juice & Functional Drink Production. After years of strong demand, increased health concerns have dampened demand for sugary soft drinks. As consumption dropped at an annual rate of 2% from 2005 to 2010, CSD Production industry revenue, enterprise numbers and employment all fell. In fact, the contrasting industries' growth trends inverted in 2008, with functional beverages taking a greater share of the overall market. Before that, CSDs were always in the lead."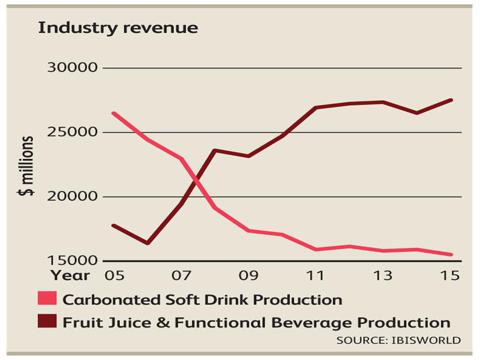 Source: IBISWorld
For several reasons, however, the changing CSD market has become less an issue for Cott and I believe the issue's relevance continues to diminish.
When you look at that IBIS chart above, the first thing that jumps out at you is the sharp decline in CSD revenue; but if you take another look, you realize that the line leveled off around 2011. Sure, it may dip a tiny bit more, but what's important is that the worst is over and the lag time for improvements is fading. In other words, will everyone on the planet ever completely stop drinking any soda? I don't know about you, but I know quite a few people who would drink at least 2-3 sodas every day if it were made with arsenic … well, I guess only for one day, but you get my point.
Anyway, as the slide below shows, from 2009 to 2012, Cott reduced dependence on the weakening CSD market from 60% of revenue down to 41%. That's down 32% in just a few years, and likely more now that the 2012 numbers are nearly a full year old. In the same time period, Cott increased revenues from the strengthening Juice & Juice Drinks market from 1% up to 24%. That too is significant and the 2013 number is likely higher. In other words, the past 60% dependence on CSDs has been inverted to 60% of revenue derived from all types of non-CSD products combined (Juices, New-Age, Water & Other). A visual way to look at it on the above chart is that Cott basically jumped off of the line that was going down and onto the one making the sharp move up.
Cott has obviously been aggressively working on product diversification initiatives. In fact, that was the primary purpose of the Cliffstar merger in late 2010 since Cliffstar was a juice company that wasn't in the CSD business at all. So, the remaining issue is the lag time. In fact, Cott made clear from day one in the transaction presentation that the initial "anticipated phasing" of the companies would last 2011 through 2013, and the "longer-term synergies" wouldn't occur until 2013 through 2015. Cott's stated purpose of the merger was to: "increase portfolio diversification, help shift away from reliance on declining CSDs and open up opportunities in the growing juice market."
As Cott's CEO, Jerry Fowden, explains:
"As the clear leader in private label shelf-stable juice, Cliffstar is an ideal partner for Cott as we strengthen our position in private label beverages. A combination with Cliffstar expands Cott's product portfolio and manufacturing capabilities, enhances our customer offering and growth prospects, and improves our strategic platform for the future. Combined with Cliffstar, Cott will be a more diversified company with long-term advantages for shareowners and retailer partners."
Or, as Cliffstar Chairman and Co-Founder, Stanley Star, put it:
"In addition to a strong position in juice and new-age growth segments, Cliffstar brings expertise in juice ingredients, processing and bottling that are complementary to Cott's strengths in carbonated soft drinks."
The point is that revenue trends are moving in the right direction now and that's what actually matters. Had Cott been too reactive, rather the proactive, in its efforts to adjust to a declining CSD market? Perhaps. More importantly, has Cott been doing exactly what it needs to do in order to adjust? Absolutely. In fact, it doesn't seem fair to say that Cott should've been able to predict the CSD decline and implement the needed changes immediately when that market first started declining in 2003. In fact, the whole industry didn't fully realize the decline would be extreme and permanent until about 2006. If you look at that IBISWorld chart once more, you can clearly see that, for the first few years of the CSDs decline (2003-2006), the Fruit Juice & Functional Beverage market also declined in parallel; until it turned up sharply thereafter.
With that in mind, another significant development this year makes clear that, as the market changes; Cott is willing and able to change with it: SodaStream & Cott Announce Strategic Manufacturing Relationship (NASDAQ:SODA). There's already a lot more to cover about Cott and there's not really much to say about this until the numbers really start rolling in. However, don't let the brief mention mislead you. This is significant.
Regarding the second factor that has driven the shares down -- Cott's recent financial performance -- the proof is in the pudding and the next report is very soon so I'll just touch on four important points: [1] earnings and revenue, [2] debt reduction, [3] cost management, and [4] share buybacks and dividends.
Earnings & Revenue: 2013Q2 results improved, with both revenue and EPS increasing quarter-over-quarter, and all indications imply that will continue going forward. I could find no reason to doubt that Q1 was indeed the trough, as suggested by the outlook from Cott's Chief Executive, Jerry Fowden:
"As we look to the second half of the year, we currently expect top and bottom line performance trends to improve compared to the first half."
Debt Reduction: As detailed on page 19 of the presentation from the recent Barclay's Back to School Conference, Cott has implemented an aggressive debt reduction plan. For example, Cott plans to redeem the majority, if not all, of 2017 senior notes callable in November 2013, which could result in up to ~$12-15 million of interest savings in 2014 (at current rates). The significant debt reduction will, in turn, enhance net income, EPS and free cash flow.
Cost Management: Cott announced this year an SG&A (selling, general & administrative) cost-saving plan that kicked off this quarter and will save $6 million per year. That may not sound like a lot when we're used to dealing with hundred-billion dollar companies, but COT is a ~$700 million small-cap, so such savings add up. The importance becomes more evident considering that the $6M/year is on top of a 15% SG&A cost reduction in Q2 and Cott is already the industry's "best in class" on SG&A efficiency.
Capital Deployment: Cott is a highly cash generative business and has taken steps to return value to shareholders via dividends and share repurchases. The company initiated quarterly dividends in 2012 and repurchased ~$6 million of shares in 2013Q2. I interpret initiation of a worthwhile dividend and share buybacks as a strategy shift. In other words, Cott seems to be acknowledging that it's not in an especially fast-growth business and taking advantage of its strong cash generation to incentivize shareholders. These developments should provide additional support for the stock going forward.
Regarding the third factor that has driven the shares down -- concerns about customer concentration -- the issue is that, when any company earns a large amount of its total revenue from a group of its top customers; that makes the company vulnerable if any of those large customers changes a contract. While customer concentration is very common in manufacturing, as well as many other industries, it does present potential risk to any business. However, I believe the issue is way overblown in regards to Cott for many reasons.
Cott doesn't identify its other top customers or its relationships with them, but has identified Wal-Mart as its top customer. One way we know Cott is a major supplier for Wal-Mart is that, in 2011 (two years after the issue discussed below), the company selected Cott "from all grocery suppliers across Wal-Mart's entire supplier base covering both private label and branded products" for Wal-Mart's "National Collaboration Award."
Wal-Mart accounted for 31% of Cott's revenue in 2012 and, combined, Cott's top ten customers accounted for 54% of 2012 revenue. The 2013 numbers are not yet known, but the fact that the 54% combined total was down from 60% in 2009 (62% in 2008) shows Cott is continually diversifying its customer base. Helping that effort are growing trends of grocery items being sold via other non-supermarket outlets like dollar stores and even online retailers. The list below is from the end of 2011, but the top group doesn't change much, so the list should still offer a decent guess as to who some of Cott's other nine top customers might be. I've been a proud holder of grocer Kroger (NYSE:KR) for a couple of years now and, considering the double in the share price, they're obviously selling lots of products too … very likely including Cott's products.
Source: Supermarket News
In any case, what caused the concerns about customer concentration with Cott was a 2009 change in Wal-Mart's contract with Cott. Specifically, Wal-Mart decided that it would "phase out the exclusive nature of the relationship with Cott as the supplier of retailer brand carbonated soft drinks [CSDs] in the United States." In other words, Wal-Mart can now buy retailer-brand soda products from suppliers other than Cott, if the company chooses. The CSDs exclusivity phase-out concluded in 2012. However, Cott has remained the sole supplier of Wal-Mart's private-label CSDs under non-exclusive supply agreements, which is yet another indicator that this is really a non-issue.
And, one must be careful of the wording when this subject is discussed. The exclusivity termination is specifically limited to CSDs, but at least half of the time the subject is reported on (and that's being very generous); the "CSDs" part is completely left out. My guess is that many people either got second-hand information from a poor source or didn't bother to read pesky details. However, you can see for yourself what the original press release clearly says. If you doubt that such false impressions are often significant enough to be a factor that affects a stock; that may be because, as a Seeking Alpha reader, you're likely far more savvy than the average … like the many who last week bought 14 million shares in a company that has never even issued stock.
Now that you know this issue only affects CSDs, recall the earlier discussion about the declining CSD market (the entire market, not just for Cott). Is it possible that CSDs have been becoming a smaller part of Wal-Mart sales for years too? Also recall that, in 2009 when the CSD exclusivity termination was initially announced, CSDs were 60% of Cott's business; whereas at least 60% of Cott's business is now non-CSD sales. Well, those non-CSD products happen to be items that Wal-Mart also sells and those are unrelated to the exclusivity termination. In fact, the original announcement specifically states: "This does not terminate Cott's relationship as a supplier to Wal-Mart."
The bottom line is that, while customer concentration is always a potential risk, Wal-Mart's termination of its CSD exclusivity contract with Cott appears to have been no more than a power play. At the time, Wal-Mart was still struggling to grow its influence in the grocery business. One way it did that was the same way always used by the largest powerful customers -- forcing more competition among suppliers in order to gain most all of the bargaining power. Even so, there are few options for private-label manufacturers large enough to meet the massive demand from a customer like Wal-Mart. Recall that Cott is the largest retailer-brand beverage company in the world. So, switching to another supplier would be unlikely to actually benefit Wal-Mart.
What Is The Upside Opportunity, Downside Risk And Time Frame?
The table below provides data like the $0.35 trailing-twelve EPS and 5-year EPS growth projection of 10.55%, from which a conservative Discounted Cash Flows calculation puts fair value at only $5.95 (~21% below $7.60). However, I believe that misleading for several reasons.

Source: FinViz
That first conservative DCF calculation uses a 12% Discount Rate even though most people use 10%. I like DCF valuation partially because it makes it fairly easy to run multiple scenarios and look at various possible outcomes. So, when I leave everything else the same and use a 10% Discount Rate, fair value ends up at $8.00 (~5.2% above $7.60).
I also like DCF because it's a forward-looking method, which is helpful with a company that may be traversing a low point wherein trailing numbers may be far worse than forward numbers are likely to be. In other words, if Cott is in fact coming out of a trough, the trailing-twelve EPS in the above calculations would render the fair value outcomes invalid.
So, I widen my view to consider the potential that exists in the fact that the trailing-twelve EPS is only $0.35, but next-year EPS is estimated at $0.63. Similarly, current-year EPS growth is 25% and next year is projected to be 53.7%, yet the 5-year projection is only 10.55%. When I use the seemingly underestimated 10.55% with the $0.63 EPS, versus the trailing-twelve figure, and also go back to the very conservative 12% Discount Rate used in the first calculation; it quickly becomes evident where analysts are getting the $10-11 price targets. These calculations return a fair value of $10.70 (>40% above $7.60). And, that's without fully accounting for the more robust shorter-term EPS growth rates that seem quite likely based on this year and next year.
As you can also see on the chart below, the MACD made a bearish crossover on 9/26, which followed a more prominent one on 8/9. As that would portend, the chart also shows COT is now well below both its 50-day moving average (~$8.10) and 200-day moving average (~$8.40). The RSI is 26.67% implying an oversold level. These metrics combine to indicate that the selling pressure should run out of steam soon. Based on the midpoint of the most conservative and modestly conservative valuations above, along with the trading indicators just mentioned, I see ~$6.80 as the likely downside limit (~10% below $7.60). COT has only breached that level for three relatively brief periods since its all-time low in 2008 and it didn't have the dividend cushion at those times.
My call is to consider buying COT in the $7.20-$7.40 range, but if that range isn't reached before the end of the calendar year, I don't think it will be. My target price is ~$10 (>32% above $7.60), based primarily on the last DCF valuation above, with a small discount added. The time frame for my ~$10 price target is 6-9 months, but if the November earnings report goes especially well, I think the target is achievable in 3-6 months.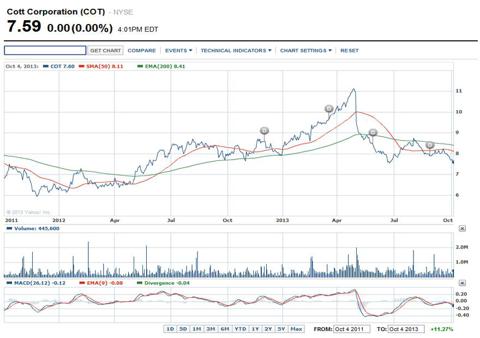 Source: Yahoo Finance
What Might Drive Realization Of The Opportunity In Cott Shares?
Cott reports earnings in early November so that's the first short-term catalyst that could give COT an initial boost from the current level.
Being that my primary thesis is that COT is becoming a long-term value play, beyond any short-term boost the shares may get from a good earnings report, I believe the shares will soon start a more gradual ascent. I believe the catalyst for this second stage of appreciation will be the market's gradual realization that unloved and forgotten COT has been transforming itself into a diverse beverage company that still sells some soda, instead of what the market now knows it as -- a soda company that might sell some other stuff too.
As explained in my Instablog, most of my top-performing stocks were just plain ugly the first few times I considered them, but more often than not, they also had an element of transition/turnaround to the story. So, I put the name on a back burner and came back to it periodically. In some cases, I looked at the stock as purely speculative at the time of my first buy. Then, it gradually became a turnaround story. Then, a big winner. Mueller Water Products (NYSE:MWA) and Consolidated Water (NASDAQ:CWCO), both of which I still hold, are two recent examples. Mueller quadrupled since my first buy and Consolidated doubled, both within about 20 months. Media General (NYSE:MEG), which I've since sold out of, turned into 4-bagger, although that one took a few years.
By mentioning those examples, I am not saying I expect COT to quadruple in less than two years. I don't. I didn't fully expect the returns I got from most of the examples either, but every company/stock is individual. I'm simply trying to make the point that the fact that many companies experience a difficult period and have to adjust does not at all mean that they can't still be good investments. With that said, COT has some similarities to some of the examples in that there was something that hit the company hard due to no fault of its own, but the company survived and adjusted. I think COT has done those things so it just remains to be seen if the company will continue on and fully thrive. Unfortunately, waiting for that to be confirmed also means missing opportunities, so I think it's time to take COT off the back burner.
Thank you for reading and I always appreciate feedback, even if it's just to say whether or not you found the information helpful.
Disclosure: I am long CWCO, KR, MWA. I wrote this article myself, and it expresses my own opinions. I am not receiving compensation for it (other than from Seeking Alpha). I have no business relationship with any company whose stock is mentioned in this article.
Additional disclosure: I may initiate a long position in COT over the next 72 hours.