If you follow me on Seeking Alpha you know I'm rather obsessed by competitive advantages. It is what makes or breaks a buy and hold investment. If a company can't secure a competitive advantage, outperformance can only last for a limited amount of years.
Competitive Advantage Spirit Producers
Recently I realized many spirit makers have an interesting competitive advantage in addition to the economies of scale and customer preference that some of them enjoy. Many types of spirits require years to age. It requires careful planning to produce a product that you will bring to market 10 years later. In addition this start-up time makes it incredibly difficult for incumbents to enter the space.
Raising capital for a venture that may be profitable in 5-10 years time is difficult. Not to mention that significant investments into customer awareness or brand building may be required at the time of launch.
Because of this dynamic I expect its much more likely for existing players to be able to capitalize on a growing market and not necessarily inspire a flood of capital to start-ups.
Market Growth
The market for spirits is growing. In the U.S demand is still increasing - Diageo PLC (NYSE:DEO) enjoyed a 5% sales increase to June 30 - but emerging markets although slowing down are showing the most growth. For Diageo organic sales growth was still at 11% vs 15% for the year before. Investment bank Demetergroup published a State of the Spirits Industry [pdf] with a lot of interesting figures. These are a few of the key charts: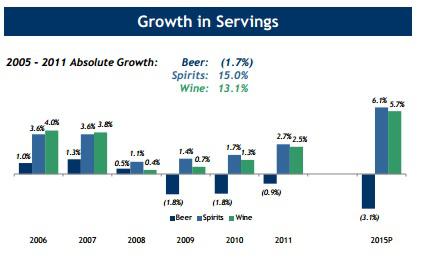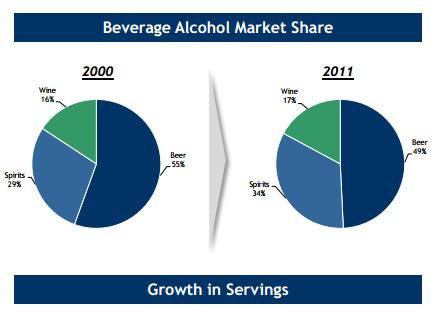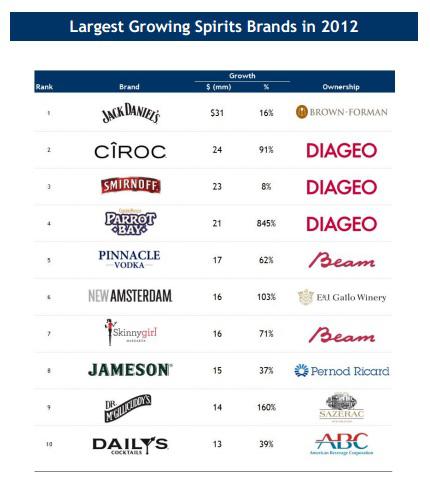 Key Players To Profit
A few of the spirits producers that I'd like to highlight are Brown-Forman Corporation (NYSE:BF.B), Diageo , Beam Inc, (NYSE:BEAM), Pernod Ricard (OTCPK:PDRDY) and Davide Campari - Milano SpA (OTCPK:DVDCY).
Davide Campari-Milano S.p.A
Davide Campari-Milano S.p.A., together with its subsidiaries, operates in the beverage sector worldwide. It offers spirits under the Appleton, Campari, Carolans, SKYY Vodka, Wild Turkey, Aperol, Cabo Wabo, Campari Soda, Cynar, Frangelico, GlenGrant, Ouzo 12, X-Rated Fusion Liqueur, Zedda Piras, Dreher, Old Eight, and Drury's; sparkling and still wines under the Cinzano, Liebfraumilch, Mondoro, Odessa, Riccadonna, Sella & Mosca, and Teruzzi & Puthod names; and soft drinks under the Crodino and Lemonsoda brands. The company was founded in 1860 and its headquarters is in Sesto San Giovanni, Italy. Davide Campari-Milano S.p.A. operates as a subsidiary of Alicros S.p.A. More data.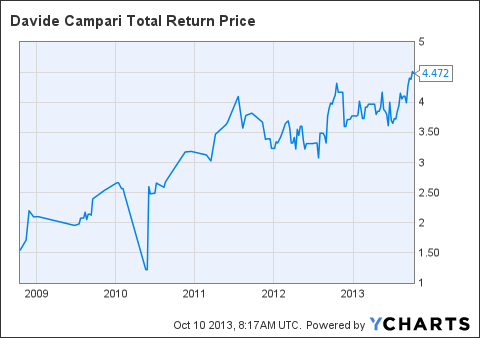 DVDCY Total Return Price data by YCharts
Campari managed to grow net income with an annualized 4.59% over the past 5 years. It trades at 27 times earnings but unfortunately its dividend is small and unreliable.
Pernod-Ricard
Pernod Ricard, through its subsidiaries, produces and sells wines and spirits worldwide.
The company offers vodka, whisky, spirit, liqueur, rum, gin, cognac, malt whisky, champagne, vintage, anise flavoring sprit, bitter, brandy, digestif, tequila, and aperitif products.
Its brand portfolio includes ABSOLUT vodka, Chivas Regal, Kahlúa, Malibu, Ricard, Ballantine's, Beefeater, Havana Club, Jameson, Martell Cognac, The Glenlivet, G.H. Mumm, Perrier-Jouët, Royal Salute, Jacob's Creek, Brancott Estate, Campo Viejo and Graffigna. The company also markets its products under local brands, including Pastis 51, 100 Pipers, Amaro Ramazzotti, ArArAt, Becherovka, Blenders Pride, Clan Campbell, Seagram's Imperial Blue, Imperial, Olmeca, Passport Scotch, Royal Stag, Ruavieja, Seagram's Gin, Something Special, Suze, Wiser's and Wyborowa.
Pernod Ricard was founded in 1805 and its headquarters is in Paris, France. More data.
PDRDY Total Return Price data by YCharts
Pernod managed to grow net income an annualized 10.40% over the past 10 years. It trades at 19.8 times earnings and pays a dividend of 1.7% At these levels it's one of the more modestly valued spirit companies and that makes it especially interesting.
Diageo
Diageo plc produces, distills, brews, bottles, packages, and distributes spirits, beer, wine, and ready to drink beverages in North America, Western Europe, Eastern Europe, Turkey, Africa, Latin America, the Caribbean, and the Asia Pacific.
It offers Johnnie Walker Scotch whisky, Crown Royal Canadian whisky, J&B Scotch whisky, Buchanan's Scotch whisky, Windsor Premier Scotch whisky, Bushmills Irish whiskey, Smirnoff vodka, Ketel One vodka, Cîroc vodka, Captain Morgan rum and rum based products, Baileys Irish Cream liqueur, Tanqueray gin, and Guinness stout.
The company also provides other spirits brands that comprise Gordon's gin and vodka, Old Parr Scotch whisky, Bell's Scotch whisky, The Classic Malts Scotch whiskies, Seagram's 7 Crown whiskey, Yeni Raki, and Bundaberg rum.
In addition, it offers other beer brands, which include Malta Guinness non-alcoholic malt, Harp lager, Tusker lager, Senator lager, and Red Stripe lager; wine brands comprising Blossom Hill, Sterling Vineyards, and Beaulieu Vineyard; and ready to drink brands, such as Smirnoff Ice, Smirnoff cocktails, and Bundaberg ready to drink. Diageo plc was formerly known as Guinness plc and changed its name to Diageo plc in February 1998. The company was founded in 1886 and is based in London, United Kingdom.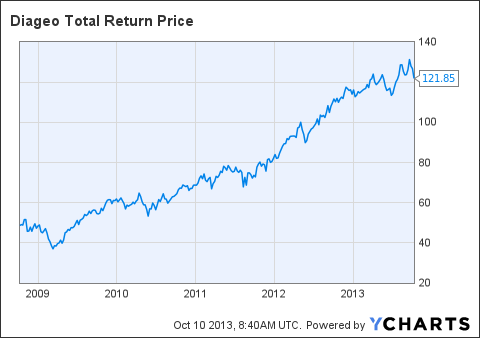 DEO Total Return Price data by YCharts
Diageo managed to grow income an average of 9.21% over the past 5 years. It trades at 19 times earnings and pays a dividend of 2.4%. At these levels it's one of the more modestly valued spirit companies. It's also the largest and pays a nice dividend.
Beam Inc
Beam Inc. manufactures and sells distilled spirits worldwide. The company''s principal products include bourbon whiskey, tequila, Scotch whisky, Canadian whisky, vodka, cognac, rum, cordials, and ready-to-drink pre-mixed cocktails.
It offers its products under the Jim Beam Bourbon, Maker's Mark Bourbon, Sauza Tequila, Courvoisier Cognac, Canadian Club Whisky, Teacher's Scotch, Pinnacle Vodka, Laphroaig Scotch, Knob Creek Bourbon, Basil Hayden's Bourbon, Kilbeggan Irish Whiskey, Cruzan Rum, Hornitos Tequila, Skinnygirl Cocktails, and Sourz Liqueurs brand names, as well as combined Local Jewels and Value Creators brands.
The company sells its products to wholesale distributors, state governments, third party distributors, global or regional duty free customers, other spirits producers, and joint ventures. The company was formerly known as Fortune Brands, Inc. and changed its name to Beam Inc. in October 2011.
Beam Inc. was founded in 1904 and its headquarters is in Deerfield, Illinois.
The company trades at 26 times earnings and pays a dividend of 1.3%. Beam Inc, is an interesting takeover target and this might play a role in its lofty valuation.
Brown-Forman
Brown-Forman Corporation engages in the manufacturing, bottling, importing, exporting, marketing, and selling alcoholic beverages. It provides whiskey, ready-to-drink products, vodka, tequilas, champagnes, wines, liqueur, and other distilled spirits.
The company offers products primarily under the brand names of Jack Daniel's, Gentleman Jack, Southern Comfort, Finlandia, Antiguo, el Jimador, Herradura, Pepe Lopez, Woodford Reserve, Canadian Mist, Chambord, Collingwood, Early Times, Korbel Champagne, Little Black Dress, Maximus, Old Forester, Sonoma-Cutrer, and Tuaca.
The company sells its products to distributors and state governments, as well as directly to retail stores and wholesalers. Brown-Forman Corporation primarily sells in the United States, Australia, the United Kingdom, Germany, Poland, France, Russia, Turkey, Mexico, Japan, Canada, Spain, the Czech Republic, South Africa, Brazil, and Italy.
The company was founded in 1870 and its headquarters is in Louisville, Kentucky.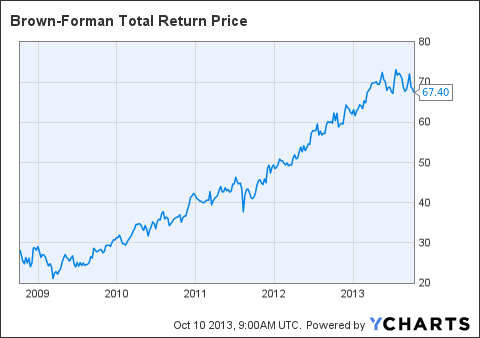 BF.B Total Return Price data by YCharts
Brown Forman managed to grow net income with an average 9.2% over the past 10 years. It trades at 24 times earnings and pays a dividend of 1.5%. One of the most interesting names in the space because the valuation is average for the space but the growth rate is actually quite impressive. The company also divested the Hopland wine business, which makes it more focused on the spirits business.
Comparison Overview
After a review of the basic stats of these companies there are a few things that are noteworthy. Beam Inc and Campari are probably the most interesting from a perspective of speculating on takeovers. They are small enough to be prey for the bigger players in the industry and related industries.
Brown Forman and Diageo are the companies that are currently the best performers. They pay solid dividends, show solid growth and manage the best profit margins. Unfortunately they are also pretty expensive.
The entire industry is prized for growth. When compared to the market overall, the market seems to expect outperformance from the spirits industry.
| | | | | |
| --- | --- | --- | --- | --- |
| company | market cap | sales | profit margin | dividend |
| Diageo | 76.25 B | 18.38 B | 21.74% | 2.4% |
| Pernod Ricard | 31.52 B | 11.10 B | 13.87% | 1.7% |
| Brown-Forman | 14.15 B | 2.87 B | 20.46% | 1.5% |
| Beam Inc | 10.75 B | 2.55 B | 15.35% | 1.3% |
| Campari | 5.1 B | 1.84 B | 9.6% | 0.7% |
After reviewing the market I'm very interested in the industry. These companies have a strong competitive position in a market that is growing organically. Follow me on Seeking Alpha or Twitter if you don't want to miss articles about these spirit companies. Your feedback and questions are welcome.
Disclosure: I have no positions in any stocks mentioned, and no plans to initiate any positions within the next 72 hours. I wrote this article myself, and it expresses my own opinions. I am not receiving compensation for it (other than from Seeking Alpha). I have no business relationship with any company whose stock is mentioned in this article.