Emerging markets have largely failed to keep pace with red hot U.S. stocks over the last year. While most domestic equity indexes are notching double digit returns in 2013, large-cap stocks in China, Brazil and India are still struggling in the red. Much of this underperformance can be blamed on slowing economic growth combined with currency devaluations that have dragged their markets lower.
China in particular has seen a slowdown in its financial and real estate sectors that has weighed on the widely held iShares China Large Cap ETF (NYSEARCA:FXI). This fund has over 55% of its $5.7 billion in assets invested in companies that are tied to these sectors. The overweight nature of this asset allocation has led to FXI posting a total return of -4.72% so far this year (through 10/8/13). However, with so many ETF options available in the market today, there are several China alternatives that may prove worthy of your hard earned dollars.
Small Cap Stocks
One alternative China opportunity that has flown largely under the radar this year is the Guggenheim China Small Cap ETF (NYSEARCA:HAO). This fund is comprised of 251 small-cap stocks centered in China and Hong Kong with over $200 million in total assets.
For inclusion in the ETF, Guggenheim defines small capitalization companies as those with a maximum $1.5 billion market capitalization. The top three sectors include industrials, financials and consumer discretionary stocks which together make up 49% of the ETF's underlying portfolio. In addition, the net expense ratio for HAO is 0.75% annually.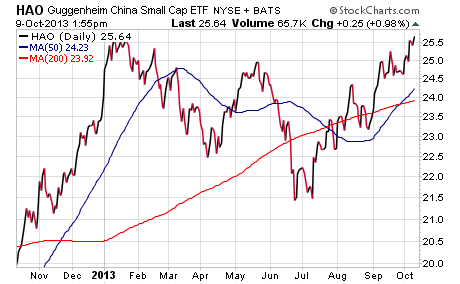 HAO is trading very near its 52-week highs and has been in a strong uptrend since its June lows. Small-cap stocks are an excellent way to get exposure to growing segments of the economy that are often overlooked because of their relative obscurity. Many people believe that the next phase of China's growth will be stimulated by local consumers instead of foreign exports which are what these small-cap stocks are uniquely positioned to reach. In addition, with HAO you avoid many of the mega-cap China stocks that are dominated by state-run enterprises.
Technology
One of the best performing segments of the Chinese economy this year has been technology stocks. The Guggenheim China Technology ETF (NYSE:CQQQ) is comprised of a concentrated 39 companies in the information technology field. The ETF only has $39 million in assets, but it has posted an impressive gain of over 48% so far in 2013.
A slightly larger and more diversified play in this arena is through the PowerShares Golden Dragon China Portfolio (NASDAQ:PGJ). This fund is comprised of small, mid and large-cap stocks in the China region, but has an overwhelming 56% allocation to technology stocks. This overweight exposure has helped boost PGJ more than 46% this year.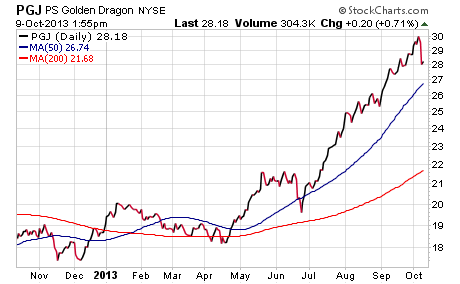 One of the reasons that I like this ETF is that you get exposure to multiple asset classes and sectors in a package that is overweight high growth companies. However, based on the tremendous rise over the last six months, I would be wary about adding money to this ETF near the highs. I would prefer to wait for a modest pullback to add to this region in order to enhance your odds of a successful long-term holding.
Remember that stocks in China will likely be more volatile than their domestic counterparts so having a trailing stop loss will be an important strategy to lock in gains or protect new positions. In addition, I always recommend thoroughly researching the underlying companies and sectors within any ETF in order to know what you own and how a fund stacks up against its peers.
Disclosure: I have no positions in any stocks mentioned, and no plans to initiate any positions within the next 72 hours. I wrote this article myself, and it expresses my own opinions. I am not receiving compensation for it. I have no business relationship with any company whose stock is mentioned in this article.
Additional disclosure: David Fabian, FMD Capital Management, and/or its clients may hold positions in the ETFs and mutual funds mentioned above. The commentary does not constitute individualized investment advice. The opinions offered herein are not personalized recommendations to buy, sell or hold securities.