The purpose of this series is to highlight stocks that are undervalued, profitable, underperformed the market, and have a favorable technical outlook. The stock that I will be covering for my undervalued series this week is CVS Caremark (NYSE:CVS). CVS stock has fallen 4.49% in the last quarter compared to the S&P 500 (NYSEARCA:SPY), which has fallen only 0.62% in the last quarter. I believe CVS Caremark is a solid undervalued long-term choice to gain exposure to the continued growth in healthcare spending whether that is from traditional health plans or because of the ACA [Affordable Care Act]. According to a recent Census Bureau report [pdf], 48 million Americans went uninsured for all of 2012, which is an astounding number. If the ACA is able to provide affordable insurance for these, previously uninsured consumers then I believe CVS stands to benefit. The logic I see from that is, if you are insured you are more likely to go to the doctor, and if you have an ailment, they are most likely to prescribe a prescription, which you can pick up at a CVS store.
Value
To value CVS I will be using a DCF calculator, with data for earnings and growth coming from Zacks.com, benchmark data from longrundata.com, and CPI data from the BLS. The DCF table below shows shares of CVS are undervalued by 52.71%, which represents a good opportunity for price appreciation.
EPS [ttm]: $3.78
Long-term Growth Rate: 13.37%
Earnings grow for next: 5 years
Level off: to 1% after
Benchmark return: 10-yr annualized SPY return of 6.98%+1.50% inflation= 8.48% benchmark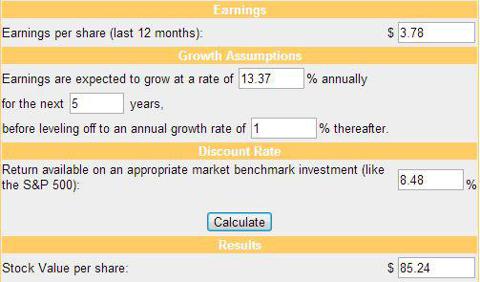 Technical Outlook
The chart below shows that shares of CVS have been steadily rising over the last year until late July and early August, when shares reversed from new highs and have been declining since then. The support level that is important for CVS is $55.85, which is the level where shares broke out to new highs in early April, and this level has been tested once in June and held, and most recently this month shares did not quite make it to the level but have reversed course in the last week. If there were no debt deal, or the hope of a debt deal falls through then in the short term, I would expect shares of CVS to trade down to its level of support. If the debt deal is a short-term deal I would expect CVS to outperform over that period because the fight will be ongoing for that time. I would expect investors to buy more conservative stocks like CVS. In the long term however I believe the debt debate is a minor issue for shares of CVS, and the stock will move higher and breakout to new highs.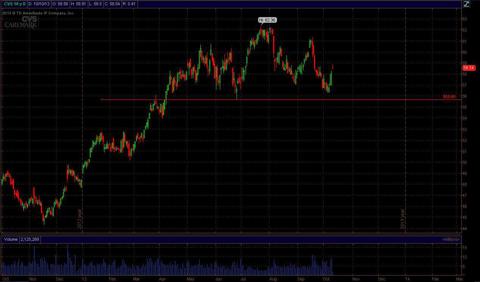 Catalyst
The biggest catalyst for CVS Caremark going forward is the expansion in insured consumers from the ACA. With millions of uninsured individuals now able to get insurance, this creates a huge opportunity for CVS to sell its products and services to those consumers. According to a recent CVS investor presentation, CVS has a 21% market share of the total U.S. Prescription drug market. With millions of uninsured consumers now able to seek affordable medical care, CVS stands to benefit because of the increased number of patients doctors will see, which will in turn lead to an increase for prescription drugs needed.
A short-term catalyst for CVS Caremark is that it will be reporting earnings in just under a month on November 5, before the market opens. According the Zacks' earnings estimate page and shown in the table below, CVS has beat earnings expectation each of the last four quarters and I expect it to do so once again.

Risks
The biggest risk to CVS is lower margins on products and services that CVS offers. According to Trefis each of the two largest divisions of CVS are expected to see a decline in margins over the next seven years, however, the two divisions are expected to grow their market share in growing segments. This is where the risk is for CVS. If it is unable to maintain the current market share, or competitors like Walgreen (WAG) and Rite Aid (NYSE:RAD) take share, this could potentially be a problem for CVS when coupled with declining margins.
Closing thought
I believe shares of CVS are poised to move higher from current levels, because the stock is undervalued, the stock recently was near support and bounced off, and the growth in consumers needing prescriptions will continue as enrollment in the ACA grows. In addition, CVS Caremark has a strong buyback and dividend policy, with the company having repurchased just under 15% of its shares outstanding in the last five years, and has paid a steadily rising dividend over the last 15 years. I believe going forward shares of CVS Caremark in the long term will move higher to my fair value estimate of $85.24.
Disclosure: I have no positions in any stocks mentioned, and no plans to initiate any positions within the next 72 hours. I wrote this article myself, and it expresses my own opinions. I am not receiving compensation for it (other than from Seeking Alpha). I have no business relationship with any company whose stock is mentioned in this article.