"Money is important in life - but it's more important to not be consumed by it. Remember that there's more to life than just buying things. Go out and live." - Will Smith
With Janet Yellen recently nominated to succeed Ben Bernanke as the next Chair of the Federal Reserve, it is imperative to acknowledge her thought-process as an investor. As the next likely commander-in-chief of American banking, prudent investors will quickly overlook her publicly-available asset disclosures. The ensuing discussions will only bring more awareness and interest to her holdings.
In her personal portfolio, Yellen holds a balance of stocks and bonds. This market exposure is largely contained to managed funds, however her equity investments do include nine individual stocks. These stocks are all American companies and hold a wide range in market valuation.
When Ben Bernanke was nominated for his current position in 2005, his holdings were analyzed immediately by the press. It became common knowledge that Altria Group (NYSE:MO) was the only stock he held. Although he only owned between $1,000 and $15,000 of the stock, investors became fascinated and the discussion went viral among investors.
Regarding Yellen, the awareness of her stock ownership is paramount to becoming an informed investor. As a future leader of the American economic and financial system, the acknowledgement of her positions will become common knowledge among market leaders. With her ownership disclosures public record, the above-average investor must learn her positions now to stay ahead of the curve.
The Basic Portfolio Allocations
As of 2012, Yellen's portfolio was worth approximately $8.8 million, as derived using the midpoint range values of her public financial disclosure report. This form, called the OGE Form 278, requires reporting individuals to disclose a range of value for each asset held (worth over $1,000), such as between 50 and 100 thousand, etc...
In this regard, her asset range is listed somewhere between $4,749,000 and $12,885,000 (including only liquid investment securities). By using the mean range value to approximate her asset allocation, Yellen's portfolio is balanced with a preference to equity exposure.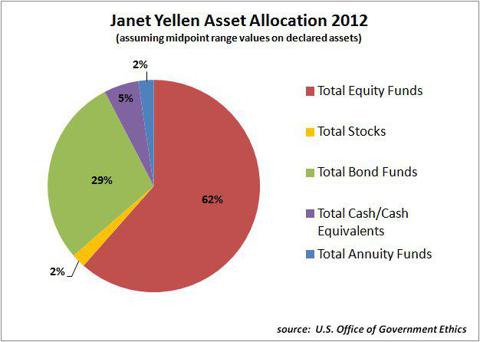 Yellen's equity exposure is largely linked to professionally managed funds. What investors will be stirring about however, as they did with Bernanke when he was nominated in 2005, is the question "what individual stocks does Janet Yellen own now?"
Janet Yellen Stock Selections
Yellen's stock portfolio lists nine names, which are all publicly-traded U.S. companies valued at over one billion dollars. The positions are mostly small, however one company does take a clear leadership position as her top individual equity holding. As her disclosure only states given ranges, the mean range value is used again here to assume the asset values of her individual stock selections.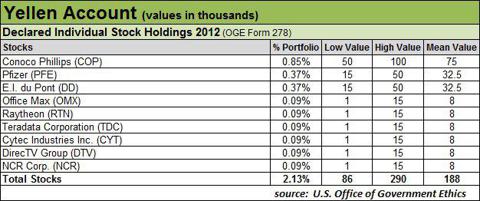 While ConocoPhillips commands a leadership role here, one would be curious as to why she favors Conoco and what interest she has in the other eight selections.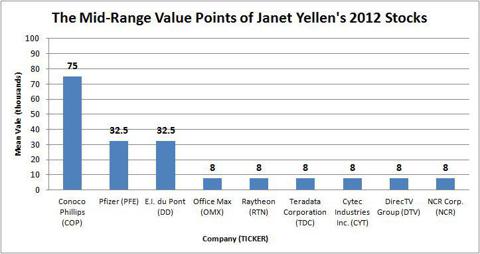 Reasons to Own Yellen Stocks
By analyzing the Yellen asset allocation, it can be determined that she prefers exposure to the market. Given the environment of her estimated portfolio size, the estimated portfolio asset allocation and her current age (67), one could only assume why she owns each of the following stocks. What can be determined however are what benefits each stock holds and which type of investor may be suited to follow her lead.
1. ConocoPhillips (NYSE:COP)
COP is an oil and gas major, which commands a market capitalization of over $85 billion. With major energy exposure, slower growth (versus S&P 500) and a forward P/E of 11.92, COP is a low-risk value stock. The yield of 3.93% calls to the income investor.
2. Pfizer (NYSE:PFE)
This U.S. pharmaceutical giant and Dow component, most widely-known for creating and manufacturing Viagra, currently holds a market capitalization of $187 billion. The PFE drug pipeline and commanding presence, accompanied by a healthy yield of 3.4%, also yell safety, low-risk and value. Like COP, Pfizer does appeal to the income investor.
3. E.I. du Pont (NYSE:DD)
The chemical giant and Dow component E.I. du Pont de Nemours and Co could have an easier name to state. Referred to as "du Pont," this company is worth $52.6 billion, yields 3.15% and has a forward P/E of 15.
With its hand in a multitude of valuable science and technology based segments, DD will grow well with an expanding economy at minimal risk. Yellen clearly sees the value in du Pont's science and tech applications as it is one of her top three holdings.
4. Office Max (NYSE:OMX)
Perhaps Office Max is where Yellen, a career pencil-pusher, has bought supplies over the years. For some people, it feels good to own a company they support. The company holds a market capitalization of only $1.1 billion, a forward P/E just over 24 and a paltry yield of 0.66%, which is by no means acceptable for the income investor.
Since 2000, the stock is down from over $43 to $12.31 where it sits today. The company stock was also trading below $10 for most of 2012, another bad omen for the investor. What is clever of Yellen, however, is that this stock which traded for under $5 just a year ago has more than doubled to its current level.
5. Raytheon (NYSE:RTN)
Long-live the King! In the good old days, as well as today, the population is controlled by a ruler with the best military. Either that or it is 2013 and you are not allowed to conquer territory anymore. Anyway, with the U.S. as global defenders and huge military spenders, RTN is a no-brainer.
With a solid market cap of $23.9 billion and a yield close to 3%, this military play works for the low-risk income investor. Also, with a forward P/E of 13.09, there is some value pricing to be had.
6. Teradata Corporation (NYSE:TDC)
TDC is an $8.6 billion tech company based in Ohio that is involved with data management, IT solutions and basic intelligence. While this is a niche sector that the tech-wizard must negotiate, the income investor will likely stray away as there is no dividend and a current P/E of over 23.
Moving forward, analysts forecast TDC to grow at an average of 13.68%/year over the next five years. TDC states that it does serve various companies in banking and financial services, as well as government. It is unclear if TDC has contracts with the central bank, however if would be safe to assume that through banking Yellen has heard of and done diligence on this company.
7. Cytec Industries (NYSE:CYT)
With two degrees in economics, a career in banking and a husband who is an economist and a professor, CYT is another obscure company that pondering minds must wonder how Yellen is even aware of, let alone invested in.
CYT is a specialty chemicals company with a market cap of $3.1 billion and a yield of 0.60%. The income investor would stay away as the forward P/E is high at 17.24. Analysts expect the company to grow $13%/year-over-year the next five years. Perhaps science and technology just dazzle Yellen's genius?
8. DirecTV Group (DTV)
DirecTV holds a large market capitalization of $31.8 billion, with a forward P/E of 12.44 yet no dividend. Perhaps this is another case of buying the stock of a company she supports. I am sure it would feel better if every time an investor paid his/her cable bill he/she knew it was going to a company in the good old investment portfolio.
9. NCR Corp. (NYSE:NCR)
Another IT company that supports the financial services industry, this Georgia-based, $6.4 billion company pays no dividend yet is expected to grow at 15% per annum over the next five years. With a forward P/E of 14.4 and a solid pipeline of business, this stock looks appealing yet the lack of dividend will leave a sour taste in the mouths of income investors.
Conclusion
While Janet Yellen does own a few stocks, there is no need to get too excited. Her portfolio of several million dollars only has individual stocks as approximately a 2% weighting. Her preference in equity exposure is low-cost index funds, of which she owns several.
Yellen likes science and technology and may invest small amounts in companies such as NCR, CYT and TDC as a hobby. Her ownership in DTV and OMX seem akin to an "own where you shop" mentality.
Her top three companies, COP, PFE and DD, all seem to be wise, low-risk investments that appeal to value investors looking for income. Raytheon fits this bill as well, however it carries higher risk due to a smaller size and large dependence on U.S. government agencies.
While the Yellen portfolio does contain nine stocks, the investor must caution that these selections represent only approximately 2% of her total liquid investment securities. While these are relatively small positions, one may also remember, however, that the investors who bought and held Altria in 2005 on Bernanke's limited ownership have done quite well.
To view Janet Yellen's complete 2012 investment portfolio, please read The Ben Bernanke And Janet Yellen Investment Portfolios, published October 8, 2013, and scroll down to the chart titled "Yellen Portfolio."
Disclosure: I have no positions in any stocks mentioned, and no plans to initiate any positions within the next 72 hours. I wrote this article myself, and it expresses my own opinions. I am not receiving compensation for it (other than from Seeking Alpha). I have no business relationship with any company whose stock is mentioned in this article.