Fellow Seeking Alpha author David Van Knapp recently published what I consider an important and interesting article titled Which Popular Dividend Growth Stocks Are "Always" Overvalued?
As is quite common with Dave's work, there followed a large number of spirited and lively comments that in great part inspired me to present this addendum to his article. First and foremost, I want to be perfectly clear that I support the general facts and points that I believe Dave was endeavoring to share. Therefore, I want to be even clearer that what follows is in no way shape or form intended to criticize or fault his article. Instead, it is my intention to hopefully add some clarifying information that elaborates on and supports his article.
Dave, like yours truly, faces a difficult challenge when utilizing a picture from a dynamic research tool such as F.A.S.T. Graphs™. In essence, we can only input what I like to call a dead iteration or simple picture of what is in actuality a live and dynamic tool. For example, Dave utilized 15-year historical graphs to present and support his primary points. Moreover, I feel he generally accomplished his mission. However, some of those 15-year graphs may have presented a distortion that I would like to clarify. In the same vein, I would like to elaborate on the importance of fair valuation. After all, it was David Van Knapp who once dubbed me "Mr. Valuation."
In order to accomplish my mission, I will focus my remarks on Coca-Cola Company (NYSE:KO) as it was one of the most commented on companies in his article. Therefore, I will include a duplicate F.A.S.T. Graphs on Coca-Cola that Dave used in his fine work. However, I have added a few refinements in order to better focus on and support his core position.
First and foremost, Coca-Cola is, as Dave indicated, a company that historically commands a premium valuation. I think of this as a quality premium, which also generally applies to many of the other examples he presented. Importantly, I suggest that a quality premium is a somewhat different concept than overvaluation. They are similar, but not identical. The primary difference relates to adjustments that the market historically makes that in my opinion relate to risk.
Coca-Cola is widely considered a very high-quality company. Consequently, I believe that the market tends to apply a premium valuation to Coca-Cola in order to accommodate its view as a low risk blue-chip dividend paying stock. Higher-quality implies lower risk. Therefore, I believe that many investors are willing to pay up a little for the additional peace of mind that a blue-chip like Coca-Cola provides. Moreover, I believe they are also simultaneously suggesting that they are more than willing to accept a modestly lower return due to the sleep well at night attribute that Coca-Cola and its growing dividend income stream provide.
With the above said, the 15-year historical graph that Dave presented contains a distortion that needs to be calibrated in order to understand Dave's very important point. The normal P/E ratio of 25 (the dark blue line on the graph) is a mathematically accurate calculation. However, here is where I think a simple statistic can often be misleading. The 15-year historical graph on Coca-Cola includes the irrational exuberant time frames of 1999 and 2000 when Coca-Cola was being significantly overvalued by Mr. Market.
In other words, this was not the premium valuation that Dave was alluding to; instead, this was true irrational overvaluation. The year-end P/E ratio for Coca-Cola on December 31, 1998, was 47.52, the year-end P/E ratio for Coca-Cola on December 31, 1999, was 45.16. Therefore, when you add in these aberrantly high P/E ratios to the equation it distorts the normal P/E ratio calculation making it calculate larger than it truly should be. I have circled this time frame in red on the following graph.
Therefore, if you eliminate that distortion you will discover that the normal premium valuation or P/E calculation for Coca-Cola ranges more like a P/E ratio of 19 to 20. Consequently, I have utilized the overlay P/E ratio function of F.A.S.T. Graphs, and added its normal P/E ratio since calendar year 2005 of 19.3 (the bright pink line on the following graph). I believe you will discover that this more accurately reflects Dave's position that Coca-Cola is typically overvalued by the market. I call it a quality premium valuation where Dave simply referred to it as overvalued. In essence, we're saying the same thing.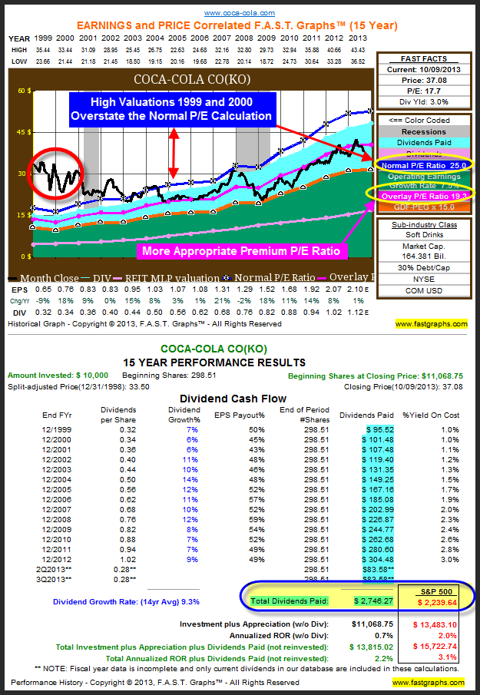 However, to clarify matters more, and to establish another point that I believe Dave was attempting to convey, I have also included a historical 9-year F.A.S.T. Graphs on Coca-Cola to support Dave's point and to make another important statement about blue-chip stocks. The reason I chose this 9-year graph is because it also represents a starting period when Coca-Cola was being appropriately priced according to its normal historical P/E premium of 19.3. What I believe this illustrates is that a rational investor who is willing to pay a normal quality premium for Coca-Cola can be well-rewarded by his actions. Note that the graph shows that Coca-Cola currently trades at a blended P/E ratio of 17.7, which is moderately below the 19.3 P/E ratio that it was priced at the beginning.
Therefore, the performance record clearly shows that Coca-Cola outperformed the S&P 500 on both a capital appreciation basis, and with a cumulative dividend income stream that was more than twice what the S&P 500 produced in dividends. In other words, as long as valuation was reasonable even when it represented a quality premium, this blue-chip dramatically outperformed. However, and what I believe is most important to retirees and dividend growth investors, is the dividend record. To investors living off of their dividends, this is the most critical factor, in my opinion.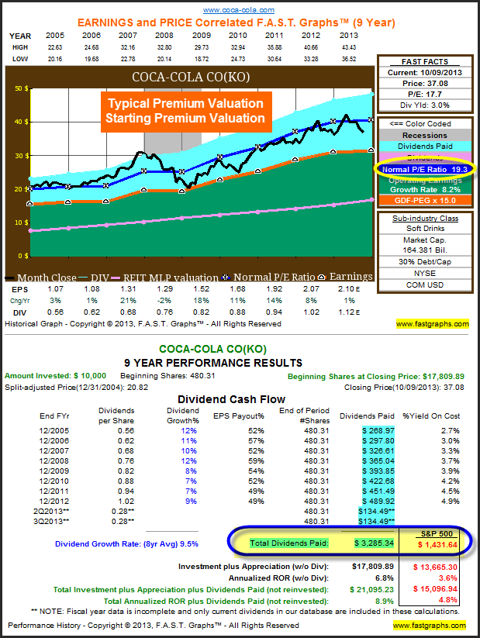 What follows next are several additional examples taken from David Van Knapp's article that further corroborates my points, and I believe Dave's, regarding the validity of paying a quality premium for blue-chip dividend paying stalwarts and Champions. I ask that the reader pay special attention to the total dividends paid comparisons on each company on the attached performance results over this time frame. Although capital appreciation also supports the thesis of this article addendum, I consider the total dividends paid to be the most important. I will let the graphs and performance tables speak for themselves.
A review of each company will show that all of them produced a larger dividend income stream than the average company as represented by the S&P 500. Moreover, only Leggett & Platt Inc. (NYSE:LEG) and Waste Management Inc. (NYSE:WM) underperformed the S&P 500 on a capital appreciation basis, with Waste Management Inc. very close to equaling the S&P 500. But again, and I believe more importantly, even both of these capital appreciation underperformers produced significantly more total cumulative dividends paid.
Automatic Data Processing (NASDAQ:ADP)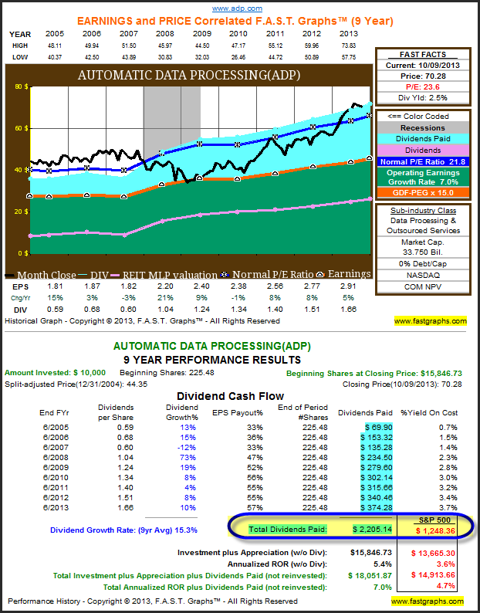 Colgate-Palmolive Co. (NYSE:CL)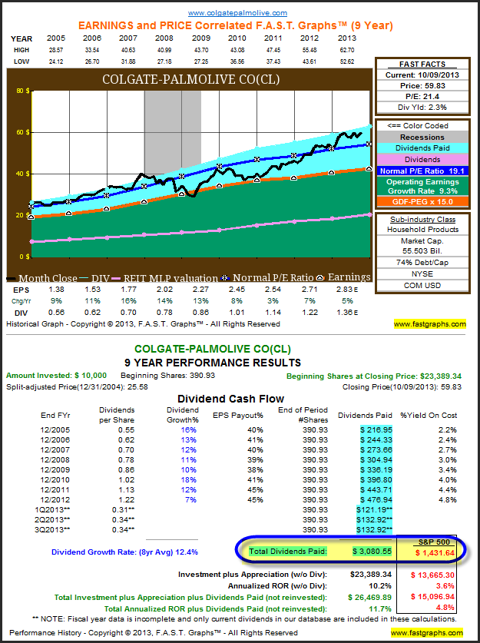 Clorox Co. (NYSE:CLX)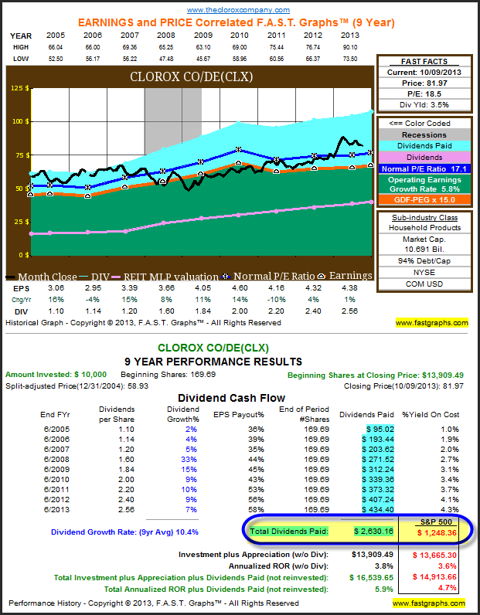 McDonald's Corp. (NYSE:MCD)
Emerson Electric (NYSE:EMR)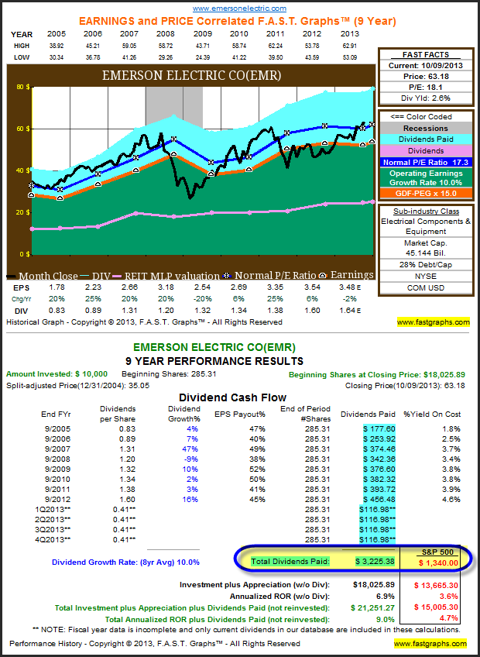 PepsiCo Inc. (NYSE:PEP)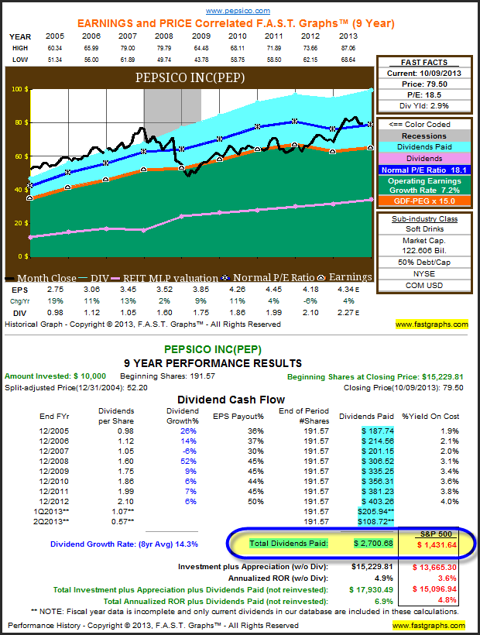 Leggett & Platt Inc.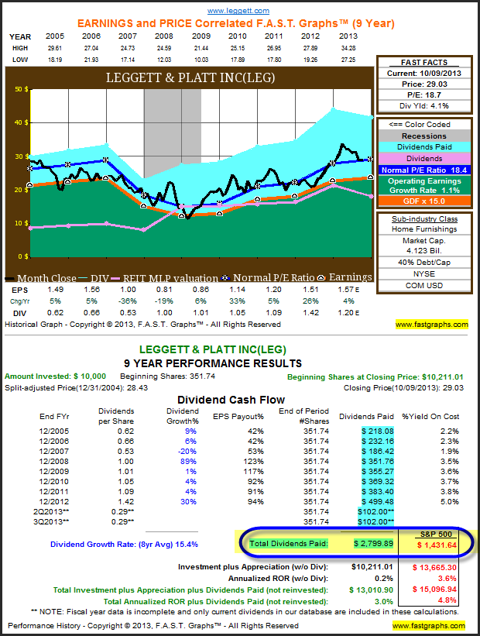 Waste Management Inc.
Summary and Conclusions
In conclusion, I believe that David Van Knapp presented an important piece of information that investors should recognize when considering high quality blue-chip dividend paying stalwarts for their retirement or dividend growth portfolios. Clearly, as long as they do not pay more than the typical quality premium that these companies tend to command, then at least on a historical basis they can still do quite well.
On the other hand, it's up to the judgment of each individual investor to decide whether they're willing to pay a premium to own these blue chips or not. Moreover, they should also recognize that by paying the premium they are simultaneously increasing the risk associated with investing in them. In other words, the quality premium they are normally being asked to pay somewhat reduces the benefits of the quality these blue chips offer.
Finally, I should add that there are often opportunities available to invest in high-quality companies without being forced to pay a premium to own them. Therefore, prospective investors in premium quality blue chips should also consider the opportunity cost. But that is a matter I will take up in the 2nd article providing an addendum to David Van Knapp's follow-up article regarding companies that historically can be bought when they are undervalued. But at the end of the day, it all comes down to the judgment, and I might add the risk tolerances, of the individual investor. Personally, I prefer to wait for opportunities to invest in these blue chips when they are on sale. Admittedly, that is often a very rare occurrence, but it does occasionally occur. Caveat emptor.
Disclosure: Long KO, CL, CLX, MCD, EMR, PEP and WM at the time of writing.
Disclaimer: The opinions in this document are for informational and educational purposes only and should not be construed as a recommendation to buy or sell the stocks mentioned or to solicit transactions or clients. Past performance of the companies discussed may not continue and the companies may not achieve the earnings growth as predicted. The information in this document is believed to be accurate, but under no circumstances should a person act upon the information contained within. We do not recommend that anyone act upon any investment information without first consulting an investment advisor as to the suitability of such investments for his specific situation.
Disclosure: I am long KO, CL, CLX, MCD, EMR, PEP, WM. I wrote this article myself, and it expresses my own opinions. I am not receiving compensation for it (other than from Seeking Alpha). I have no business relationship with any company whose stock is mentioned in this article.