Innocent is a British company making smoothies made of just fruit, from ethical sources with no preservatives. Since 2013 Coca-Cola Co (NYSE:KO) owns 90% of the company.
Selling more than 2 million fruit smoothies a week in 13 European countries, Innocent is set to post 2012 revenues of £202 million - double the figure for 2008.
Basically irrelevant to the Coca-Cola Company with $48 billion in revenues over 2012. Nothing I say about the exchange rate is going to change that.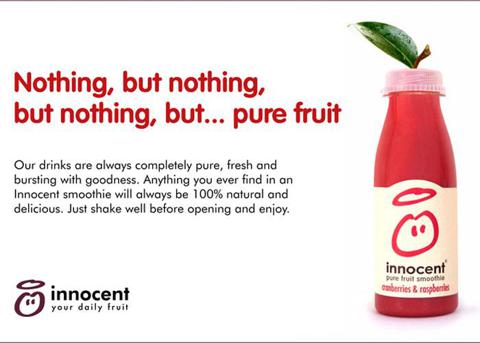 This is an ad for the drinks.
Now to convince you it's not entirely irrelevant to Coca-Cola, I'll quote Executive Vice President Ahmet Bozer at the Barclays Back to School Conference:
I can tell you that that's the fastest-growing chilled juice brand in Europe. It's the number one European smoothie brand. We already have leadership positions in Ireland and Austria in chilled juices and we are closing the gap in U.K. versus our nearest competitor. To add to those data points, I would also say that we have doubled our revenue since 2008 as part of that acquisition. That said, very strategic acquisition which is carefully being expanded which eventually complements our portfolio in Europe in a very positive way.
I've had these drinks at coffeehouses - on rare occasions where I didn't order coffee - they taste good. Like real fruit.
Do I think these will be a cornerstone of Coca-Cola Co. in five years?
No, not really.
The importance of Innocent and the story behind the brand is that it emphasizes the strength and resilience of the company.
It shows on a small scale what a distribution structure in 200 countries is worth. And that new entrants into the non-alcoholic beverage market are not necessarily a threat. Most importantly it shows that the company will be able to deal with changing preferences of consumers and declining sales of its core brand.
The Story
In 1999, after spending six months working on smoothie recipes and £500 on fruit, three Cambridge graduates sold their drinks from a stall at a music festival in London.
People were asked to put their empty cups in a 'yes' or 'no' bin depending on whether they thought the three should quit their jobs to make smoothies.
At the end of the festival the 'YES' bin was full, with only three cups in the 'NO' bin, so they went to their work the next day and resigned.
On 6 April 2009, after being hit hard by the unexpected global downturn, Innocent Drinks announced on its website an agreement to sell a stake of 10-20% to The Coca-Cola Company, with the three founders retaining operational control for £30 million.
In April 2010, Coca-Cola increased its stake in the company to 58% from 18% for about £65 million. In February 2013 Coca-Cola increased its stake to over 90%, leaving the three founders with a small minority holding.
I learned most of this from Wikipedia but the company's website has a more elaborate timeline.
Coca-Cola's Competitive Advantage
What makes this story so interesting for Coca-Cola investors is the way a hip young incumbent in the non-alcoholic drinks space, that appeals to a certain demographic and changing preferences of consumers, is handled.
Coca-Cola buys a small stake and starts a relationship with the company, when it really needs cash. It builds this relationship and shows it is not the corporate devil it's expected to be.
Later it's allowed to grow its stake to bankroll the expansion and reach of the brand. This shows the power behind Coca-Cola and ultimately Coca-Cola more or less integrates the hip young brand into its family of powerful beverage brands.
With 90% ownership Coca-Cola has all the incentive in the world to give the brand full room to run and leverage its unrivaled global distribution network to do so.
Coca-Cola can test a new drink or brand in one market and if it proves itself it can roll it out on a much wider scale.
Because of the size of its bottling operations it can produce bottles or cans of equal products at lower prices. This economy of scale advantage can then be used as an aggressive weapon to grow market share or more defensively by growing margins. This position allows Coca-Cola to achieve returns on equity that are in excess of smaller peers and the market as a whole.
Valuation Coca-Cola
May 28 I wrote an article called 5 reasons to overweight Coca-Cola. Since that day the price of a share has come down from $42. Coca-Cola reported some numbers that were a disappointment to the market, that roared past the stalwart.
But Coca-Cola outperformed the market over the last 10 years and even though the gap has been narrowed, is likely to repeat this feat over the next 10 years.
At $37.78 a share, with a P/E of 19.9, a history of growing earnings by an average of 10% a year while returning large amounts of money to shareholders, I maintain this is a solid company with good prospects.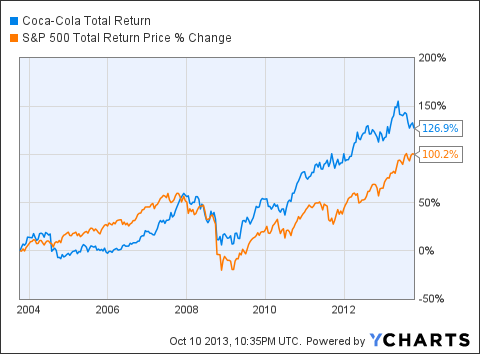 KO Total Return Price data by YCharts
Disclosure: I have no positions in any stocks mentioned, and no plans to initiate any positions within the next 72 hours. I wrote this article myself, and it expresses my own opinions. I am not receiving compensation for it (other than from Seeking Alpha). I have no business relationship with any company whose stock is mentioned in this article.